Alrighty then... just thirty days until my second blogiversary, and things are looking pretty good for the celebration. I haven't totaled everything up, but it's looking like there's going to be over a thousand dollars worth of goodies given away. Yes, you read that right, ONE THOUSAND DOLLARS!! No joke. No kidding. Just five days of big fun and fabulous prizes spanning from April 18th to the 22nd. It'll be worth a look so be sure to tune in.
Hmmm... I'd feel pretty good about that, but the weather here has taken a bizarre turn. Saturday morning it was biting cold and actually snowing, but then that turned to rain all day long. Now it's a drizzle again and we're supposed to get scattered showers throughout the day. How am I supposed to ride a motorcycle in this crap?
Oh well. There's something to be said for staying home and watching Angel: The Complete Fifth Season on DVD. I mean, come on! Angel gets turned into a PUPPET in this one!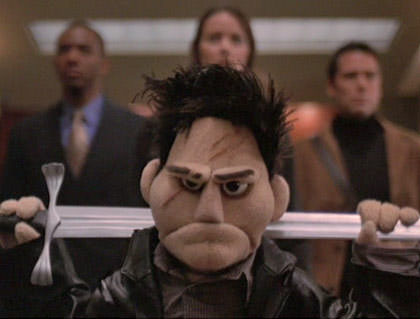 And just look at what happens to Fred!
Argh, what an amazing show. Just think of what they might have come up with had they been given a well-deserved sixth season. Bastard WB Television executives!
Movie Quotable of the Day:
"The kid just won't quit peeing and throwing up. He's like a Cocker Spaniel."
Yesterday's Answer:
Orgazmo
(1997) with Trey Parker, Matt Stone, and Ron Jeremy.