I finally got around to watching Sky Captain And the World of Tomorrow on DVD and found it to be a stunning piece of art. Every frame looks more like a gorgeously rendered painting than a movie, and the visual effects are nothing short of jaw-dropping. This may very well be the most beautiful looking film I've ever seen. As if that weren't enough, it's got giant robots attacking New York, ray guns, and loads of other cool stuff! It's as if all the things that those 1930's sci-fi serials thought was going to happen in the future, actually did happen!!
I remember wanting to see this when it was in theaters, but never managed to make it. I am furious with myself that I didn't get to see it on the big screen (where it absolutely belongs). All I can hope is that it one day hits some kind of limited re-release or is shown at a convention of some kind...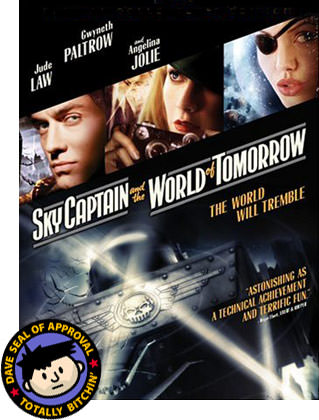 No still-frame capture will ever do justice to the lush visuals Sky Captain so liberally doles out (and choosing from hundreds of amazing shots is an impossible task), but oh what a movie...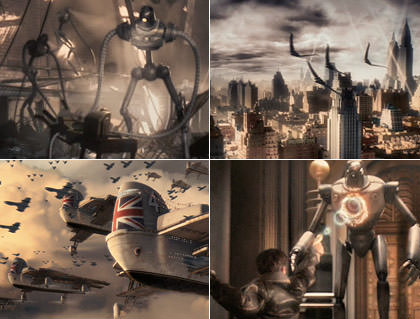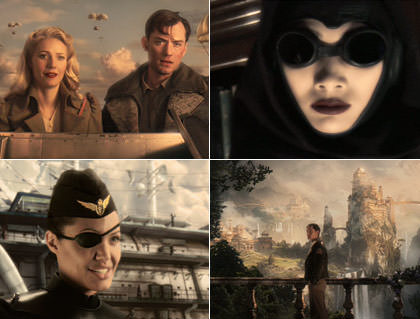 The only thing that keeps this flick from being one of the greatest films of all time is A) The story is a bit weak, and B) The acting in places is dreadful awful. Jude Law is fine as the heroic Sky Captain Joe, Giovani Ribisi is great as his sidekick Dex, and Angelina Jolie is radiant in her bit part as Captain Frankie Cook... but Gwyneth Paltrow's take on not-so plucky, plucky reporter "Polly Perkins" is a mess. She wanders through scenes as if she's drugged, never fully committing to the part. I know that she is a capable actress, so I can only guess that she was unable to work in blue-screen environments or she needs a strong director, and first-timer Kerry Conran was too awestruck or timid to get it out of her. Such a shame, because a strong female lead would have improved the film quite a bit.
Still, story faults and Gwyneth aside, the dazzling images and edge-of-your-seat action sequences make this film a must-see. Just accept the fact that it is supposed to be a cheesy 1930's sci-fi serial drama, and embrace it for the masterpiece it is. I rented Sky Captain from NetFlix but, had already ordered myself a copy just 10 minutes into the movie! I must own it so I can watch it again and again and again, because there's no way you will ever absorb everything the film offers in only one or two viewings (even dozens may not be enough).
The bigger news to come out of the Sky Captain front is that writer/director Kerry Conran's next project is an adaptation of my favorite sci-fi novel of all time: Edgar Rice Burroughs' A Princess of Mars. This has me very conflicted. On one hand I am thrilled, because I know that the visuals will be amazing. On the other, I am terrified that he won't have the directing chops to get the acting performances that this story will desperately need. If there is no chemistry between John Carter, Gentleman of Virginia and Deja Thoris, Martian princess of Helium, then the movie will suck ass. And I am telling you right now, this movie simply cannot end up sucking...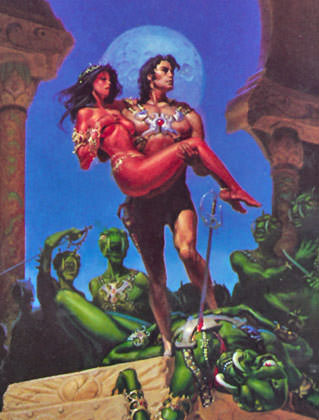 I have waited most of my life to see John Carter in the movies, and it will not be in vain. I want this film to rule the earth so we can get a dozen sequels. I want it so fabulous that critics (or, more importantly, Burroughs FANS) cannot find fault with it. If they end up moving the time period from Civil War America, or some other dumbass thing, I would rather there be no movie at all.
I am cautiously optimistic. In the meanwhile, go buy a copy of Sky Captain and the World of Tomorrow on DVD. It's just too darn pretty not to see it.
Movie Quotable of the Day:
"I know I'm old enough to be his mother, but when the Duck laid that kiss on me last night... I swear my thighs just went up in flames! He must practice on melons or something."
Yesterday's Answer:
Jurassic Park
(1993) with Sam Neill and Jeff Goldblum.