A month and a day away! April 18th is my two-year "blogiversary" and I'm in a mood to celebrate. I'm telling you now because it's going to be something you don't want to miss. Seriously. It's a "mark your calendars now" type of thing.
I wanted to have a big celebration last year, but waited until it was too late and didn't have time to pull everything together. And every day since then I've been thinking about what I was going to do the next time. Planning. Scheming. Begging. Extorting. Pleading. Stealing (well, not really, but doesn't it make you feel special that I was willing to steal for you?). An event one year in the making...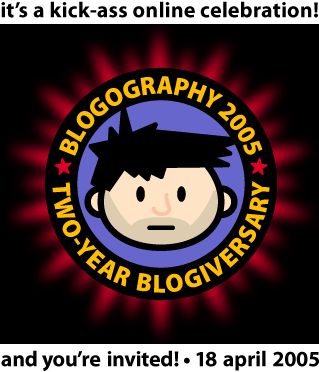 Will there be big fun? Absolutely!
Will there be prizes? You bet!
Will there be free stuff? Count on it!
Will Dave get naked and dance LIVE on a web-cam? You had better hope not.
Intrigued? Well you should be. I'm CRAZY-INSANE and there's just no telling what is going to happen!
Movie Quotable of the Day:
"I now do what other people only dream! I make art until someone dies. See? I am the world's first fully-functioning homicidal artist!"
Yesterday's Answer:
Undercover Brother
(2002) with Eddie Griffin and Dave Chappelle.