Make no mistake about it... I am always about fifteen minutes away from becoming a serial killer. If it weren't for those pesky Buddhist precepts getting in the way, I probably would have starting killing people years ago.
I suppose that I should make a joke right now and tell you I'm kidding, but I'm completely serious. Keep watching the 6:00 News, because one of these days...
The only thing that makes this revelation not quite as horrible as you might think is this: I honestly believe that everybody on this planet is fifteen minutes away from becoming a serial killer. It's just a sad reality of the world we live in today. Those people who cross into the serial killer zone just hit minute sixteen because they couldn't find anything better to do.
So, in the interest of promoting world peace and the harmony of all earth's creatures, here's a few things I do to keep from hitting minute sixteen and killing all the people that bug me...
Blog Your Rage Away. Ranting about your frustrations in a blog entry goes a long ways toward subduing the urge to kill. That's why I'm forever kicking asses and shooting guns here. Well, that's why I am always fantasizing about kicking asses and shooting guns in cartoons here. The truth is that I abhor guns and violence, but drawing funny pictures about it is somehow therapeutic.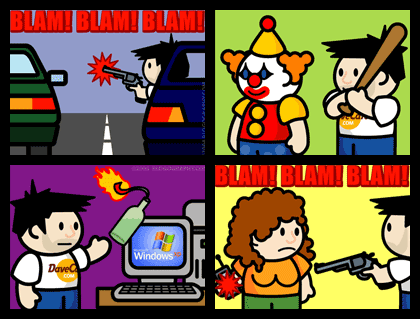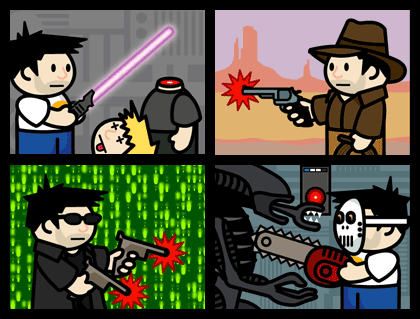 Ride Your Rage Away. I don't care how many people I desire to kill throughout the day, they all disappear while riding my motorcycle. Of course, many times the people I most want to kill are bad driver's I encounter while riding, but they're forgotten in well under fifteen minutes. A motorcycle is the ultimate deterrent from wanting to kill but, unfortunately, dumbass soccer moms in their SUVs who talk on their mobile phones while beating their kids, putting on their makeup, and eating a burrito may end up killing you.
C.S.I. Your Rage Away. Watch an episodes of CSI: Crime Scene Investigation, and realize that you will never get away with killing somebody. Then realize that you just don't have the chops to handle a manslaughter charge in a "pound-you-up-the-ass federal penitentiary." That aught to cure you of the urge to kill is a real hurry. I know it does me.
Play Your Rage Away. I love crackpot psychologists who claim that violent video games cause violent behavior. Whether that's true or not, I don't really care. The simple fact is that being able to blow stuff up and shoot people in video games allows me to release energy that might otherwise be used to blow stuff up and shoot people in real life. Nothing quite like blasting "Rage Against the Machine" until your eardrums are bleeding while shooting everything in sight in a game of Max Payne to take the killer out of you.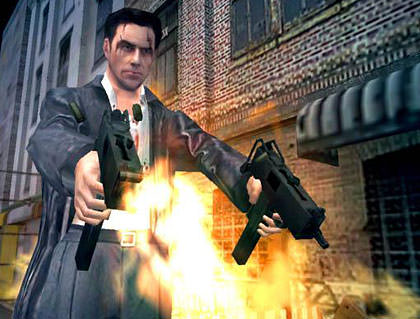 Slap Your Rage Away. If you can't kill 'em, bitch-slap them so hard they'll wish you had killed them. Then run away. Run like the wind you pansy-ass bitch-slapper!
Movie Quotable of the Day:
"Today is a great day for Black people of all races!"
Yesterday's Answer:
Austin Powers in Goldmember
(2002) with Mike Myers and Beyonce Knowles.