Something green you like to eat... I like frozen peas on my salad, green DOTS candies, and love a slice of lime in a cocktail. But nothing beats a nice Granny Smith apple off the tree, which is a kind of sweet-tart taste that's delicious and invigorating.
Something green you like to wear... My Seattle Sonics T-Shirt. It's old and beaten-up, but I bought it at a Sonics game years ago, and can't bear to part with it because it's so comfy. I also have a Green Bay Packers "Favre" jersey which I save for trips to Wisconsin so that I have adequate camouflage to blend in with the natives.
Something green you like to look at... So many things come immediately to mind. Ireland is so green it almost hurts to look at. I find praying mantis bugs fascinating to watch in a creepy kind of way. I love gemstones, and nicely-cut emeralds are mighty pretty to see. And, of course, I never mind looking at a pile of money, the ultimate green. But, in the end, I'd have to say I like looking at green tree frogs most of all. I used to love frogs as a kid, and these funky little guys are still a favorite.
FQ GALLERY: Post a photo you took (or an illustration you made) of something green.... At first I was going to just post a photo from my iPhoto library, but then I decided I wanted to draw a tree frog. Things kind of got out of hand from there...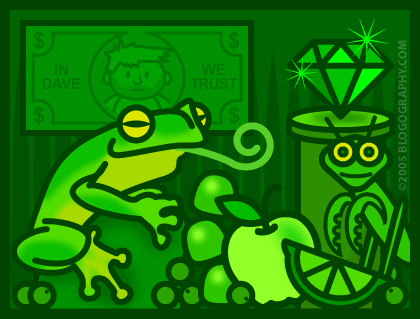 But I have some green photos too, like this shot of the Wicklow region of Ireland...
And these avacados artichokes I saw at a market in Barcelona...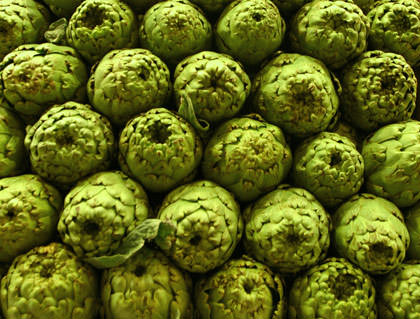 And this cool shot of the field in Munich Stadium, where all the seats are green to match, which I thought was a pretty nifty idea...
It's easy being green at the FridayQ.
Movie Quotable of the Day:
"It's people! They're making our food out of people!"
Yesterday's Answer:
Batman
(1989) with Michael Keaton and Jack Nicholson.