Well, it would appear that I am going to have to turn comment moderation ON again, despite the fact that the new "MTKeystrokes" plugin is doing an amazing job of discarding comment spam from spam-bots. Last night I received a comment that was obviously trying to sell something. Sure it was hand-typed, and sure it related to my entry, but I have never allowed people to whore their wares here and I don't intend to start now. The only person allowed to be a whore here is me, and I don't like the competition. Get your own blog if you want to sell something.
It kind of makes me wish that I was able to clone my brain and hook it up to my blog so that it could approve and reject comments without me having to bother...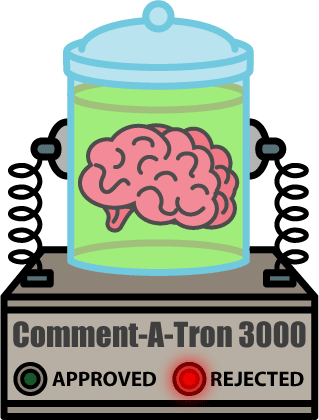 Of course, I think the massive genius of my clone brain would tire of such a mundane chore 24-7, and would probably go mad and become an evil brain monster. An evil brain monster to TAKE OVER THE WORLD!! MOOWAAAHHH HA HA HAAAA!
Movie Quotable of the Day: "Ladies and gentlemen, I can envision a day when the brains of brilliant men can be kept alive in the bodies of dumb people..."
Yesterday's Answer: French Kiss (1995) with Kevin Kline and Meg Ryan.