I had lost some papers and, in looking for them, came across the very cool Superboy and the Legion of Super-Heroes giant "Collector's Edition" comic book that I had purchased at a yard sale years ago. Figuring that my important papers were actually not-so important after all, I took a few minutes to read this huge spectacle of an adventure.
To sum up the story... the evil sorcerer Mordru escaped imprisonment and opened up a can of whoop-ass on the entire Legion of Super-Heroes. Only Superboy, Mon-El, Shadow Lass, and Duo-Damsel managed to escape his wrath by time-traveling to the past. They eventually got lucky when Mordru's rage caused him to imprison himself in a landslide. When they return to the future, they found out that Princess Projectra, Dreamy, and the White Witch had fooled Mordru into thinking he had kicked their asses, when he really didn't...

You tell 'em Mon-El! Silly girls!!
Not exactly the most gracious of compliments but hey, the story was written in 1975. Women have come a long way in the last thirty years. Or have they? I was curious to imagine what the story would have been like had it been written a decade later in 1985. After all, this is when the Eurythmics had released the women's movement anthem "Sister Are Doin' It For Themselves"...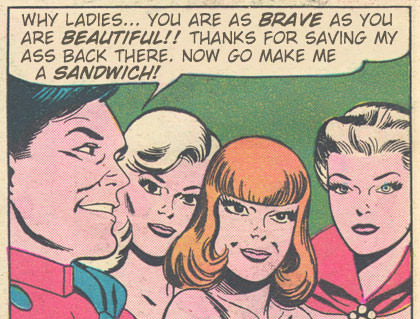 Errr... I guess that's a little bit of an improvement. Perhaps if we jump ahead another decade, during the height of the gangsta rap explosion in 1995, things will have gotten better still...
Holy crap! That's pretty much a step backwards. Does nobody remember the Lorena Bobbitt incident just two years earlier? Why don't we advance yet another decade to the current year of 2005...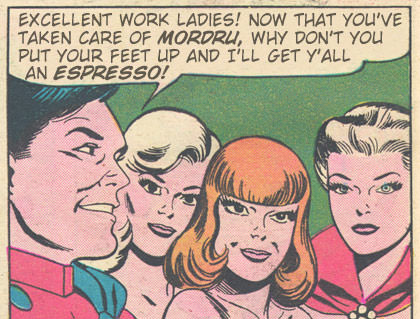 Ah, there we go! The 21st century has finally started to bring equality to the sexes. I can only imagine how things will improve a decade from now in 2015...
Yes, that's much better!
Hey... wait a minute...