A while back I had blogged about my first experience eating a Frosty from Wendy's (documented in excruciating, yet amusing, detail here). I then received two comments and an email telling me that I really haven't experienced a Frosty properly until I've dipped french fries into it. And so, bizarre as it sounds, I decided to give it a try on my way out of Wenatchee this afternoon.
As it turns out, dipping french fries into a Frosty is yummy good once you get over how bizarre it feels to be eating cold-hot-salty-sweet all at the same time. Overall, I recommend it heartily. There is one problem, however. Size differential.
I ordered a medium-sized Frosty and a Biggie Fries... and ended up running out of fries long before my Frosty was gone. That left me with lots of Frosty and no fries to dip in it. Bummer. I suppose next time I could order a "Great Biggie Fries" and see if that's enough to make it through. But then there's another dilemma... what happens when the Frosty is so far down in the cup that you can't reach it with a french fry?
I'm guessing it will take some experimentation to find the proper ratio of Frosty to fries. My gut instinct is that it will end up being Biggie Fries and small-sized Frosty. Don't worry, I'll be sure to keep you posted.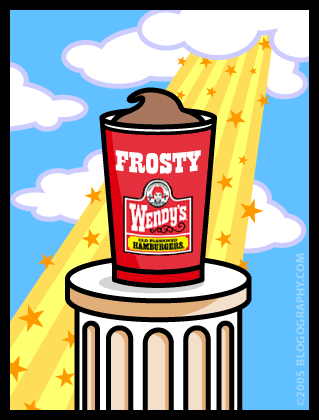 As typical with me, actually getting my Frosty and fries was not as simple as it might sound. When I got to Wendy's, there was a line of four cars to get through the drive-through. I figured it would be faster if I just run inside.
I figured wrong. Time for anonymous letter number two...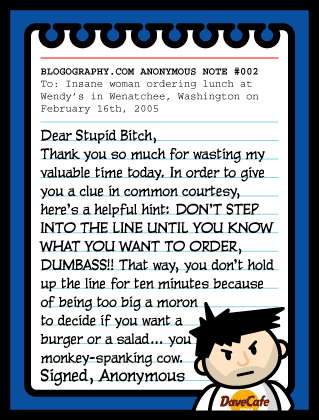 Movie Quotable of the Day:
"I'm pretty sure there's a lot more to life than being really, really good looking... and I plan on finding out what that is."
Yesterday's Answer:
Unbreakable
(2000) with Bruce Willis and Samuel L. Jackson.