When I woke up, the last thing I wanted to do was spend the entire day driving. Some vacation. But I was already committed to the trip, so it was off to the Hertz Rent-A-Car desk to pick up my ride. As usual, they decided to reward my "Gold Club" membership with a "car upgrade" from a nice compact Mazda to a massive Buick LeSabre. I know they think that they are being nice, but I HATE it when they do this! If I wanted a big-ass Buick, I would have ordered one! Not only am I uncomfortable in larger cars, I will be driving over a thousand miles, and would rather have a more fuel efficient model automobile. But I don't have time to argue with Hertz, so I pack up this gigantic beast of a car and take off. And check out that license plate, I'm a Texan now...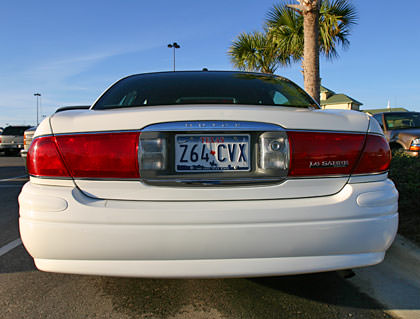 The drive to the Florida Panhandle was largely uneventful. Central Mississippi is pretty sparse along highway 55, with the exception of Jackson, so there's just not a lot to do along the way. There used to be the Hard Rock Beach Club out in Choctaw, but it has recently closed, leaving me with nothing but mile after mile of asphalt. About the hardest part of the entire drive through the state was at the very end when I had to make the decision to turn left and head to Mobile then onward to Destin... or turn right and head to New Orleans. Since New Orleans is one of my most favorite cities in the USA, you can understand my dilemma. But I had been to The Big Easy not so long ago, so Alabama it was.
But first I needed to stop for gas. I saw a billboard that said "EASY ACCESS" and "CLEAN RESTROOMS" with the "CLEAN" part underlined, so I figured that must be the place for me. Holy crap! If these were CLEAN restrooms, I shudder to think what a dirty restroom must look like...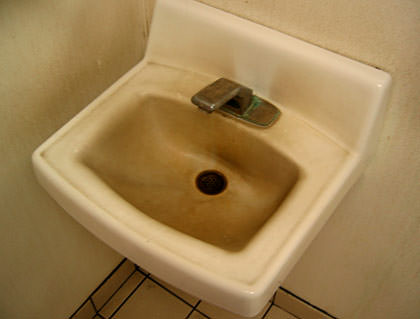 Scary. I think I ran back to the car.
Now, unlike most times when you move from state to state without even realizing something has changed... entering Alabama is another matter entirely. The minute you cross the border, the majestic four-lane highway with a wide median in Mississippi instantly becomes a two-lane country road with no median at all. Suddenly there are Baptist churches popping up every five minutes. You start to see homemade billboards that say "JESUS IS LORD" and businesses with signs proclaiming "IF YOU DON'T BELIEVE, DON'T BOTHER STOPPING." Welcome to the deep, deep South.
Anyway, pretty soon I was in Mobile, then crossing into Florida, so I was making good time and all was well. After eating a late lunch at the Hard Rock and walking along a beach so white that it looked like snow instead of sand, I turned back toward Tennessee and made it as far as Birmingham (802 miles total)...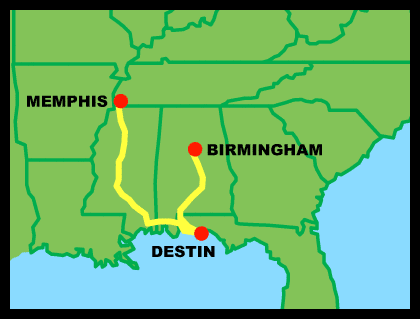 And tomorrow I am back to Tennessee for a trip into Gatlinburg to visit the only Hard Rock Cafe in the world with a wedding chapel attached, then onward to Nashville... a mere 518 miles, hah!