I love television, but my work and travel schedule makes it very difficult to keep up with the programs I like. Fortunately, I have a magical TiVo box that sits on top of my TV and handles the recording of my shows whether I am home or not... it has all the great features of a VCR, but without all the programming hassles and videotape. I tell it that I want it to record "Veronica Mars" and it will faithfully do so, even if the show changes times, changes days, or even changes networks. It will also skip shows that it knows to be reruns if I ask it to. It's a wonderful device in many ways, and has made my being a TV junkie so much easier to manage.
Yes, I love my TiVo... but I can't wait to get rid of it.
And here's why: with the many advantages TiVo has over a VCR, it has some serious drawbacks. With a VCR, I can use the tape with any other VCR or even loan it to a friend so they can watch it. Well, TiVo finally has the ability to offload video to a computer with their TiVoToGo service, but it sucks ass:
Some shows can be tagged as non-transferrable, such as pay-per-view and some premium programming, meaning you can't watch them on your computer at all (whereas a videotape can record anything).
All video requires a "media key" to be unencrypted. This is to prohibit sharing the content, and doing so may result in your account being revoked (whereas a videotape requires no such bullshit).
The video is not in a standard format and requires special software to operate... currently only available for Windows 2000 or Windows XP (whereas a videotape will work on any VCR without special conditions).
The TiVoToGo service will only work from specific players, meaning those of us with DirecTV boxes that have TiVo built-in or multiple tuners are shit-out-of-luck (whereas a VCR is a VCR is a VCR).
Yes, you read that right, TiVo is offering a service in 2005 that has more limitations than a VHS tape from nearly thirty f#@%amp;ing years ago!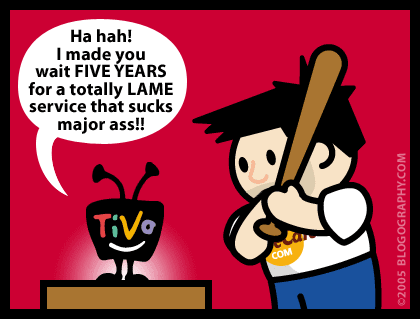 So, since I can't use TiVoToGo (after having waited five years for it), that means in order to get a television show on my laptop, here is what I have to do: 1) Record it on TiVo. 2) Record it from TiVo to my DVD recorder. 3) Burn from the recorder to a DVD. 4) Copy the resulting files from the DVD to my computer. 5) Watch the shitty quality, second-generation video. What a bullshit waste of time that is. Granted, much of this is not TiVo's fault... they are bowing down to the television networks in fear that people will start giving away programming that they should be paying for, but that doesn't make it suck any less.
Of course, that is not really how I get video on my laptop. Here's what I do: 1) Start up my BitTorrent client and download a show in pristine HDTV resolution (when available). 2) Watch the beautiful result whenever I want.
And there you have it. I am still glad to have TiVo for managing the loads of TV shows I like to watch... but, unless I am sitting in front of the television, it's practically useless for watching the content at my convenience. Since this is apparently the best they can do (and new alternatives for transporting video are appearing all the time) I say with no amount of sadness that TiVo's days are numbered. If I wanted to mess with this kind of antiquated, backwards thinking... I'd still be using VHS videotape.
UPDATE: A comment directed to this entry over at Thomas Hawk had said: "Does Dave travel with his VCR? I have never in my life been next to someone on a plane with a VCR and TV on his lap. Ive actually never seen anyone leave their house carrying a VCR." To which I respond:
No. I don't travel with my VCR (I don't even own one anymore), but that is exactly my point: I can't travel with TiVoToGo either (as I am a Mac user with a dual-tuner DirecTV TiVo). So, on top of being no better than a videotape in functionality for me, it also has several ADDITIONAL disadvantages over 30-year-old VHS.
And there's the problem... I am in no way opposed to purchasing yet another new dual-tuner, DirecTV, TiVo Series 2 player (assuming they ever release one), but given that there's no software for the Mac yet, and that they could start tagging all my favorite shows as "non-transferrable" at any point in the future, what's the use? Let's say I buy a TiVoToGo capable player and Mac software is released, but then ABC, NBC, and CBS refuse to grant TiVo transfer rights for any of their programs... what happens then? 80% of the shows I'd want to transfer would no longer be available, and I'd have spent the money for nothing.
This is progress? All it's done is forced people to come up with new ways of circumnavigating a system of roadblocks to getting the convenience we should be able to have in the first place.