As anybody who attempts to link to an image on Blogography has found out, I have enabled hotlink protection for my site. I pretty much had to after some dumbass linked to a photo here (without asking) on a SlashDotted entry and ran my bandwidth allotment into the ground. I figure that if somebody is going to be using my images without permission, they might as well copy it to their own server instead of forcing me to host my content for them. It's not that I really care that people are taking my stuff (though giving credit to me when they do is always nice), it just seems lame for me to be expected to pay for it as well.
Since I was in an ass-drawing mood after creating my "fart quiz" yesterday, I went ahead and re-designed the image people see if they link to anything without asking first...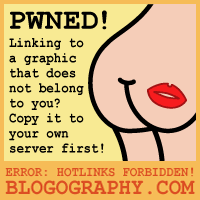 So yes, in effect, I am telling people who try and steal my bandwidth that they can kiss my ass. Still, it's pretty tame when you think about it. I could have used a photo of an actual ass (or something far, far worse). There are exceptions... a girl was making a site for a school project and wrote me a polite email asking if she could use the photo of a teddy bear I had posted... so natually I said "yes" and added her site to my list of allowed links. It's not a big deal really, I would probably be glad to do this for most anybody if they had a good enough reason for wanting me to do so.
And then I received an email from some ass-clown this morning ripping me to pieces because they were humiliated when they linked to one of my images in a Christian fellowship forum (a photo of a cool cherub statue at the Vatican). "You've destroyed my reputation and I should sue!"
Yeah, I thought that was pretty funny too, so I replied:
"Let me get this straight. You steal an image from me without asking permission, fail to give me credit for said image, and then threaten to sue me because you're not a very clever thief? Just exactly how big of a dumbass are you?"
To say that this did not go over very well is an understatement, because they wrote back and apparently I am now going to hell.
Whatever. I must have read the Christian Bible wrong, because I'm pretty sure there's something in there along the lines of "thou shalt not steal thy neighbor's bandwidth" (I could be wrong though, I'm a Buddhist after all).