Twelve miles down the road from my home in Cashmere is the German-inspired theme town of Leavenworth. It's billed as "The Bavarian Village," but is referred to as "The Barbarian Village" by locals because of the massive influx of tourists that descend like a plague anytime some German-inspired event comes to town. Most of the festivals (like Maifest and Oktoberfest) are predictable. But to ensure a constant stream of tourism dollars, Leavenworth invents things like "Christmas Lighting Festival," "Winterfest," "Icefest," "Artfest," "Winefest," "Accordionfest," "Kinderfest," "Autum Leaf Festival," and "Christkindlmarkt." They'll probably add a dozen new events this year, and I am anxiously anticipating "Wienerschnitzelfest" and "Sauerkrautfest."
But anyway... it's a charming little town that's worth a visit if you happen to be wandering around Central Washington. In many ways, I consider myself lucky to have it nearby, because it's an easy way to kill time with visiting friends and there's a wide assortment of good restaurants and interesting shops available.
Tonight I took a quick fifteen minute drive into Leavenworth for dinner, and see that the town is still all lit up from the Christmas Lighting Festival, but the tourists are eerily absent...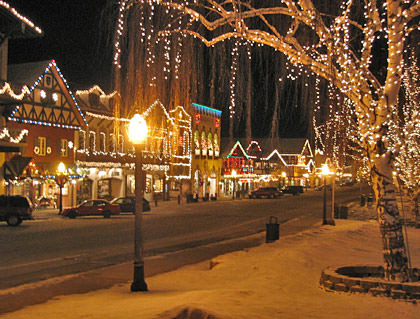 Hmmm... my little pocket camera doesn't do so well at night. Next time I'll have to take my "real" camera with me (because that's the only way to truly capture a bratwurst in all its glory).