Sienna: The Sun is reporting that Jude Law has proposed to the blisteringly hot Sienna Miller. I've been in love with Sienna since her days on the funky Keen Eddie television show, and am a little crushed here.
Death: Is it wrong to wish Jared dead every time one of his stupid-ass Subway commercials shows up on television? I feel badly about even thinking it, but I just can't help myself. And it's not just that I want him dead, I want him really dead... like chopped up in little pieces and then lit on fire. Or run over with a steamroller and then disintegrated in a vat of acid. Or maybe even blown up with... uhhh... must... stop... thoughts... of... Jared... death... by... Wyle E. Coyote...
Quiz: And speaking of sub sandwiches, why does Quiznos bother to post a menu showing the sandwich contents if they are just going to ignore it? A Quizno's Veggie consists of the following: guacamole, black olives, lettuce, tomato, red onion, mushrooms, mozzarella, cheddar, and Red Wine Vinaigrette Dressing. So, you would think that if I ordered a "Veggie with everything that comes on it except the mushrooms," it wouldn't be rocket science to figure that out. But they manage to screw it up every time. Usually they're denying me my guacamole, but last night they tried to add green peppers to it. Maybe I am going to have to start drawing diagrams? Oh well, I'll still take a delicious Quiznos sub over a boring Jared Subway sub any day.
Guano: How fabulous! Blogography has won the most prestigious of all blog awards: The Golden Guano! What makes this recognition particularly special is that it's awarded by somebody I truly admire and respect: me! I have decided that my Guano will have been won for "Blog Most Likely to Touch You In An Inappropriate Place." Feel free to go grab one for yourself at My So-Called Strife (available in black, white, and lovely hot pink) and come up with your own blog category...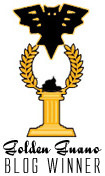 Lou: I usually delete comments which are just thinly veiled attempts at advertising other people's blogs (i.e., "I agree totally with what you said. Come visit my blog at www.lame.com!"). The reason I do this is because A) the person obviously didn't bother to read my blog, why should I bother to read theirs, or ask somebody else to do so? And B) it's kind of senseless... how many people are actually going to click on such a link? That being said, "A-Lou's Diary" ended up being an interesting use of a blog as I've seen. It's "written" by a 5-year old Belgian(?) boy who has been blind since birth and is facing complex mental challenges. Apparently it's a big hit in the French-speaking world, and is being translated into English now. I just wish "Lou's Daddy" would find some other way of advertising it.
Goodness: Alias is on tonight! The sweet hotness of Jennifer Gardner has returned to set us free and bring peace to all the world. Oh joyous day!