Anybody who knows me even a little bit is aware of my unrequited love for good television. Unlike the movies, TV shows allow you to form an ongoing relationship with characters in a way that cinema can't match. Most television is pretty bad, but a few shows elevate the medium to dizzying entertainment heights. That being understood, how amazing was Alias last night? The series kind of lost its way last year, but creator J.J. Abrams had promised to restore the show to past glory this season, so excitement was mounting. Could he manage such a feat?
Apparently he could, and did so 20 minutes into the first episode.
Bastard.
How is it possible for somebody to be so astoundingly talented? In just twenty minutes Abrams brilliantly turned the dynamic of the show around 180 degrees, returning us to all the things that made Alias so much bloody fun to watch. Every character has been taken back to their roots, including series lead Jennifer Garner's "Sydney Bristow"...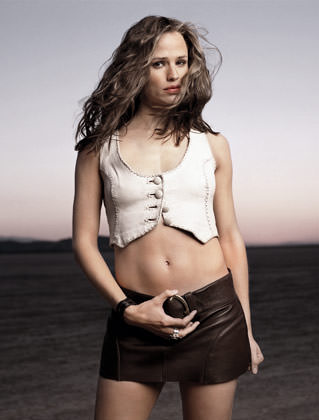 And if that wasn't enough, Mia Maestro has joined the cast as Jen's super-spy sister, so now we've got two hotties kicking ass on the show. Still not enough? Angela Basset has joined up as well.
Un-freakin-believable. Espionage never looked so good.