Forget running the country, making travel reservations is hard work. It's really, really hard work (well, if you don't care how much you'll be spending, it's actually kind of easy work... but to get any type of bargain is so hard). For instance, I've got another trip to Germany coming up. I am entirely flexible as to when I leave and when I return. You would think that such flexibility would mean that I could easily get a decent fare considering that Northwest has about a billion specials running right now.
You would be wrong, of course.
Apparently those wholly incredible wunder-rates only apply if you sacrifice a goat to the internet reservation gods, because I spent close to three hours trying to find them to no avail. I picked the proper dates. I selected the correct day of the week. I even crossed my fingers. Nothing seems to work. I ultimately ended up with a crappy $600 non-upgradeable (the horror!) fare.
Why is it so insanely difficult? I mean, why can't I go to the Northwest airlines site, tell it where I want to go, then have two calendars come up (one for departure, one for return) that will tell me when the sale rates are in effect? It's all computerized, so how difficult could it be?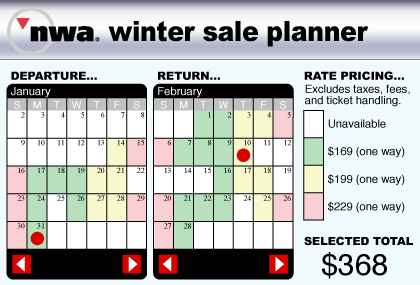 Something like this would do two things... 1) Customers could easily spot which dates the sale is in effect, which dates are available, and how much the ticket will end up costing them. 2) Airlines could no longer post goofy, unachievable fares, and make their customers waste untold hours trying to find that "magic combination" that gets them the advertised promotional rate.
There are sites that attempt to do something like this, such as Orbitz's excellent "Calendar Matrix," but it's only for domestic flights and really doesn't show where you get the sale rates. Oh well. Whichever airline comes up with something to make reservations for sale fares easier to figure out will be the one that ends up getting my business. Right now they all suck.