Nomaaahh!: Let me get this straight, Nomar just signed a 1-year contract with the Cubs for $8 million, after passing on a $60 million 4-year contract with the Red Sox WORLD CHAMPIONS? Even if the Cubbies pick him up for four years, he's still losing $7 million a year. I cried for a week when Nomar left Boston, now I think I'll laugh for a week at his fine business sense (then cry the week after that because he's still making millions of dollars for playing a game).
Joystick: Continuing my video game blathering from yesterday... not only are the games dumbfoundingly complex, but the controllers are ass. Two thumb-pads, four shoulder buttons, four action buttons, and two function buttons seems to be standard now. This leaves me concentrating more on what button I should be pushing than actually playing the game. On top of that, I don't want some tiny pad for directional movement... I want an actual joystick! I thought it would be simple to go buy one, but I thought wrong. The closest thing I can find to what I am wanting is an X-Arcade Stick, but that's as big as a house and costs $100!! Harsh!
Cars: Looks like Pixar's follow-up to The Incredibles (titled Cars) has just been pushed back seven months. They say it's so that they can better time their movies (release a feature in Summer, then crank out the DVD version for the holidays), which makes sense from a business standpoint. But many people are speculating that the bigger reason is to give Pixar CEO Steve Jobs more time to decide about renewing a distribution deal with Disney after he finds out who is replacing Michael Eisner (the guy who's been running Disney into the ground for the past decade). A third option, which is my personal guess, is that the movie sucks...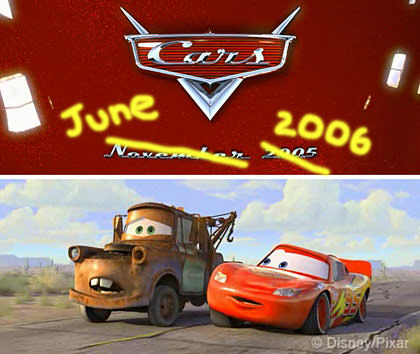 First of all, it's a freaky concept... a world where the only life-form is cars?? Second of all, it is a complete rip off of the
Chevron Cars
(a much better rendition of the concept, beautifully animated in clay by
Aardman Animation
, who is responsible for the brilliant
Wallace and Gromit
films). And lastly, one of the feature characters is a broken-down hick tow truck? How very cliche of you Pixar. Still, it is being directed by demi-god John Lasseter (who has
Toy Story 1 & 2
and
A Bug's Life
under his belt), so I can only hope I am very, very wrong. I dunno, judge for yourself by
watching the Cars trailer
and then taking a look at
Aardman's Chevron commercial
...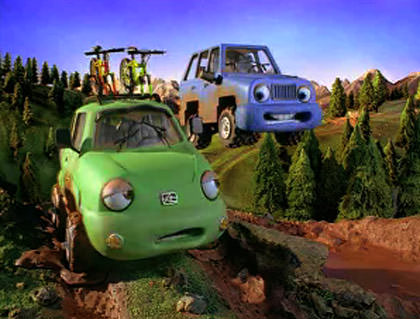 You can then spend the next two hours of your life exploring the rest of the Aardman web site, which showcases numerous examples if their beautiful work in claymation. Dang. Now I want to go watch Wallace and Gromit!
Stockholm: Since Veronica Mars is now in reruns, I was flipping through channels and saw that The Amazing Race 6 was in Stockholm! Furthermore, contestants were hanging out at The Sheraton Stockholm, which is the same hotel I was at. Anyway, while I like the idea of racing around the world, I cannot bring myself to watch the show... it's just too painful to have to watch rude Americans be assholes to natives and complain all the time. As I was turning the channel, contestants were in Africa complaining about everything from how "gross" the taxis are to how stupid they think people are because they can't speak English ("DO YOU SPEAK ENGLISH? I NEED SOMEONE SPEAKING ENGLISH!!!"). Holy crap. Thanks for being such a stellar example, dumbass.
Letterbox: Last night I had to stop by Wal-Mart and noticed that they had The Bourne Supremacy on sale for a staggering $15 (which is cheaper than even DeepDiscountDVD!). Since we are entering rerun season on television, I thought I would grab a copy because I remember it being a pretty good flick. But when I got home and started it up, I noticed it was the STUPID FULL-FRAME VERSION! CRAP! CRAP! CRAP! Why in the heck do they even sell butchered films? When are people going to realize that anytime they buy a film that has "been reformatted to fit their television" that they are missing half the movie? Sure the letterbox format's black bars at the top and bottom of your TV screen are annoying, but it's a small price to pay for getting to see the ENTIRE MOVIE AS IT WAS INTENDED TO BE VIEWED!! Argh.
Sorry to rant, but HOLY SHIT... it's bad enough that Chewbacca didn't get a medal at the end of Star Wars, but if you are watching the lame "Full-Screen" version, he doesn't even get to appear on the screen! The Digital Bits has a good argument for widescreen (letterbox) formatted movies, and excellent examples which you can see by clicking here.