Back in the days when I wasn't using one-word titles for my entries, I would have called this one "Red Wizard Shot the Food!"
I love my GameBoy Advance. Since I spend so much time traveling, it makes a great time-waster while hanging around in airports because of canceled flights, unscheduled delays, and a multitude of other unpleasantries that come with flying. The only problem is that so many of the games now-a-days are hopelessly complex. There are exceptions but, for the most part, modern video games are annoying to play because you have to read a manual 1-inch thick in order to know what's going on.
Fortunately, Nintendo has started releasing "retro-arcade" classics that are pretty much direct ports of the original NES-adapted games. Unfortunately, they are stupidly priced at $24 each (HOLY COW! THESE GAMES ARE DECADES OLD AND REQUIRED NEXT TO NO EFFORT TO RELEASE!). Even more stupid... rather than create an emulator to play a copy of a copy of the original, why not just emulate the original from the arcade? You can't get more authentic than that! I dunno... maybe when these games are in the bargain bin at $9.99 I'll consider it, but over $20? Forget it.
And now we have the new GameBoy Advance DS (dual screen) with even more complicated games and voice/touch input.
Bleh.
I guess I'll continue to play original arcade games on my laptop for free using MAME. This incredible software lets me play all my "old-time favorites" (albeit illegally) and leave the cluttered and complex world of "modern" videogames behind. Back then, graphics were crappy and memory expensive... so you focused on excellent and exciting game play (while the exact opposite seems to be true today).
Take Donkey Kong, for instance...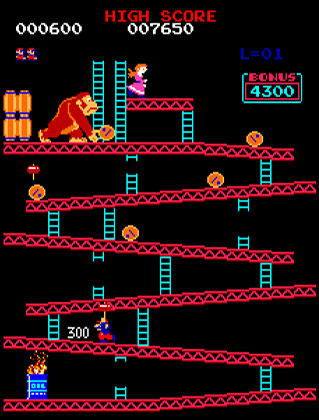 This masterpiece from 1980 (24 years ago!) consumed untold hundreds of hours of my life, and did it in an astounding 60K of memory. That's 60 kilobytes. Not megabytes... not gigabytes... that's measly kilobytes.
And then came the astounding NEXT GENERATION of arcade titles in the latter half of the 80's, giving us 10 times the memory, higher-resolution graphics, voice synthesis, and fantastic games like Gauntlet II...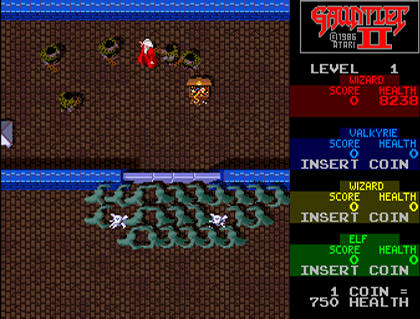 In just 600K, this marvel ate away at my college years with a vengeful fury (probably because you could play with three friends all at once, rather than having to take turns). Sometimes, in the dead of night, I can still hear it speaking to me... "RED WIZARD SHOT THE FOOD!", and "BLUE VALKYRIE NEEDS FOOD BADLY!" (and, since somebody else probably just gobbled the food you needed so badly, your only option was to drop in more quarters so you could continue playing... my mind boggles at how much money these machines must have raked in with four people spending quarters continuously to keep playing).
I guess for now I'll hang on to my GameBoy Advance and hope that the classic games start being released at a classic price. Maybe I'll change my mind when the new Playstation Portable comes out, but somehow I doubt it.
One of these days I need to compile a list of my top-ten favorite arcade classics... but first I'm going to have to figure out just how high Q*Bert would be on a list like that. I totally owned that game.