This morning I awoke to a lot more non-spam email sitting in my "in-box" than usual. There were emails about my Nomar entry yesterday ("His FANS didn't get him where he is, his TALENT did!!! If you're a Nomar fan then start rooting for the Cubs!!"). Email from people upset about my rant against car drivers who run over motorcyclists ("To believe in God is to believe in forgiveness and we must forgive those who trespass against us just as we ask forgiveness for our sins"). Email from friends ("What are you doing for New Years?"). Email from the brilliant zefrank letting his loyal followers know his site has been updated ("Its been a while since the last update: told you I wouldn't spam you"). And so on.
But my favorite piece of email was from somebody who read my Anonymous Letter #1 entry about rude mobile phone users, and had a link to share with me: Coudal Partners has come up with SHHH! (Society for HandHeld Hushing) to fight back against obnoxious mobile phone users, and even have little cards you can download and pass out...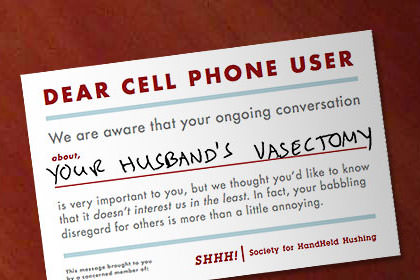 My favorite card is "The world is a NOISY PLACE. You aren't helping things" (though all of them are pretty darn clever). A pity I'll probably never have the guts to actually use the cards, but things are getting so bad I may have to risk it in order to save some moron's life.
Because, mark my words, the day some nut-case shoots and kills an obnoxious mobile phone user is coming. There have been shootings over far more stupid reasons, and it's only a matter of time.
UPDATE: And now they have Road Rage Cards that you can hold up to show dipshit drivers exactly how you feel. I think my card would be permanently turned to the "SLOWER TRAFFIC KEEP RIGHT" page (I worry about getting killed from using some of the more -ahem- direct cards). A shame I can't use such a thing while riding my motorcycle (unless I felt like dumping it on the road, that is).