I had the afternoon off so I decided to catch up with my sleep, catch up with my laundry, and catch up with dozens of little things I've been putting off... like updating the layout for my blog. Nothing drastic, mind you, just a few changes to separate the content a little better. It's always bugged me that everything here isn't really contained, but floating all over the place. I also wanted a new header that could have swappable graphics (this time with cartoons!).
And then, fifteen minutes later, I've got it roughed out (thanks to the glory of CSS). Naturally, it looks fine in Safari and Firefox on my Mac (it usually does) but, the problem is always, always getting it to render properly in that bug-ridden pile of crap known as "Microsoft Windows Internet Explorer." It never fails... it takes just fifteen minutes to get what I want, and then I'll end up spending hours trying to make it work in Windows. Well, it's late, and I just don't have the heart to see how bad it looks in IE, so I guess that will have to wait until the weekend.
And, speaking of catching up, I also managed to watch yet another amazing episode of Veronica Mars from last night ("Annoy tiny blonde one! Annoy like the wind!!"). This show is simply too good for television. Seriously, broadcast television doesn't deserve a show this perfect. Veronica Mars is deliciously complex, cleverly written, brilliantly acted, and shockingly addictive. I think it just might be my favorite show currently on television...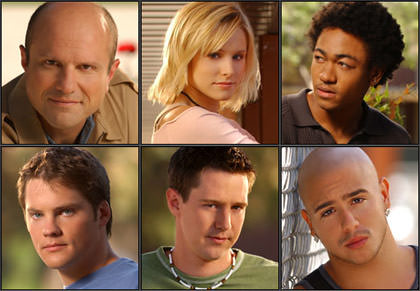 I can't imagine how they are going to manage to keep the intricate web of character relationships going for the entire season but, since Rob Thomas (of "Cupid" fame) is involved, I suppose I needn't worry about it. All I can do now is curse myself for not having saved every episode on my TiVo, and then wait patiently for new episodes to air next year.