This is a long, drawn-out entry which will probably not appeal to very many people (though, there are pretty pictures, so maybe that will entertain some?). In the text that follows, I feebly analyze icon images and come to the conclusion that Adobe sucks ass when it comes to crafting an icon that's worth a crap (I could say the same about their bug-ridden applications, but we'll save that for another time). I am not a computer interface expert. I am not a human useability analyst. I am not even remotely knowledgeable about how the human brain associated an image with an item. But lack of credentials has never stopped me from stating my opinion in the past, and I'm certainly not going to let it stop me now.
You've been warned. To continue reading, click on the link below...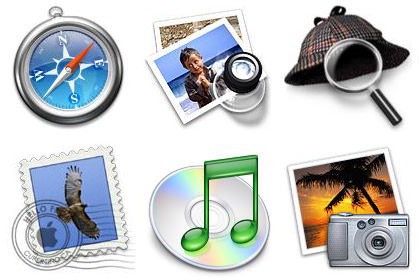 The reference standard for icons on the Macintosh come from, who else, Apple. The majority of icons they use are distinctive, attempt to indicate the function of the application, and look wonderful. The only problem is that they assume knowledge some people may not possess. Safari, Apple's web browser is a compass, which makes perfect sense when you consider a browser's function is to assist you in navigating the web, but assumes you know what a compass is (let's face it, in this day of GPS devices, MapQuest, and the decline of the Boy Scouts, this is old-school). Preview, allows you to view images (and even PDFs) so it's icon is great if you know what a photographer's magnifying loupe is. Sherlock, Apple's web search utility, is beautifully illustrated in icon and name, assuming you know who Sherlock Holmes is and the type of hat he wears (though the magnifying glass is pretty academic). Mail (email reader), iTunes (digital music manager and CD player), and iPhoto (digital photo and camera manager) are all a little more accessible because everybody who finds themselves using a computer probably is in a position to knows what a stamp, a CD, and a camera looks like. So, when it comes to icons, Apple is pretty much the cat's meow, though they are not entirely perfect...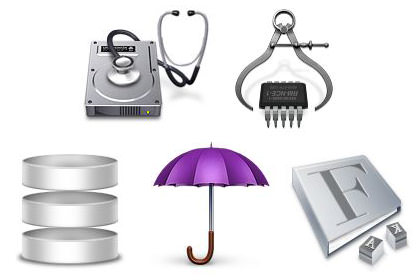 In some cases, Apple's presumption of knowledge goes a little too far (usually in their utility applications). For example, Disk Utility assumes you know what a hard drive looks like, which is odd because many, many users will never look inside their computer to find out (especially with a company like Apple, who works so hard to be sure you never have to look inside your machine). The only thing that saves them from total obscurity this time is that the default icon for a hard drive is the exact same, so most people should be able to put 2 and 2 together. They don't have such an excuse for System Profiler, which assumes you know what a computer chip looks like (probably not a very big leap) and then compounds it with an esoteric tool like a calliper. Things go down hill from there with ODBC Administrator but, in their defense, if you would actually need to use it, you are probably familiar with the universal symbol for a database. Not all implied references are technical. Apple's Backup software uses an umbrella, which relies entirely on a familiarity with the saying "into every life, a little rain must fall" and what is meant by it. Font Book is perfectly rendered and easily understood, but how many people in newer generations are going to know about the origins of moveable type and what those scattered letters mean? But "meaning" of an icon is subjective, and Microsoft weighs in with a widely used alternative...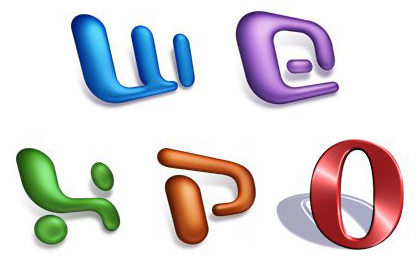 Instead of attempting to reflect function or form, Microsoft simply provides a stylized icon from the first letter from the name of each product. While not my favorite method of identifying an app, it does have the benefit of immediate association. So, I suppose if your method of rendering the letter is distinct enough, you can get away with it. There's really no mistaking these bizarre renditions for Word, Entourage, Excel, and Powerpoint. Where you run into trouble is when you just slap some generic looking letter on your icon, like the kinda lame "O" for the Opera web browser, which is painfully easy to overlook or misinterpret. And here's where we get to the entire point of this entry. The icon travesty from Adobe...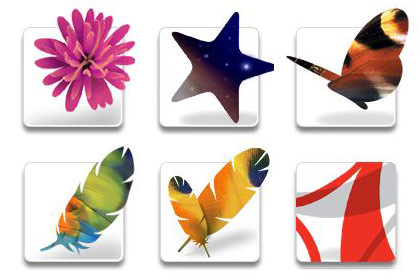 What the f#@%?!?
Seriously, I defy you to show these icons to anybody not already familiar with Adobe's latest round of "CS" products and have them comprehend what the associated application does, what it's named, or even what it's supposed to be. Adobe, the premiere manufacturer of graphic design software has the absolute worst icons of any professional software I've ever seen. Here are my guesses as to what software these icons might actually be useful for:
Flower planting and planning guide software? (No! It's a vector drawing app!)
Astronomy software? (No! It's a web site design app!)
Lepidoptera (butterfly) cataloguing software? (No! It's a publishing layout app!)
Ornithology software for birdwatchers? (No! It's a photo manipulation app!)
Native American Indian tribe historic migration software? (No! It's a web graphics app!)
Who the f#@% knows?
It was that last one, the icon for Adobe's newly-released Adobe Reader (formerly known as Acrobat Reader) which I just downloaded that caused me to become enraged and write all of this. I can only guess that it is supposed to be a stylized version of the old "Acrobat" logo, but they've presented in a way which is impossible to know that, even if you've seen the logo before!! Adobe icons are stupid, stupid, stupid and, even though I've been using the programs for over a year now, I STILL get the icons mixed up on occasion. I wish I had a dollar for every time I accidentally confused the icons for InDesign and GoLive and opened the wrong program.
Whoever approved these icons should be shot. I'm sure they are supposed to be some kind of abstract artistic statement, but f#@% you, I just want to get to work and be able to launch the program I need without having to figure out what in the heck I am actually clicking on. Adobe is a multi-million dollar company, but it doesn't take that kind of money to make functional icons.
The following are all icons from developers who at least try to make an icon that is intuitive. Not all of them are perfect, but the effort in giving us something logical is much appreciated...

Transmit, by Panic Software. A little moving truck probably doesn't really signify transmitting data via FTP (perhaps they confused transMit with transit?), but it is fairly unique and does give the impression that something is going to be moved. While not entirely intuitive, I have never once had to hunt for this icon or click on it and not get what I expected.
Ecto, by Adriaan Tijsseling. This essential blogging software easily impresses that you are "writing to the world (wide web)" when you click the icon. On one hand, a globe of the earth has become synonymous with the internet and is easily understood... but, on the other, so many internet apps are using it that you end up with a lot of little earths all looking the same.
MegaTrack, by rudis dot net. How could you interpret this icon as anything but hurricane tracking software? A brilliant icon for a donation-ware SourceForge program (as a critique, they might want to beef up that hurricane symbol so people don't overlook it).

OmniGraffle, by Omni Group. All of the Omni icons are perfect, and this one (for their amazing diagramming and flow-charting software) is no exception. Unique, intuitive, functional, beautiful.
Podworks, by SciFi HiFi. The best of the best of the best iPod transfer utilities has the best icon. Open's your iPod so you can get to the music inside. Enough said.
Poisoned, by The Poisoned Project. Yet another earth-globe icon, but beautifully reinforcing the product name and function (Poisoned is a multi-peer-to-peer client which, I'm guessing, is gleefully poisoning the web by using it for all sorts of "illegal" file-sharing activities!).

Fetch, by Fetch Softworks. This is another FTP utility (like Transmit) but one with a long, long history with the Mac. When they made the leap to OS X, a new icon was developed which even further bound the name with the icon. I like that the dog is still holding a floppy disk in his mouth (like the original MacOS Classic icon) even though floppies aren't used anymore, which spells out the program's heritage in a clever way.
Firefox by Mozilla. It's only fitting that a revolutionary browser should have an icon to match. Sure they used the earth-globe that hundreds of other internet apps are using, but they found a way to make it entirely unique and reflect the name of the product! Brilliant.
Circus Ponies Notebook by Circus Ponies Software. All too many datebooks, notebooks, word processors, etc. are using the pencil and paper icon, but at least Circus Ponies tried to be unique about it. The multi-color tabs to imply organization is what makes the product so great, and the fact that they worked it into the icon is gravy.
This is not an exhaustive list. There are plenty of other icons I think are brilliant, and a whole lot more I think are really, really bad (though nothing actually useable ever seems to sink to Adobe-level depths of crap). I guess the entire point of this entry is that icons matter. Having icons that are distinctive or relate to the program in some way is essential. Shame on Adobe for screwing up something so basic so very badly when even tiny freeware developers put forth more of an effort to get it right. If the new, even more confusing Adobe Reader icon is any indication of what we'll be seeing from the next CS Suite release, I'll be trashing them and designing my own.