What's the strangest thing you've ever eaten? Unquestionably, without a doubt, no contest - natto. This traditional Japanese food is strange even among strange foods. They say it's made of fermented soybeans... but this heinously foul-smelling, sticky abomination more likely comes from some grotesque alien planet, as mere humans should not be eating it. My Japanese friends tell me that natto is an acquired taste, and I just haven't eaten enough of it to appreciate how yummy it is. They are, of course, insane. I still dream of one day getting revenge upon the "friend" of mine who tricked me into eating this blasphemy of all things food-like. Does this stuff seriously look like something you should be putting in your mouth? (photo copyrighted by Matt Wegener, from his terrific Japan photos page, which is well worth a visit!)...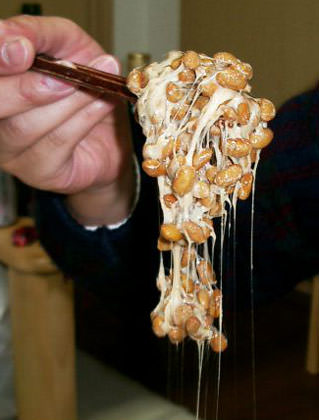 What's the strangest thing you've ever read? I'm tempted to say any travel book written by Rick Steves (seriously, I travel a lot and am a huge fan of travel books... but Rick Steves' stuff is so laughably bad that I find it strange they are so popular). But, even stranger, would have to be the disclaimer on my disembarkation card before landing in Singapore: It basically said that anyone caught smuggling drugs in or out of the country would be put to death, and by entering the country you accede to this law with the understanding that any appeal made to your government would do you no good at all. I found it strange they should tell you this after you've already boarded the plane! I mean, I didn't have any intention of smuggling drugs, but became terrified that somebody would stash their drugs in my suitcase or something. I was paranoid the entire trip.
What's the strangest thing you've ever seen? Excluding the ending of the movie 2001, those stupid-ass television commercials with Jared's Subway Diet, and the Yayoi Kusama exhibit at MOMA in New York? I'd have to say the strangest thing I've ever seen would be a child beauty pageant in New Orleans. I didn't actually go out of my way to see it mind you... the event was taking place at my hotel. This bizarre activity has obsessive parents dressing up their little girls to look and act like whores, then parading them in front of a freaky group of people who actually find entertainment in such a thing. I've seen a whole lotta freaky in my travels, but that was the strangest of all.
FQ YOU: What's the strangest thing you've ever done? Putting parts of my life in a blog for the entire world to see would rank right near the top, but I'd have to say skydiving is #1. Back when I first tried it (tandem) and then went on to take classes, it was just something fun to do. But now, I find it strange that anybody would choose to jump out of a plane when they weren't forced to do so.
Everything's strange at the FridayQ.