Usually when I have to travel across the world for work, I make sure to add on some personal time so that I can see the sights or visit friends or go take in something new. On this trip, for instance, it would have been great to add on a quick hop to Hong Kong or Thailand or Cambodia... just a little something extra to make the 20 hours it took to get here worthwhile. Unfortunately, given the short notice for this trip, there was no way to arrange any additional time away from work (and, even if I could, last-minute travel is really expensive).
Since I'm only going to be in Korea for 2 days, I decided to leave my big camera at home and just take my little digital compact model. Unfortunately, I forgot to transfer my 512meg memory card, and all I could find in the bottom of my suitcase was a tiny 16meg card that I save for emergencies. On one hand, it's better than nothing... on the other, I can only fit seven photos on it!
So here are seven shots of my afternoon in Seoul, wandering around with a friend from work and meeting her friends in the city. This first shot is from my hotel room window. The sun is finally coming out, so it might actually be a nice day...
Here's a shot from a taxi window on our way to the Hongik University District. I couldn't resist a sign that says "Donggyodong!"...
The area around the University is crammed with small clubs. I would have really liked to have gotten a look inside this one...
I had a big breakfast and didn't feel like eating lunch, so that meant we didn't have to find a vegetarian place. Most all traditional Korean restaurants have a burner built into the table where they cook your food right in front of you using tongs, chopsticks, and a pair of scissors to dice up those tricky baby squid tentacles...
Cartoon characters are a popular way to advertise goods and services here. The cartoons that amuse me most are those of fish, chickens, squids, cows, pigs, and other assorted animals inviting you come eat them because they taste so good...
Older sections of town are based on original market streets from hundreds of years ago that wander off in all directions. Trying to find someplace in these areas can be a real challenge, even for the natives...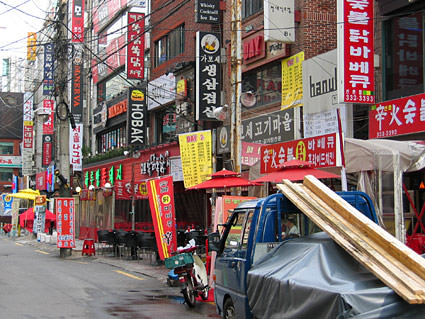 As I noted in my blog entry for a previous Korea visit, the motorcycle of choice here is a Korean brand called Daelim. Most models are fairly generic, but they do have some nice-looking variations. This is a "Daelim Daystar" I thought was a fairly nice ride (but surely they could have come up with a more badass name than that!?!)...
So that's my first "half-day" in Korea. Tomorrow is mostly work, then I'm flying back home. I think I'm exhausted already.