Today was supposed to be a great day. Perry had invited me to a Chelsea tribute match which would have been my first opportunity to attend an English football game. Not knowing how long it would take for me to get to the grounds, I decided to leave a full hour early just to be sure I wasn't late. I'm staying at a hotel way out in the docklands, and am completely unfamiliar with the area, so I ask the concierge what's the best way to get to the city.
That was my first mistake
The guy kindly told me that I should go to a station that was out to the main road and to the right, so off I went. After a quick hike to the main road and ten minutes walking "to the right," I don't see a station... underground, rail, or otherwise. So I stop a couple of guys walking along the bridge and am told them the station name I was given. They look at me like I was from outer space and tell me that they've never heard of it. The nearest station is the Royal Victoria back the way I just came.
Thinking I must have misunderstood the concierge, I walk back to the light rail station and spend the last bit of cash I have to purchase a day ticket. Once I've got the ticket, I walk over to the platform for the city and find it barricaded. The line is closed so you have to take a bus...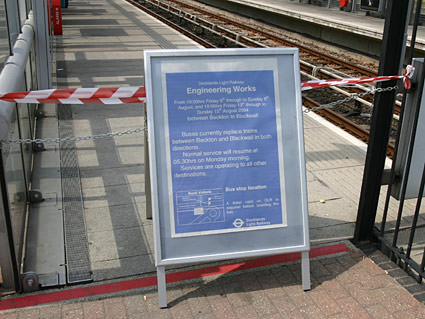 I waited for the bus for 20 minutes at the location specified and it never came. I've wasted almost 40 minutes now, and figure I'll just go back to the hotel and take a taxi. Problem is that I don't have any cash left, so I have to find a "cashpoint" (what they call ATMs here). I find one in the lobby and, despite the fact that it is displaying the "Plus" logo from my card, it refuses to accept it. So now I have no money, a useless rail pass, and am running out of time.
By now I am pretty desperate, and go back to the concierge for help. All I want to do is get to the city in time for the match... can he help me out? Is there a bus, a different train, a shuttle, ANYTHING to get me into the city for the game? Apparently, the answer is "no." If I don't have cash for a taxi, there is nothing he can do.
And so here I am. I could walk a couple of miles to the "Canning Town" station, but there's no way I could get to Chelsea in time. The only thing left I can do is call up Perry and tell him the bad news.
I suppose that I have no real reason to complain. The past two weeks have been amazing, and I should be content to have had such a great vacation. If something had to go wrong, better it should happen at the very end rather than in the middle somewhere. But still, it's kind of depressing that my last day in London has to be spent trapped at a hotel.
UPDATE: Since I pretty much had to have taxi fare in the morning to get to the airport, I made my way to Canning Town and, since there was staff available, asked about the no-bus at Royal Victoria. He assured me that the busses may be slow, but they are running, and so I shouldn't have a problem getting into the city. Sure enough, I did eventually make it so I could find a cashpoint, get some dinner, and see Perry off at King's Cross Station, but it was no picnic. Busses that run late, trains on wrong tracks, lack of staffing, and no re-direct signs to let you know where to go were typical. I've come to the conclusion that London Docklands Light Rail sucks ass.