iMac: Apple announced their new G5 iMac at the AppleExpo Paris today. It's pretty sweet, though I wish that the bus was faster and it came with more than 256MB of memory. As always when Apple has something new, I want one even though I don't need one. My G4 Cube I use at home is still the most beautiful computer ever made, even though I admit the idea of an elegant, all-in-one computer that's only 2-inches thick (along with that speedy G5 processor) is tempting. Oh well, I think I'll keep saving my pennies for a G5 PowerBook when they (hopefully) debut next year.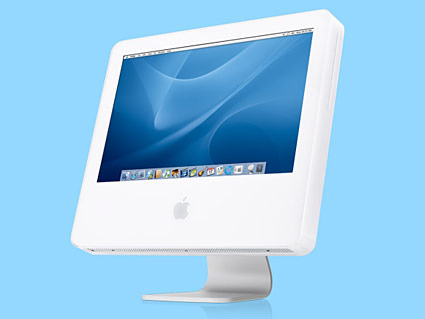 Skype: Also announced at MacExpo Paris is that a beta of Skype has just been released for MacOS X. In case you've been living in a box for the past year or so, this program allows you to make free phone calls over the Internet to any other Skype user, and even allows you to call any phone in 22 countries at just 2¢ a minute. I have at least a dozen friends around the world that keep after me to "just buy a cheap Windows PC so we can Skype" (as if!) and it's a bit of a relief to know I won't have to worry about that anymore. UPDATE: Skype ain't no Apple iChat A/V... but the quality is very good, and seems to work great so far.
News: A note to the New York Times and any other news service which requires registration to view your crap: Unless you have photos of a UFOs invading the earth or Elizabeth Hurley naked, I'm not going to bother. When are you people going to get a clue?
Sharona: A television show I really like is Monk on USA Network. It's a series about an obsessive-compulsive detective (played by the always excellent Tony Shaloub) who solves crimes from a rather unique perspective. The problem is that sometimes the show goes too far, and the obsessive-compulsive bit gets annoying. The only thing that saves Monk at those moments is his nurse/assistant Sharona (played by Bitty Schram). But now Bitty is leaving the show. Something tells me Monk has just jumped the shark.
Rock: Finally got around to watching the Never Scared HBO Special from Chris Rock (from his Black Ambition tour). It never ceases to amaze me what that guy can get away with on stage. He truly is fearless, which makes him that much more of a genius in his work. Some of his observations are so brilliant that I wish he would film a G-rated version of the show so that more people could hear what he has to say. Sure such a show would be only 10 minutes long once the R-rated material was cut, but it would be a very important 10 minutes to watch.