James Doohan got a star on the Hollywood Walk of Fame! Finally, after all these years, the genius that is "Scotty" is recognized. Now that I really stop and think about it, he is probably my favorite Star Trek character. Nothing is quite so cool as when Scotty starts to lose it in the engine room! He is also responsible for my favorite post-original series moments... particularly the guest appearance he had on Next Generation and his work in Star Trek IV ("Computer? Hello computer!").
I wish him nothing but the best...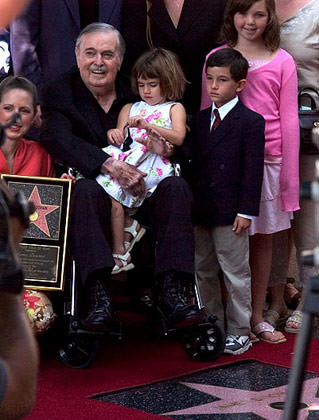 Photos by Jason DeFillippo from the induction ceremony can be found on Blogging.LA. It looks like some other Star Trek faces showed up including Nichelle Nichols, George Takei, Walter Koenig, and Grace Lee Whitney? That's pretty swell of them. Is there a transcript of the speeches floating around the Internet? I'd love to read what everybody said.