Mondays usually suck... that's what they are designed for. This allows you to have a better "rest-of-the-week" and enjoy the weekend. Sure there's that pang of horror that hits your stomach late Sunday when you realize tomorrow is dreaded Monday, but that's just the way it goes (unless you live in the U.K. today, where they are having a bank holiday). Now, since I had to work all weekend, my Monday shouldn't suck at all. Monday should have been just another day.
But it wasn't.
My Monday sucked just as bad as it usually does, and that's not fair. It all started when I found out that Indian Larry had died while performing a motorcycle stunt. This guy was a true artist, and watching him in bike design competitions on The Discovery Channel was always a highlight. He will be missed...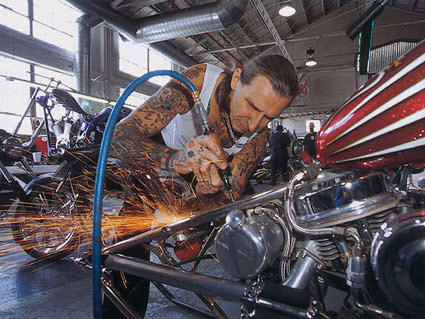 Another sad bit of news is that James Doohan who plays "Scotty" on Star Trek had a farewell convention this past weekend, which will be his final public appearance. He has been diagnosed with Alzheimer's, and it won't be possible for him to attend anymore conventions. I've met him in person twice (he lives in Seattle, and regularly attended cons there), and he is about as nice a person as you're ever going to meet. The thought of losing another original cast member is pretty harsh.
When I finally got to work, things weren't much better: I found out that the email server will be down all day. Since email is used for about 90% of my communications, you can imagine just how fun that makes an already difficult job. Now I actually have to get on the phone and call people which sucks ass because I loathe doing business over the phone. I thought that servers were supposed to have redundant hard drives and stuff so outages don't happen, but it is a Windows server, so whatever.
Normally, I would rejoice in the fact that at least my personal email is working, but today I received an email so vile that I almost wished that it was inaccessible as well. A while back I wrote an entry on how dumbfounded I was that 4000 same-sex marriages were annulled in California. It doesn't matter whether I believe in it or not, it just seems really wrong to me that people can't love the person they want and be with the person they want (this is America after all). I had received two "wrath of god" type emails after I posted it, but then everything went back to normal... until today. I am tempted to post a copy here so that people can see just how hateful their fellow-humans can be, but it's so bad that I can't bring myself to do anything but delete it. In response, I can only say "peace unto you brother" because it sure sounds like you could use it.
The one bright spot in my day was reading people's reactions to Microsoft gutting some of the features in the next Windows release code-named "Longhorn." It's all just too funny. First Windows users were going to have to wait an additional year to get the features Mac users will be getting in 2005... now they won't be getting some of them at all! Of course, you know what this means: to compensate for Longhorn being short on features, it's time for another round of Mac bashing to come out of Redmond! As I mentioned before, any time Microsoft experiences a setback, it seems they trot somebody out to verbally talk about how great Windows is and how superior it is over Mac and Linux because they don't physically have a product whose superiority can speak for itself. "Put up or shut up" is something Gates & Co. just doesn't seem to understand. It's crazy that people continue to bend over and be shafted by Microsoft like this when better alternatives are out there.
If I just go to bed and try to forget that today ever happened, does that mean I'll get another Monday tomorrow?