Pub: Around 11pm last night I decided to run through the local pub scene for a few hours and found it to be even crazier than I had imagined. Nobody, it would seem, parties like the Irish on a Friday night. On Grafton Street there are quite a few rickshaw-type carts that you can hire to haul your drunk ass from one end of the road to the other (it being far too crowded in the daylight hours for them to operate). The highlight of my evening was watching two drunken blokes who had stolen a cart evade both the police and its owner as they escaped to St. Stephens Green. "Get the fook out of the way! We'll fookin' run yeh down!" It was all in good fun, but I'd hate to have their hangovers this morning.
Tomb: I had fully intended to do as little as possible, enjoying my last day before the imminent Hard Rock Run Europe 2004, but one look out the window changed all of that. Unlike the previous two days, the sun was out and it was shaping up to be a beautiful day. After yet another escape into the Best Shower in the Universe®, I headed down to the concierge to see what interesting diversion might be available in the seven hours I had left. Since I had already taken a run through Wicklow in a previous trip, he suggested a trip to Newgrange. It is here you can tour an ancient tomb that predates even Stonehenge and the Egyptian Pyramids (dated at around 5000 years old). It was an interesting diversion for a few hours while I waited for my flight...
(No, the Teletubbies were not at home)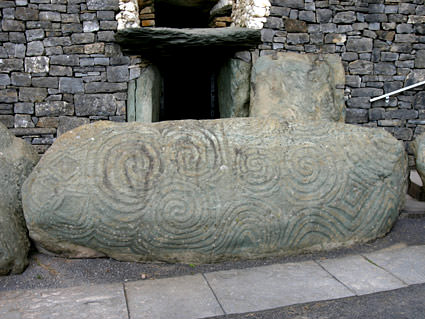 Busted: While waiting in line at the Dublin airport to head back to London, some irate guy behind me decided to start yelling because there was only one check-in window available. He'd run up to the poor bloke at the counter and start screaming in his face "GET ORGANIZED! YOU'VE GOT FIFTY PEOPLE IN LINE WAITING!" and then walk back to his embarrassed wife and daughter. The second time he ran up and started screaming "OPEN ANOTHER WINDOW YOU BLOODY IRISH!!" and then walked back again.
This time, he was overheard by a pretty customer service agent who came over to see what all the trouble was about. It was at this point the idiot went too far... he started screaming at the poor girl, and then grabbed her. There was an audible gasp from the crowd, and several people (including myself) were heading over to get him off of her when his wife and daughter stepped up and started pleading with the enraged moron to let the girl go.
Which he did, thankfully.
But then he turned and slapped his daughter across the face. Hard. "Oooooooooh!" went the crowd that was now in a state of total shock. By this time, the police arrived and eventually arrested the freak as the crowd started applauding. As he was drug off in hand-cuffs, I couldn't help but wonder what kind of wait he has ahead of him to get on that flight now. If he had just shut up and stood in line, he would have had his boarding pass quite a while before. I do feel sorry for his wife and daughter, not only because they have to put up with his childish and violent behavior, but also because they're now pretty much stranded on the trip alone (or maybe that's a good thing?).