After a nasty lull when Phil Hartman left, Saturday Night Live finally seems to be gaining some momentum again. I used to just tune in for a bit of Tina Fey deliciousness on "Weekend Update," but more and more I find myself actually watching the rest of the show. Last night's episode had some really great moments, particularly the "Harry Potter" sketch with Rachel Dratch somehow creating the best Potter parody I've yet seen...
The sketch revolves around the kids returning from summer vacation to find that Hermione (guest host Lindsay Lohan) has gone through a bit of a... uh, development... since they saw her last...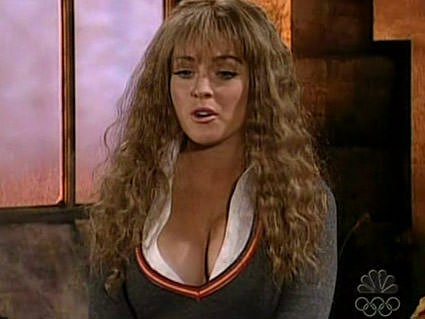 Then Fred & George stop by and make a play for Hermione...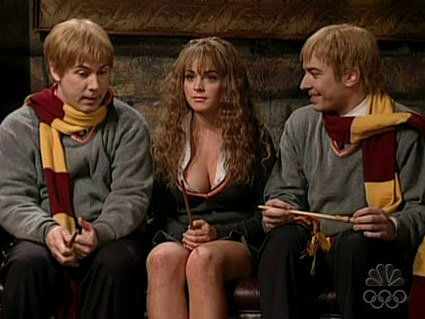 Of course she'll have none of that...
Fred & George: Well, if you'll excuse us, we're off to beat a couple of bludgers.
Harry: Ah! Going to play some Quidditch?
Fred & George: Uh, no.
It's time for some spells... but the magic doesn't seem to be working! Are you concentrating?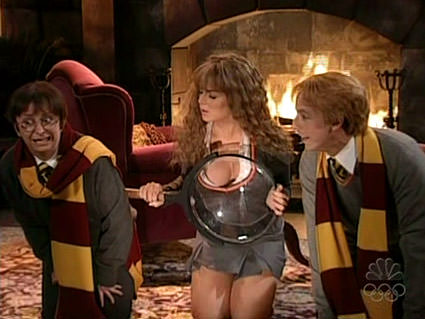 By the time Horatio Sanz shows up as Hagrid, you just know this is one of the best SNL sketches ever! You're Hermione? Yikes!
Hagrid: Alright. I better go out to the woods and tame my dragon.
Harry: Ah! You got a new pet?
Hagrid: Uh, no.
Next week we've got Jennifer Aniston hosting before the Olson Twins do the season finale. SNL seems intent on going out with a bang this year.