I just got an e-mail with the observation that I pretty much hit all corners of the USA this month. I hadn't really thought about it but, after plotting it out on a map, see that she is right! No wonder I am so tired. Of course, I also got an e-mail from a guy claiming that I am making this all up... that my travel schedule is "unrealistic" and I am not fooling anybody with my "imaginary travel tales."
Bizarre. Just how do you respond to somebody like that? I'd like to think if I were going to make up lies about myself I could certainly be more inventive than this (remind me to tell you about the week I spent with Elizabeth Hurley in Costa Rica after escaping from an alien abduction and inventing an anti-gravity toaster). Unfortunately, it's all true...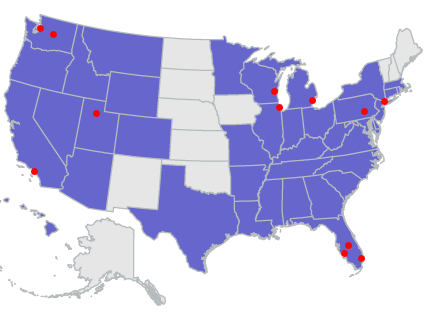 A pity that I didn't get to see a heck of a lot along the way. Oh well... I'm going home...