Bummer. I e-mailed my BMW dealer this morning (they were closed yesterday) with photos of my leaking motorcycle, only to be told that I should not be riding it (not that I had planned on it). Instead, I had to call BMW roadside assistance to arrange to have my F650-GS picked up and trucked over to Seattle. Oddly enough, BMW only covers the first $100 of the "towing" expense which probably doesn't go very far toward a 150 mile trip. As if not being able to ride my motorcycle on a fantastically beautiful day like today wasn't bad enough, now I have to pay for transportation as well? My motorcycle only has 1600 miles on it!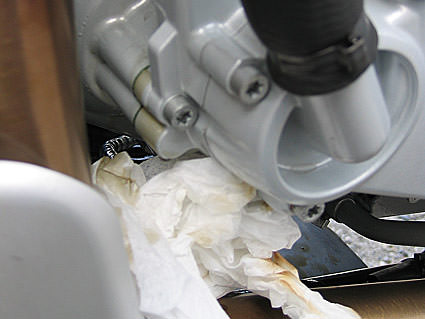 UPDATE: Not that I would wish a break-down on any motorcyclist, but if you DO break down, I hope you are as fortunate as I have been today. My dealership (RideWest BMW in Seattle) has been great... response time has been immediate. BMW roadside assistance has been amazing... it only took 10 minutes to arrange a pick-up. Now I find out that a local towing company will be stopping by in 20 minutes to get the bike. It'll be at the repair shop today. I've been told that not only will RideWest BMW be taking a look at it as soon as it arrives so they can get me my ride back A.S.A.P., but they will also cover any additional towing fees!
If you live in Western Washington and are thinking of buying a BMW motorcycle (and you should be!), I cannot recommend RideWest BMW highly enough. My every experience with all aspects of their sales, service, and follow-through surpasses my every expectation. So, while it does suck that I can't ride, I feel a lot better knowing that RideWest has my back when things go wrong.
UPDATE: Buh Bye. She's beautiful, even when she's leaking...
And JUST LOOK AT THAT CLEAR BLUE SKY!!!! Arrrgh! Though I have to say that even the guy from the towing company was really cool about making sure I was treated with respect and gave me every assurance that he'd take good care of her. Then a quick call to RideWest to let them know it's on the way, and again they are totally cool about everything... making sure to let me know that they'll get it fixed up as soon as possible, and everything will be perfect again.
Man, I take a look at the service and respect I've gotten from every single person involved with my misfortune today, and and I can't help but think back to every other time I've had to deal with a similar situation... Panasonic, Canon, Dell, all of them SUCK ASS!! BMW rocks. RideWest BMW rocks. BMW Roadside Assistance rocks. Dick's Towing rocks. If only other businesses tried even a fraction as hard as these people do, I wouldn't be overwhelmed with dread every time I go and buy something. I will never again regret having spent the extra money to buy a BMW... at least I'd better not!
UPDATE: RideWest called to confirm safe delivery of my motorcycle, and they are starting work on it right away. Very cool. I sent my first e-mail with the problem a mere six hours ago!