Hey, tomorrow is my birthday! Looking back, I have no idea how I managed to survive this long. I've done some pretty insane things in my life, some of which should have resulted in me being dead. Apparently I am too stupid or too lucky to die (go me!). Usually I try to spend my birthday out of the country, but the weather is so nice here now that I think I'd be happier sticking around and going for a motorcycle ride, which is absolutely the best present I could ever get.
Recently I started digitizing my old film photos so that I can put them in Apple's iPhoto with all the rest. It's a mammoth undertaking because I have thousands of photos left to go, but it's been worth the effort so far. Last week I scanned in a batch of photos from one of the very first "Birthday Weekends" (an annual group celebration with friends, most of whom also have March birthdays). This is a pretty typical example of how I've spent past birthdays... funny that my friend's first instinct was not to rush to my aid, but instead to take a picture: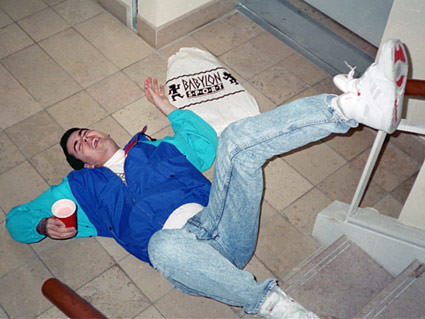 You will note that despite being too drunk to properly climb stairs, I didn't spill my drink. I'm pretty proud of that. I seem to remember waking up the next morning with that funky jacket wrapped around my head somehow... I think it came to life and tried to attack me once I passed out that night. No matter, the evil jacket was destroyed in a tragic camping accident two weeks later (note to self: when drying a jacket made of rayon or other freaky synthetic fibers, it will burst into flames if hung too close to an open fire).
Yeesh, where did thirty-eight years go?