So today I am thirty-eight years old. Wheeee. Probably more interesting than my birthday today are the others who share it with me... famous magician Harry Houdini, really cool designer William Morris, actor Steve McQueen, entertainer Fatty Arbuckle, Whale Rider girl Keisha Castle-Hughes, bizarro lawyer/talk-show host/shoe salesman Star Jones, Vice President and official dancing monkey-boy for Microsoft Steve Ballmer, and comedian Louie Anderson.
Most important of all birthdays is MacOS X, which turns three years old today. If it weren't for the Mac, I'd be forced to use the virus-ridden, bug-filled, security-challenged crap-fest known as Microsoft Windows and for that I am eternally grateful.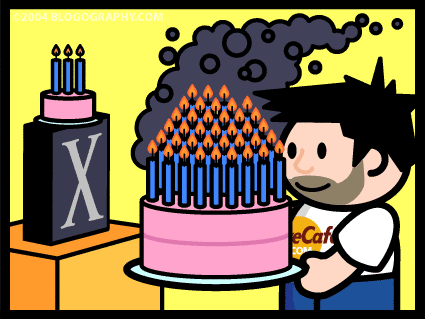 Anyway, thanks to everybody who was kind enough to send me birthday greetings today (some of which were certainly more uhhhh... "unique" than others). Here's hoping I live to see thirty-nine.
UPDATE: Apparently there is an even more famous birthday today than myself, Star Jones, and MacOS X... Ore-Ida Tater Tots turn fifty years old today! How cool is that?