I wish I was a Hollywood star so I had millions of dollars to blow on really stupid things. And then, when I ran out of really stupid things to buy, I could find eccentric things to buy... like a new face! Every time I turn on the television, I'm seeing surgically-altered stars sporting plastic surgery that looks completely bizarre. I simply cannot grasp why these people butcher themselves like that. The most common look in Hollywood now is one of constant surprise... where the eyebrows are floating well above their intended place because the face was lifted just a bit too much. Everywhere you look, people look like plastic. How can they not see it?
While talking on the phone this morning, I became curious to know what I would look like now if I had become a movie star millionaire ten years ago (and got really bored with my money). Here is what I came up with: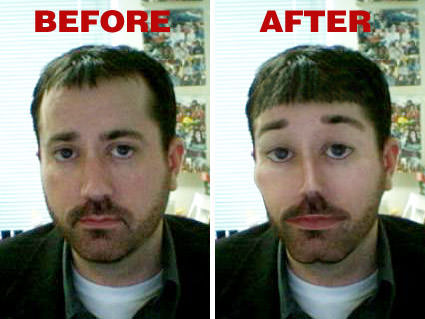 Cool! I gave myself cheek implants, chin implants, lip implants, hair plugs, a brow & eye lift, a nose job (or seven) and a few face peels for that oh-so-smooth look. But I think it's the permanent tattooed-on eye liner that's the clincher here! What a babe! I'm so sexy now that even I would date me! I can't decide if I look like a sexier Ben Affleck or a less sexy Michael Jackson...