Why is Blogography grey today? Glad you asked! I've decided to join in with the others over at Grey Tuesday in protesting the recording industry's ever increasing restrictions on artistic expression. A while back DJ Danger Mouse did something very curious... he blended tracks from Jay-Z's Black Album with samples lifted from The Beatles' White Album and created something wonderful and new called, you guessed it, The Grey Album.
This was no easy task, as the original works are completely different in style, tempo, feeling, and philosophy. But the result is pretty amazing. Unfortunately the dumbass party poopers at EMI records (who co-own a huge chunk of The Beatles' music catalog along with Michael Jackson) have issued cease and desist letters to anybody distributing The Grey Album... even if they aren't charging for it.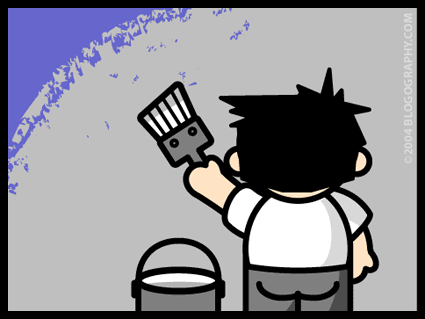 What totally blows about all this is that up-and-coming DJs wanting to break into the business have historically done exactly this type of thing in order to hone their mixing talents and work on their DJ skills. What's the harm in it? Does EMI honestly think that an album that has sampled tracks from The Beatles will cut into Beatles' album sales? I mean, money is all they care about (anybody believing that EMI is somehow trying to "preserve the integrity" of The Beatles' music is deluding themselves), and it's kind of stupid to think that sales of The White Album are going to plummet because of this. Hell, they may very well rack up new sales from an audience that has never even heard it before!
Being an artist is an exercise in creativity that requires drawing inspiration from the world around you. Forbidding an artist to explore that creativity will not only hurt the future of the music, but ultimately the consumers who want to listen to it as well.