And so Atlanta Hartsfield-Jackson has gone and messed up their airport.
Back in May, they opened up their new "Maynard H. Jackson Jr. International Terminal" which handles all foreign flights. In theory, it's great, because it means you no longer have to claim your bag, then re-check your bag, then re-claim your bag again if Atlanta is your final destination on an inbound flight. Instead you just grab your bag and waltz directly out of the building to your car and... voilà!... you're on your way.
Assuming you drove your own car to the International Terminal and paid their hideously expensive parking rates.
If you didn't, Atlanta International Airport has just screwed you and you don't even know it.
But you will.
Since I (obviously) didn't drive to the International Terminal (my car is back in Seattle), I had to get back to the main terminal so I could catch a hotel shuttle. But there is no train to take you back. Instead you have to wait 5 minutes for a bus... wait another 20 minutes for the bus to fill up... wait another 15 minutes to drive all the way back to the Main Terminal... then wait for your luggage to be unloaded... then wait for traffic... then walk to the hotel shuttle area where you needed to be all along SO YOU CAN WAIT EVEN MORE for your shuttle.
Which, needless to say, IS A HUGE FUCKING WASTE OF TIME!
So now I absolutely HATE flying into Atlanta on an International flight, and will avoid it at all costs. Or at least UNTIL THEY BUILD A TRAIN LOOP TO TAKE YOU BACK TO THE MAIN TERMINAL LIKE THEY SHOULD HAVE DONE IN THE FIRST PLACE! I mean, they can build a damn train FOR MILES out to the car rental center, but extending the EXISTING terminal train A MEASLY 500 FEET and adding a secure car to take exiting passengers back to the Main Terminal was too difficult? Apparently so. Or maybe they were too damn stupid to think of it.
But Seattle... frickin' SEATTLE... has figured out how to do this. It's EMBARRASSING that Atlanta... ONE OF THE BUSIEST AIRPORTS IN THE WORLD... has their head up their asses by thinking this absurd "bussing" idiocy is anything other than COMPLETE AND TOTAL BULLSHIT.
It's like the stupid-ass city I live in. The one thing we need where I work? More parking spaces. The one thing they made sure to eliminate when they re-designed the street? THAT'S RIGHT... THEY GOT RID OF PARKING SPACES!
Everywhere you look... from city planners to airport designers... the people in charge don't seem to know what in the hell they're doing. Nor do they give a crap. And why should they? They can just start screaming some bullshit about "saving money" or "having to make hard choices" (or whatever) to justify their short-sightedness. No more taking the time and money to do things right... it's all about making sure there's enough money in the project to pay their huge salaries, and everything else is negotiable. And the consequences? Well, for Atlanta-bound international travelers who just want to take the damn train into the city? FUCK 'EM! JUST FUCK'EM!! They can waste their time riding a stupid-ass BUS for a half hour to get to the MARTA train station! Who gives a shit about THEM?!?
And welcome to Atlanta!
Ever since getting my new MacBook, I've been increasingly fascinated with the pixel density of its beautiful "Retina Display." Everything looks so frickin' amazing on it that I have a really hard time looking at non-Retina-enhanced visuals now... especially when browsing the web. Most websites are built to deliver 72dpi graphics, which end up look pretty bad. And so I've been experimenting with photos here on my blog, trying to figure out how to delivery hi-res images without breaking things for readers who don't have Retina-type displays.
The easiest way is to just double-size all your images. I tried this in my last entry with the picture of the jitney door. It's actual size is 800x1200 pixels, but I define it as 400x600 in the HTML. So now Retina displays get a sharp image to look at, and non-Retina displays just toss out every-other pixel...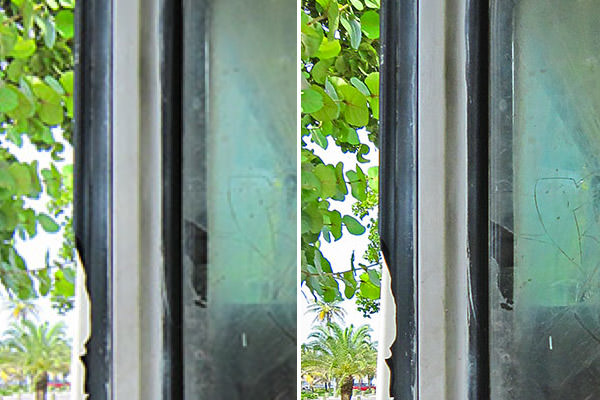 Detail of Non-Retina low-res on the Left... Retina double-res on the Right
The problem is this... visitors who don't have Retina displays are downloading much larger images with no benefit at all. Since their browser is just tossing 3/4 of the data, this seems wasteful of their time and bandwidth. And, unlike Atlanta's Hartsfield-Jackson International Airport, I give a crap about the people who spend their time visiting me.
This has led me to experiment with Javascript and CSS to deliver regular graphics for everybody except those visiting with a Retina-type display... they'll get the super-res versions. Sure they'll take longer to download, but at least all the pixels sent will be looked at.
And so now I just have to figure out the best way to approach this. All the easy solutions have serious drawbacks in one way or another, so it'll probably take some time and research to get it sorted. But hopefully, if you're visiting with an iPhone 4, New iPad, MacBook Retina, HTC One X, HTC Rezound, etc. - it will be worth the effort.