I'm hungry and it's Bullet Sunday so I thought I'd bullet my current food obsessions!
• PINK LADY APPLES!
Seriously, these things are like candy. Like Sweet-Tarts candy. Apparently they're some kind of unholy hybrid union between Golden Delicious and Lady Williams varieties that are crunchy, sour, and sweet all at the same time. They're expensive, but so totally worth it. Just. Can't. Get. Enough.
• FROSTED FLAKES!
I am kind of going through a Frosted Flakes Renaissance. I eat these things for breakfast, lunch, dinner, brunch, snacks, and also use them as a delicious way to exfoliate my skin. Just like Tony the Tiger says... they're grrreat!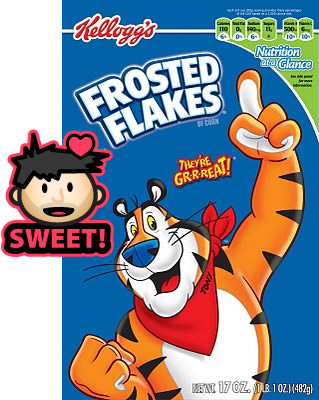 • CHEESE TOASTWICHES!
Schwan's makes a lot of delicious frozen foods, but their Cheese Toastwiches are to die for. I've never been addicted to crack cocaine, but I'd imagine it's much like this. I frickin' DREAM about eating Cheese Toastwiches! Crispy crunchy on the outside... gooey cheesy on the inside. It's everything good in life combined into a toastable snack! Unfortunately, they are horribly unhealthy with 11g of fat, 5g of saturated fat, 20mg of cholesterol, and 490mg of sodium. Yikes. The good news is that they taste so good you won't mind that they're killing you! Helpful cooking hint: cook one cycle with the toaster set on medium-high, then WAIT 5 to 10 minutes to completely thaw, then toast another cycle (toaster setting may vary).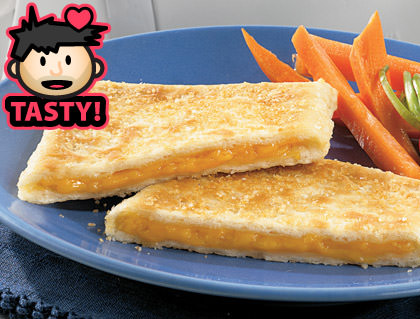 • CRAISINS!
I've never been much of a cranberry fan. Except for cranberry jelly at Thanksgiving. And cranberry juice mixed with vodka. And maybe cranberry jellybeans. But anyway... I first ate Craisins at the Hard Rock Cafe because they put them on their salads. I've been in love with them ever since. I eat them on salads. On Frosted Flakes. In cookies. Or right out of the bag. Bittersweet deliciousness.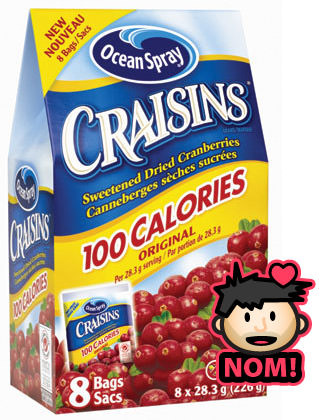 • PRETZEL THINS!
I kept getting these on airplanes, but could never find them in the "real world." Eventually I noticed that Pepperidge Farms was making them. This means they are really expensive, but they are also delicious. I go through a couple of boxes a week, which would make me feel bad... except they're fat-free, and that's pretty good isn't it? In any event, they're a nice change from "regular" pretzels.

And now I'm REALLY hungry, so I think I'll go rustle up something for dinner.