Hey! What the heck happened to the Bullet Sunday I posted yesterday? Blech. I'm back one day and am already having blog problems. Oh goody. A mystery to solve tomorrow morning! But enough about yesterday...
I've stopped measuring the length of my flights in hours, and instead measure them by how many episodes of Kevin Pollak's Chat Show I can watch before I land. Oh how I love this podcast. Kevin Pollak's interviews are 100% pure gold, and better entertainment than most anything you'll find anywhere. I am insanely addicted to the show, and more thankful than I can express that the internet allows true talent to have a forum where they can do what they do without interference from television networks, ad execs, and all the bullshit that fucks up "regular" television.
I have to work very hard to restrain myself not to watch the shows live, and instead download them to my iPhone so I have something to watch while I travel. This has made me go from "HOLY CRAP! HOW MUCH LONGER BEFORE WE FRICKIN' LAND?!?" to "WHAT? WE'RE LANDING ALREADY? NOOOOO! I HAVE TWO MORE EPISODES OF KEVIN POLLAK TO WATCH!!"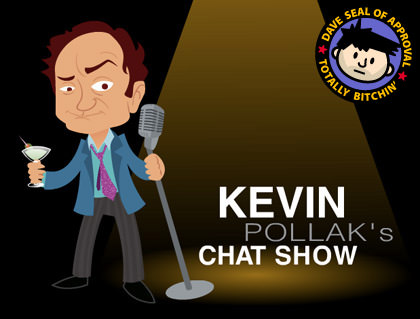 I swear... the quality of guests he gets... the amazing information he gets out of them... the hilarious way he keeps things moving... THIS is the job he was born to have. I managed to see eight episodes on my way from Barcelona to Amsterdam to Seattle. It was a who's who of fascinating people that couldn't have been better picked if Kevin Pollak had asked me who he should interview...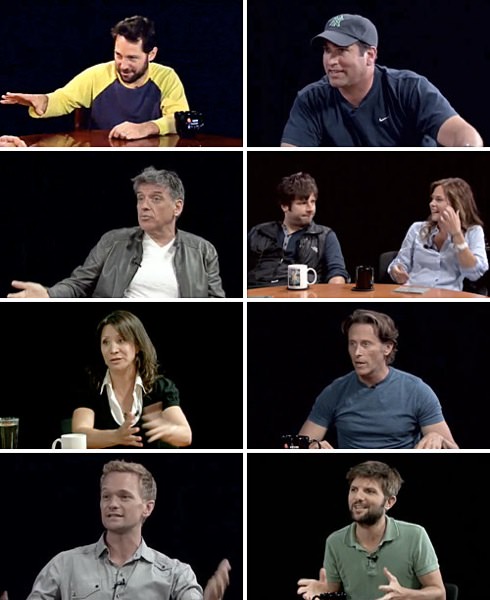 Paul Rudd. One of my favorite people, he is consistently one of the funniest actors working today and has turned in dramatic performances that rival the best you'll ever see (not only that... he was a guest-star on Veronica Mars!). He's just as amazing off-screen as on, making this an interview you don't want to end.
Rob Riggle. I've mentioned a couple times here how big a fan I am of Rob Riggle and the many places he seems to pop up (The Daily Show, Gary Unmarried, The Hangover, etc. etc.). I knew from his banter with Jon Stewart that he was in the Marines, but that's just the tip of the iceberg. What an amazing, heroic, fascinating guy. Hearing what he's been through and what he gave up for his love of comedy and performing is nothing short of amazing. This is a MUST-SEE interview.
Craig Ferguson. Pretty much the best late-night host since Carson, this interview adds yet another level to a very funny and complex guy.
Maggie Lawson and James Roday. As if Psych being one of my favorite television shows wasn't enough to get me to watch this interview, these co-stars (and real-life couple) were an interesting interview in their own right.
Cheri Oteri. A Saturday Night Live alum with a great story and a fascinating look behind the show. After being entirely too ignored by the superficial "main-stream press," it's about time that Cheri got the interview she deserved. Thank you Kevin Pollak!
Steven Weber. The guy has a wide assortment of terrific roles (including Brian on Wings!) and seems to be fearless in his acting choices. But that doesn't even scratch the surface of who he is. His comedy and political writings are genius... just like this interview.
Neil Patrick Harris. Yet another interview that was so good it could have gone on for four hours and you'd never notice the time passing by. Everything from working as a child actor to adopting twins with his partner... it's all here and it's all good.
Adam Scott. This is one of those actors that keeps popping up so often (Veronica Mars!) that you can't help but notice him. Eventually he landed on Party Down and has joined the cast of Parks and Recreation. Out of all the interviews I watched, I can honestly say that this frank, honest look at "making it" in Hollywood was easily my second-favorite after Rob Riggle's interview.

Next up in my queue... Greg Proops, J.K. Simmons, the Sklar Brothers, Bryan Cranston, and Fred Willard. As if that wasn't awesome enough, there's still the first 22 episodes which I haven't seen yet. I honestly don't know if I can wait until my next trip.
If you haven't checked out Kevin Pollak's Chat Show, you owe it to yourself to give it a look. The main website is here. The iTunes video podcast link is here. The iTunes audio podcast link is here. Highest possible recommendation.