This morning my plan was to get up early, have a nice breakfast, gamble a little at the Hard Rock Casino Tulsa, head downtown to check out a museum or two, then walk around for a bit and have a late lunch/early dinner.
Instead I ended up in Kansas.
When looking at my map of "States I've Failed to Visit," it seemed crazy not to make a run for the Kansas border when it's just an hour away. So I made a decision to zip up I-75 to the little town of Caney, then head back. Wondering if there was anything worth seeing along the way, I consulted Roadside America and saw... THE FIRST SPACE MONKEY!?!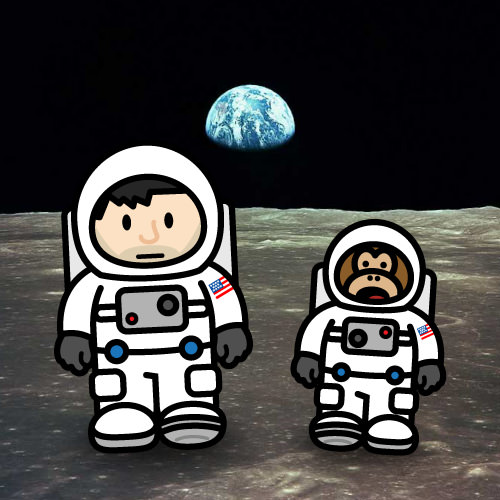 As anybody who has followed this blog for even a small amount of time knows, I have no small obsession with monkeys (in general) and monkeys in the space program (specifically), so this was a no-brainer. Besides, it was just 40 minutes farther than Caney in the city of Independence, Kansas!
But first I had to get out of Oklahoma alive.
I've been to a lot of places on this earth, and always considered Detroit, Michigan to be the world's most dangerous place to drive. Many people in Detroit drive very aggressively and very fast, which makes motoring anywhere near the city like a scene from Deathrace.
Tulsa has all that beat, because people here are just plain crazy drivers...
As I was leaving the Hard Rock, I was nearly creamed by THREE cars who ran a red light.
As I entered the highway, a car two spots ahead of me was temporarily run off the road as a car in the lane next to them tried to pass a truck... with no warning, no turn signal, and (apparently) no looking.
I finally made my way to the left lane, which seemed a safer place to be... until the car ahead of me decided to flip a U-Turn. Keep in mind, this is ON A HIGHWAY... with a 30-FOOT GRASS DIVIDER!
THEN, on the opposite side of the road, I saw two pickups off the highway, crashed together from opposite directions, with a streetlight knocked over and fallen across the hood of one of them. I have no idea how this could have happened but, given what I had seen so far, I wasn't surprised.
Keep in mind that all of the above happened within 30 minutes of leaving my hotel.
Anyway, I made it to the Kansas border without incident and was zipping past the town of Caney when I saw signs for... Little House on the Prairie? How could I not check out the actual place that Laura Ingalls Wilder wrote about for that crappy TV show? (No, seriously, don't skip that link... read this crap!) Turns out it's for real, with a reconstructed "little house" and everything...
To be honest, it was kind of a shithole (and filled with bees!). It wasn't really "Little House on the Prairie"... it's more like "Teeny-Tiny House on the Prairie." I have no idea how five people lived there. But, then again, it's not like I could build a house, so kudos to Pa Ingalls for his ingenuity.
Then, at long last, it was time for the Ralph Mitchell Zoo at Riverside Park in Independence, Kansas!
Right at the entrance of the park is "Monkey Island" which is where "Miss Able"... America's first Space Monkey to return to earth alive... was born. It kind of makes "Little House on the Prairie" look like a dream-house, but I'm guessing the monkeys don't mind it, since they were crawling all over the place...
And that was pretty much it. I wandered around for a while, then headed back to Oklahoma to catch my flight. The zoo itself is nice, though all the small cramped cages makes the place look downright barbaric compared to the San Diego Zoo I was at just five days ago. But it did have peacocks...
But the best news? My map now has another state filled in! Heaven only knows when those final three will be checked-off, but I'm making progress...
Annnnnnd Tulsa's airport makes you PAY for internet, so I guess this will have to post tomorrow when I get to Seattle. You know... SEATTLE... where airport internet is FREE just like God intended...