Falafel is easily one of my favorite foods. Alas, the only way to get it around here is to make it myself... and I do... but not as often as I want to eat it due to the fried oil mess it makes. Which means falafel consumption is usually reserved for when I am traveling. Except there hasn't been any of that in a year-and-a-half, so I've been sadly falafel-deficient all this time.
So imagine my surprise when I was at a QFC on the other side of the state and spotted "falafel street wraps" in the frozen foods section from TaDah Foods for $3.99 each! It sounded too good to be true, so I bought the three flavors they had... enjoyed them... then immediately searched for a place locally that sold them (which ended up being Fred Meyer, and they had all four flavors on sale for $3.49). Sweet!
Now, before we get to my reviews, a few things...
I ended up covering each of these with feta cheese sprinkles before eating, because feta is a critical component to a falafel wrap, in my humble opinion. Elevated the flavor in every case. Highly recommended.
Each of these use a whole wheat wrap, which is something I detest. Now, in TaDah's defense, their wheat wrap isn't as horribly chemical-tasting, dry, and gross as many I've eaten... but, still. If I wanted something "healthy," I wouldn't be eating frozen foods. So why bother to add a tiny amount of nutritional value from a whole wheat wrap when a traditional flour wrap would be SO much better?
The heating instructions are to microwave for a minute, flip, microwave for 45 seconds, then cool for two minutes. This ended up giving me a wrap with cold spots in the middle... plus made the wrap cool too much. I had much better results in microwaving for a minute, flipping, waiting for two minutes, then microwaving for another minute. No cold spots... just a warm wrap that's cooked all the way through.
And now, on with the reviews...
Sweet Spicy Harissa and Labne. ★★★★☆
Easily my favorite of the four flavors. The harissa (a favorite spice blend of mine) adds just enough heat while still allowing the falafel flavor to shine through. And the creamy labne (similar Greek yogurt, but thicker like cream cheese) was the perfect accompaniment. I could eat these every day, and probably would if I could afford it.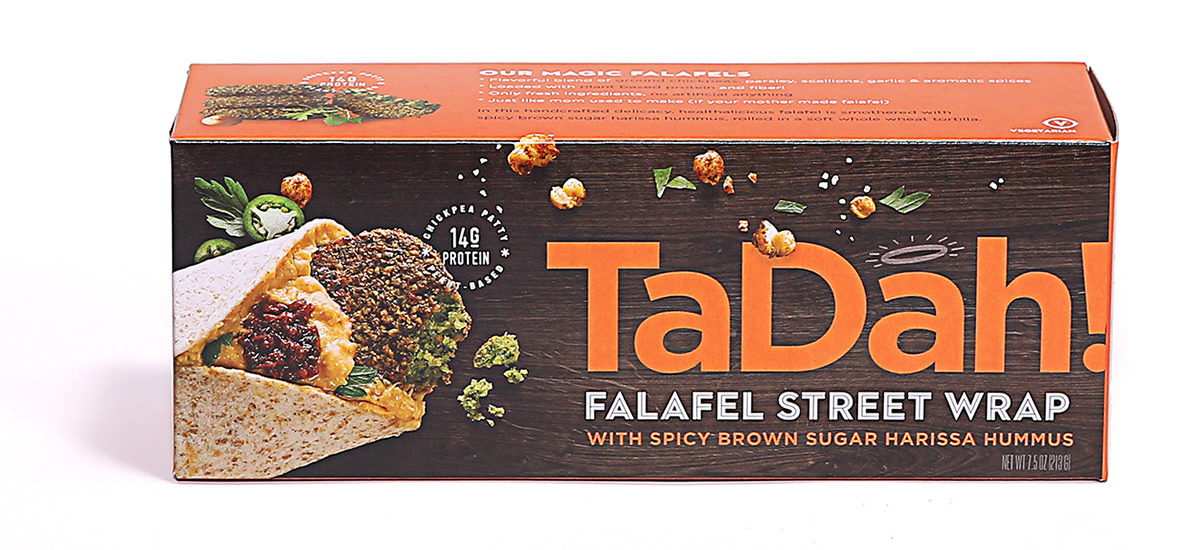 Spicy Brown Sugar Harissa Hummus.★★★☆☆
This should have been my favorite by a country mile because the combination of harissa spice, hummus, and brown sugar is a holy trifecta of flavor. But the harissa is just too much here. I love heat in my food, but the harissa is so overpowering that you barely know you're eating falafel, as it's completely buried. My guess is that they were needing to compensate for the disgusting whole wheat wrap, and just piled on heat to make it go away. Well, they succeeded. Too well. If they would have toned down the spicy a notch, this would be heaven in your microwave oven.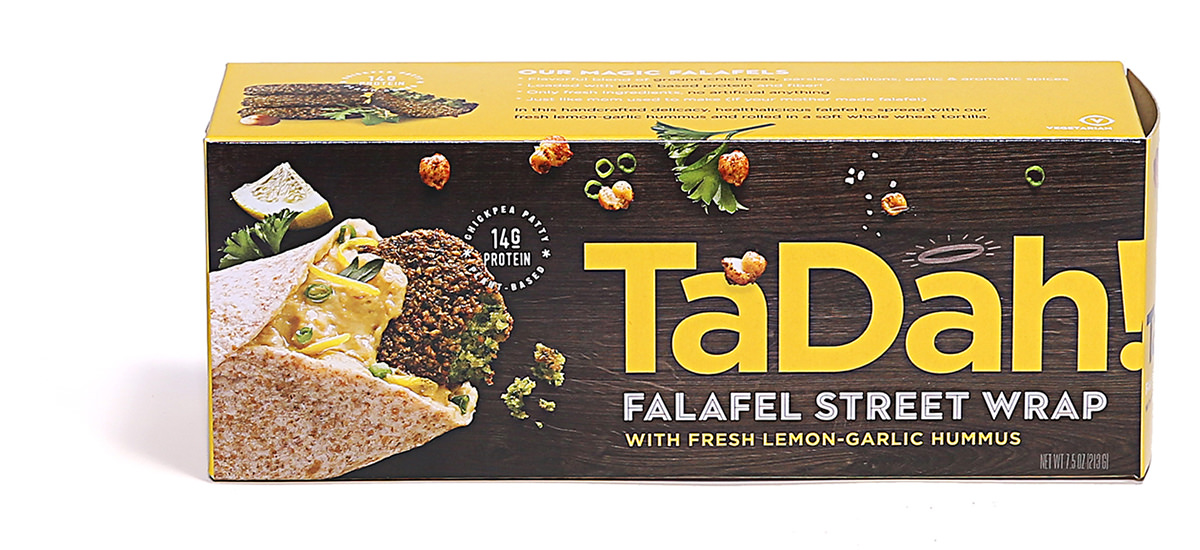 Fresh Lemon-Garlic Hummus. ★★☆☆☆
I am not a huge fan of lemon when it's in something that's not lemonade or lemon cake or lemon cream pie... but it kinda works here. Thankfully they didn't add so much lemon that it completely overwhelms everything else... you still get a nice garlic note and a decent hummus vibe... but this ended up being a bit boring to me. Oh I'll still buy them, that's for sure. A sprinkling of feta on top did wonders. But with two other wraps I enjoy far more, it won't be as often.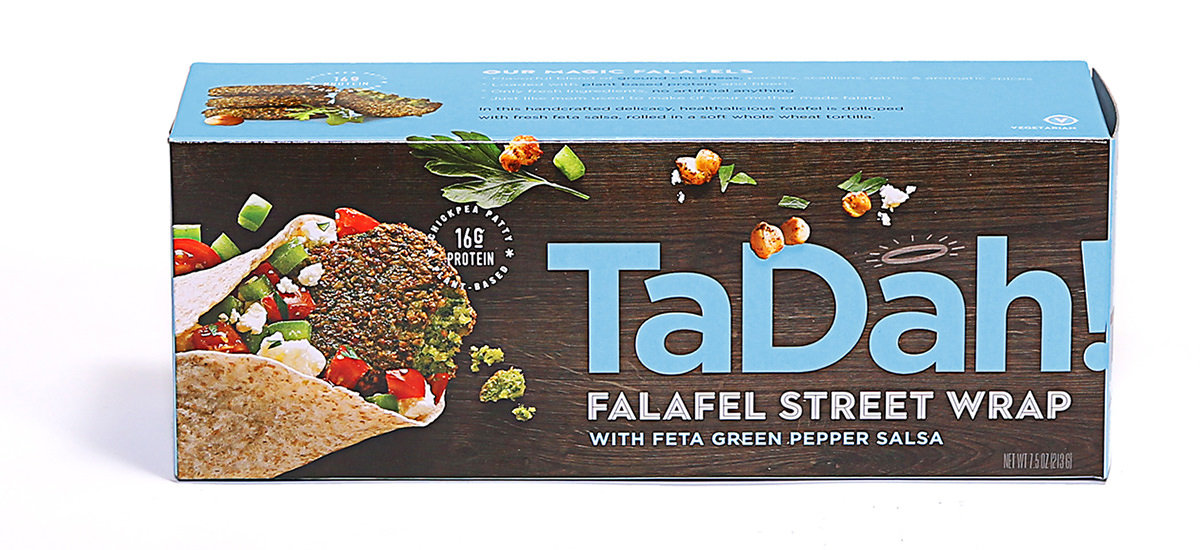 Feta Green Pepper Salsa. ★☆☆☆☆
Given my love of feta, I assumed this would be a favorite. It wasn't. First of all, the amount of feta is slight. There's not enough to really register. Second of all, the fibrous nature of the pepper chunks was a weird fit with the falafel patties. I far, far preferred the creamy texture of either the hummus or labne in the other three flavors. This wasn't awful by any means, but I won't be buying it again when there are three others I'd rather have.

And there you have it. I am so very, very happy to have a new easy-to-prepare meal sitting in my freezer that I can heat and enjoy in minutes. For a falafel-loving guy like me, they are as dreamy as frozen gets. No, they aren't ever going to replace a falafel pita sandwich with crispy falafel balls right out if the fryer... but nothing ever could.
HOWEVER...
If TaDah wanted to make a falafel street wrap that would really push my buttons, here is what I want from their next flavor... FLOUR WRAP... NOT WHOLE WHEAT! ROASTED RED PEPPER HUMMUS! FETA CHEESE! AND A DASH OF HARISSA SPICE. That's it. That would be epic. ★★★★★
Fingers crossed. This combination seems like it would be far more popular with the food-buying public given how roasted red pepper hummus is like ONE OF THE MOST POPULAR FLAVORS OF HUMMUS IN THE USA. So maybe?

P.S. It's the graphic designer in me that notices these things, but... falafel patties must be difficult to photograph, because they Photoshopped in the exact same patty on all four boxes (though the Feta Green Pepper Salsa patty does have a different texture Photoshopped onto it?). Regardless, whomever did the actual compositing work did a darn fine job of it! And I am most impressed with the packaging design too. Fantastic color distinction to separate the flavors on the freezer shelf. Appetizing photography. Fantastic branding for the TaDah! company identity. An all-around great job at a time where packaging design just keeps getting worse and worse. I think the only thing I would change is to make the flavor larger so that it's easier to read from a distance (this would have been easily accomplished by pushing the text a little higher on the box, using a slightly more narrow typeface for the flavor description, and possibly eliminating the word "with" from the front of each flavor, which doesn't really add anything but an extra word).