And it's time once again for my annual wrap-up of movies that came out this year.
Or, more accurately, a "wrap-up of movies I saw that came out this year." As always, there's a bunch of movies I never saw that would have probably ended up on my list (we'll get to that later). And here we go...
THE TWELVE BEST...
These are my favorite movies from this year that I actually saw.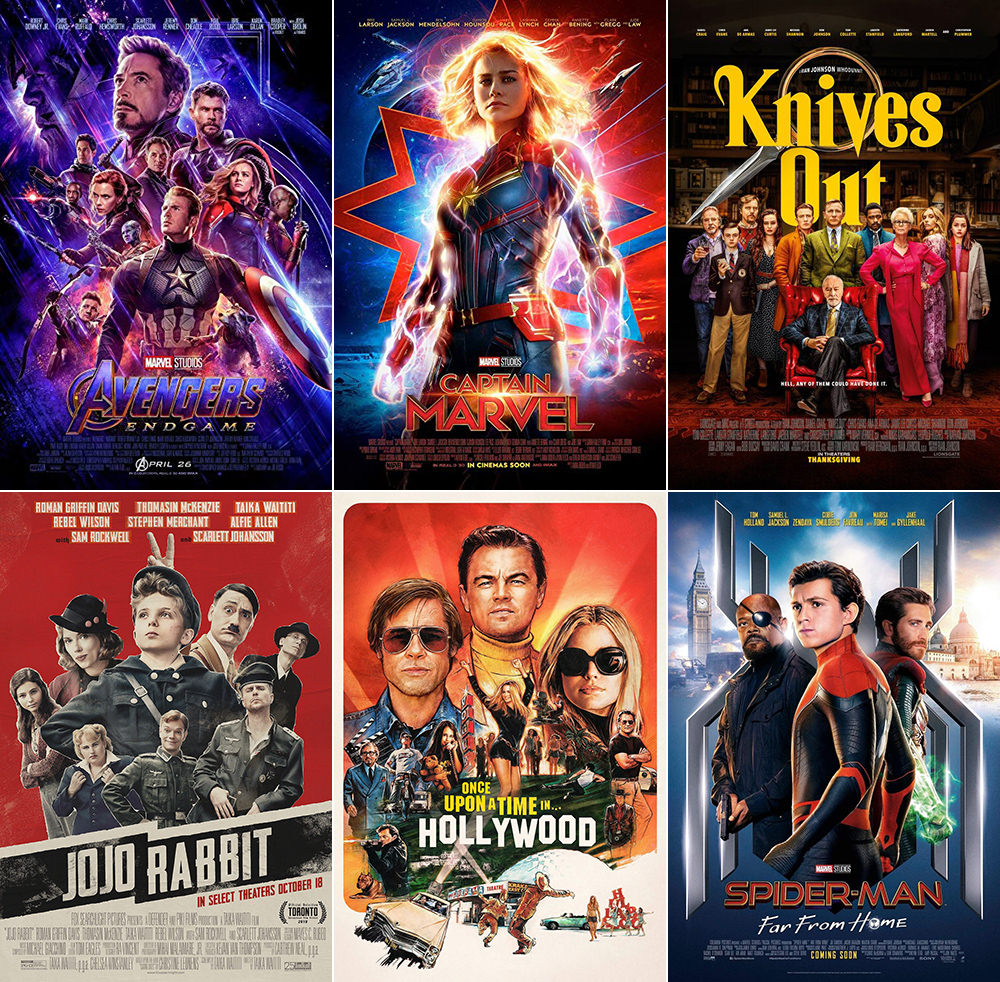 #1 Avengers: Endgame
This should shock absolutely nobody. Easily one of the greatest super-hero movies of all time, and even more easily one of the biggest cinematic spectacles ever created... but also managed to have real heart and some eye-popping entertainment value. My extended review is here, and there's not much more I can add to it except that no other film came close to changing my mind as to what movie deserved the #1 spot on my list.
#2 Captain Marvel
As perhaps the single most powerful hero in the Marvel Universe, bringing Carol Danvers to the Marvel Cinematic Universe was like dancing around a keg of lit dynamite. How in the heck do you manage it in a way that doesn't drastically overshadow everybody else? In Avengers: Endgame you do it by having the mother of all-powerful villains. In her solo movie you do it by greatly reducing her powers for the majority of the film. I have no idea what they will do for future appearances. And while the "youthification" CGI for Samuel L. Jackson and Clark Gregg was far from flawless, it was surprisingly good. Good enough that Sam was on-screen almost as much as the lead character! But what really makes this movie a critical touchstone for the future of Marvel's film slate is that they introduced the Kree and the Skrulls. They are both a massive presence in the comics, and I can only imagine that they will be a big part of the MCU going forward.
#3 Knives Out
Rian Johnson is tough to pin down. He gives us a spectacular movie like Looper, follows up with something completely off-the-mark like The Last Jedi (SPAAAAACE LEIAAAAA!), then rises to even greater heights with Knives Out. As impressive a take on the murder-mystery as this is, the phenomenal cast is where it lives or dies. Smart, funny, and about as stylish as a movie gets, the twists and turns do not stop until the very end. I would say absolutely nothing on this film out of fears of spoiling it... but I will say to go see it.
#4 Jojo Rabbit
Taika Waititi is the gift that keeps on giving. Hunt for the Wilderpeople, What We Do in the Shadows, Thor: Ragnarok, and now this. There is no subject, no genre that's safe from his incredible talent and I couldn't be more happy about it. This is a comedy which features a young boy who's imaginary friend is... Adolf Hitler?!? What kind of filmmaker does that? Well, Taika Waititi does, and he completely knocks it out of the park. Good, silly fun with an innate sweetness that never goes too far, Jojo Rabbit is not without its problems, but the way it rises above them when taken as a whole is pretty darn inspiring.
#5 Once Upon a Time in Hollywood
As a massive fan of everything Quentin Tarantino has ever done, this was the movie that I had the least expectation for. A washed-up actor and his stunt-double wandering around L.A. during The Manson Family murders? Really? Except, as usual, Tarantino has a lot more to say than the subject might otherwise suggest. This alternate-history of Sharon Tate is filled with great characters all having great character moments... and has an ending which was worth every minute of screen time it took to get there. Some of the detours were less successful than others (the Spahn Ranch scene went on way too long and the Italian wife came out of nowhere) but they are all parts of a whole, and the "whole" in this case is pretty great.
#6 Spider-Man: Far From Home
Whereas the first MCU Spider-Man finally... finally... treated us to a Spider-Man that was actually a kid like in the comic books (and found a story which took full advantage of it), the second outing is a step backwards. Using the idea of an international school trip (seriously, who bought that premise?) which takes students on a random (and changeable!) series of locations across Europe, there were just too many bad coincidences for this thing to hold together. Even worse, the fatherly presence of Tony Stark in the first film was badly missed this time around, even though they tried to cram him in via a magical pair of glasses. And yet... if you can ignore all the wacky coincidences... there's a lot here to love as well. Mysterio was reinvented for the MCU in a way that was actually quite clever. We get more Agent Fury, Happy Hogan, and Maria Hill. The action sequences were fantastic. And Tom Holland is still the best Spider-Man yet.
#7 John Wick 3: Parabellum
Look, there's no other way to say it except to just come out and say that this is the movie to see when you just want to see a lot of stylish violence done really well. It's a fun flick that doesn't aspire to be much more than a fun flick, and that's why it works so perfectly. I am totally ready for John Wick 4.
#8 Changeland
This movie is about Thailand more than anything else. Which, given my love for the country, would be enough for me to enjoy it. But that's only on the surface. If you take a minute to look under the surface, there's actually a lot going on. When a guy finds out his wife is having an affair, he invites his childhood best friend (the criminally underrated Breckin Meyer) to go on the trip he was surprising his wife with. And then you just kinda follow them along their journey as stuff happens... some of it pretty funny. Seth Green wrote, stars, and directed this gem, so full marks there. But I'd be remiss if I didn't give a shout-out to Patrick Ruth, who is the cinematographer. Every scene is beautifully shot, and that atmosphere is a major character in the film.
#9 Dolemite is My Name
I expected this to be funny with Eddie Murphy starring. I didn't expect it to be so touching. The fact that it's based on a real guy and the very real films he made makes this bizarre Blaxploitation story all the more entertaining. Perfectly presented and perfectly cast, this is Netflix at its finest: producing really good movies that major studios would likely pass on.
#10 The Farewell
Proving once again that everything Awkwafina touches turns to gold, this is a sweet, touching, and wholly remarkable film. Not a lot happens... and yet everything happens... as a family has to deal with a Chinese matriarch being diagnosed with precious little time to live, and everybody knowing about it except her. Apparently this very real situation exists in China. It allows the family to say goodbye without upsetting the person who's dying. The performances are all fantastic, which is essential for a movie like this. The moral and ethical wrangling are just icing on the cake.
#11 Us
If you're Jordan Peele, how do you follow Get Out? Apparently just like this. It's a less subtle effort, going more for outright horror than having an overreaching message (though it does). If there is a flaw, it's leaving too many points ambiguous or not very well fleshed out. And yet... it's a compelling movie even so, which could mean that Peele was smart to stick to the broad strokes and let the details remain unexplored. And yet...
#12 Late Night
This was a good story, not a great story, but the performances by Emma Thompson and Mindy Kaling are what make this film appear on my list. As a behind-the-scenes look into late-night television shows it's less successful, but as a character piece for amazing talent it doesn't get much better than this.

HONORABLE MENTIONS...
Star Wars: Rise of Skywalker. I didn't quite know where to put this on my list. It absolutely wasn't one of my favorite films, and yet I don't think I would go so far as to say it shit the bed either. It was just so badly cluttered with ideas, and yet it had tremendous special effects. It was a rushed mishmash wasteland, and yet it had fine moments. It was a comically bad ending to nine films, and yet they got Carrie Fisher, Mark Hamill, and Billy Dee Williams some character closure. The "big reveal" on Rey's parentage was so poorly handled that you can't make sense of it all, and yet I still had fun. So, darned if I know. The sequel trilogy still beats the gut-wrenchingly shitty prequel trilogy by a wide margin... but it doesn't even touch on the first two films of the original trilogy, and that's where they should have been reaching.
The LEGO Movie 2: The Second Part. I didn't like the live-action component of the first film, thinking it would have been a far stronger movie without it. I feel this is even more the case for the sequel. Still... it did have many charming moments and was funny enough, so perhaps I'm being too harsh?
Always Be My Maybe. As a fan of both Randall Park and Ali Wong, I went in expecting this movie would short-change both of them. Exactly the opposite. They were even better together.
Zombieland: Double Tap. Though far, far weaker than the original (and suffering more than the first from Jesse Eisenberg playing Jesse Eisenberg), I still had a good time watching the sequel. There was enough new to make this more than a retread, which was much appreciated. And the addition of Zoey Deutch as Madison proved that the "dumb blonde" trope hasn't quite been played out yet.
Toy Story 4 I honestly thought that two "Toy Story's" were enough. Until I saw Toy Story 3. Then I was certain that three "Toy Story's" were enough. Until I saw Toy Story 4. As a conclusion to the Woody/Buzz story, it's not as pleasing as what we got in Toy Story 3, but it does have some some definite high points that made me glad they went for another installment. The big question being... do we need a Toy Story 5? Given how things ended up in this one, I really don't think so. It would just push things too far and render the power of this film's finale moot. Though there's no part of me that doesn't want to see more Duke Caboom.

DIDN'T SEE, MIGHT HAVE MADE MY LIST...
Terminator: Dark Fate
Jay & Silent Bob Reboot
A Beautiful Day in the Neighborhood
Frozen 2
The Favourite
Queen & Slim
Ford v. Ferrari
Parasite
The Last Black Man in San Francisco
Dr. Sleep
Jumanji: The Next Level
Last Christmas
Long Shot
Booksmart

OVERRATED...
Ad Astra. I heard some fairly bold claims about Ad Astra "reinventing" the sci-fi genre. Imagine my surprise when the way that the film "reinvented" the genre was to make it boring as fuck. Seriously, I do not get the critical acclaim. There were some nice special effects (the moon buggy chase was great), but everything else was focusing on all the crap I don't find entertaining in my sci-fi. Hell, even 2001: A Space Odyssey was preferable to this! It seems they wanted to focus on the psychological aspects of space travel, but did so in a way that was hardly revolutionary. 2009's Pandorum was a far more entertaining psychological space-faring flick.

SHIT THE BED...
Shazam! Ninety-one percent? Shazam got NINETY-ONE PERCENT on Rotten Tomatoes? Really? One minute it's childish and stupid as shit... the next minute there's a demon is biting somebody's head off. So exactly who was this movie made for? Psychotic children? Even if you ignore the stupid glowing lightning-bolt-that-looks-more-like-a-triangle on his uniform, Shazam was awful. WHAT HAPPENED TO HAVING THE WISDOM OF SOLOMON? THIS SHAZAM IS A FUCKING IDIOT! About the only thing I enjoyed was Mark Strong as Sivana, despite the fact that he was a complete departure from the comic book's Dr. Sivana (and not in a good way, of course). I cannot fathom how this managed to rate 91%. I just don't get it. The only thing that kept it from total disaster for me is that they didn't have any burp or fart jokes. At least I think the movie didn't... I fast forwarded through the foster home stuff because all the kids were just so annoying.
Dark Phoenix. I had no desire... none at all... to see Dark Phoenix. For one thing, it's the capper on a slew of shitty X-movies, after which Marvel will be bringing the X-Men to the MCU and completely rebooting it to (hopefully) something that doesn't suck. So it's essentially a wasted effort and makes no difference. Then I finally caught it on a flight and was mortified that it was even worse than X-Men: Apocalypse which I didn't even think was possible. How in the hell all the non-Marvel super-hero movies keep sucking this badly is a total mystery.
Hellboy. So... hold on a second... we were denied the third and final installment of Guillermo del Toro's brilliant Hellboy trilogy with Ron Perlman for this? FOR THIS?!? It's a complete pile of shit that falls so flat as to be unintentionally laughable given the R-rating. David Harbour wasn't a terrible choice for the reboot, I guess, but there was just nothing here to make him a fully realized character. Despite an effort to create a frantic energy throughout, I was bored, bored, bored.
The Irishman. Surprisingly funny, impeccably acted and shot, and a cast to die for doing their best work... this should be a slam-dunk win. And yet... it felt like a boring rehashing of stories that I've already seen from Scorsese and these actors. It was just so mind-numbingly tedious that even the masterful performances couldn't save it.
The Goldfinch. This is what happens when you are traveling and need to kill a few hours. I watched it because the book (which I haven't read) was so widely regarded. Looks like I should have read the book, because this movie was so utterly bland and lifeless as to make me wish I had walked out of the theater.
Rocketman. I went expecting a bio-pic featuring Elton John's music. I got this awful musical which shoe-horned songs into a narrative which failed every single time.
Glass. M. Night Shyamalan's Unbreakable was a fantastic exploration of the super-hero genre. Smart, gritty, and a sweet "realism-based" take on how it might work. As if that wasn't enough, it had some pretty good insight into the tropes which make comic books work. I have been waiting for a sequel for a very long time. Alas, what we got was a half-baked effort to cram sequels for Unbreakable and Split into a single movie. Which wasn't a crazy idea... the cameo by Bruce Willis at the end of Split made the idea something that could work. Alas, the approach was severely misguided. There just wasn't a movie here. At least not one I wanted to see.

PROBABLY SHIT THE BED, BUT I WOULDN'T KNOW...
Joker. I don't give a crap how many accolades it gets, the commercials paint this as a horrific departure from the comic books and I just don't care. I may watch when it ends up on HBO or something, but I ain't paying anything extra for it.
Cats. Have I seen it? No. Just the commercials are enough to get it on my list of worst cinematic experiences this year.