It is no secret that I am a massive, massive fan of the films of Hayao Miyazaki and his Studio Ghibli. I own all the DVDs. I have the VHS and DVD imports. I have all the "making of" books. I even managed to get tickets and attend a rare American appearance by Miyazaki-san himself when he was in Los Angeles. There is just no end to the respect, admiration, and love I have for these animated masterpieces.
So naturally I jumped at the chance to purchase them digitally when iTunes finally had the films for sale this morning. There goes the iTunes Gift Cards I bought on Black Friday.
Surprisingly, there's no "Master Collection Bundle" to purchase all the films in one go. The closest you can get is a $100 "Six Films Collection" which includes some of Studio Ghibli's most popular animated classics...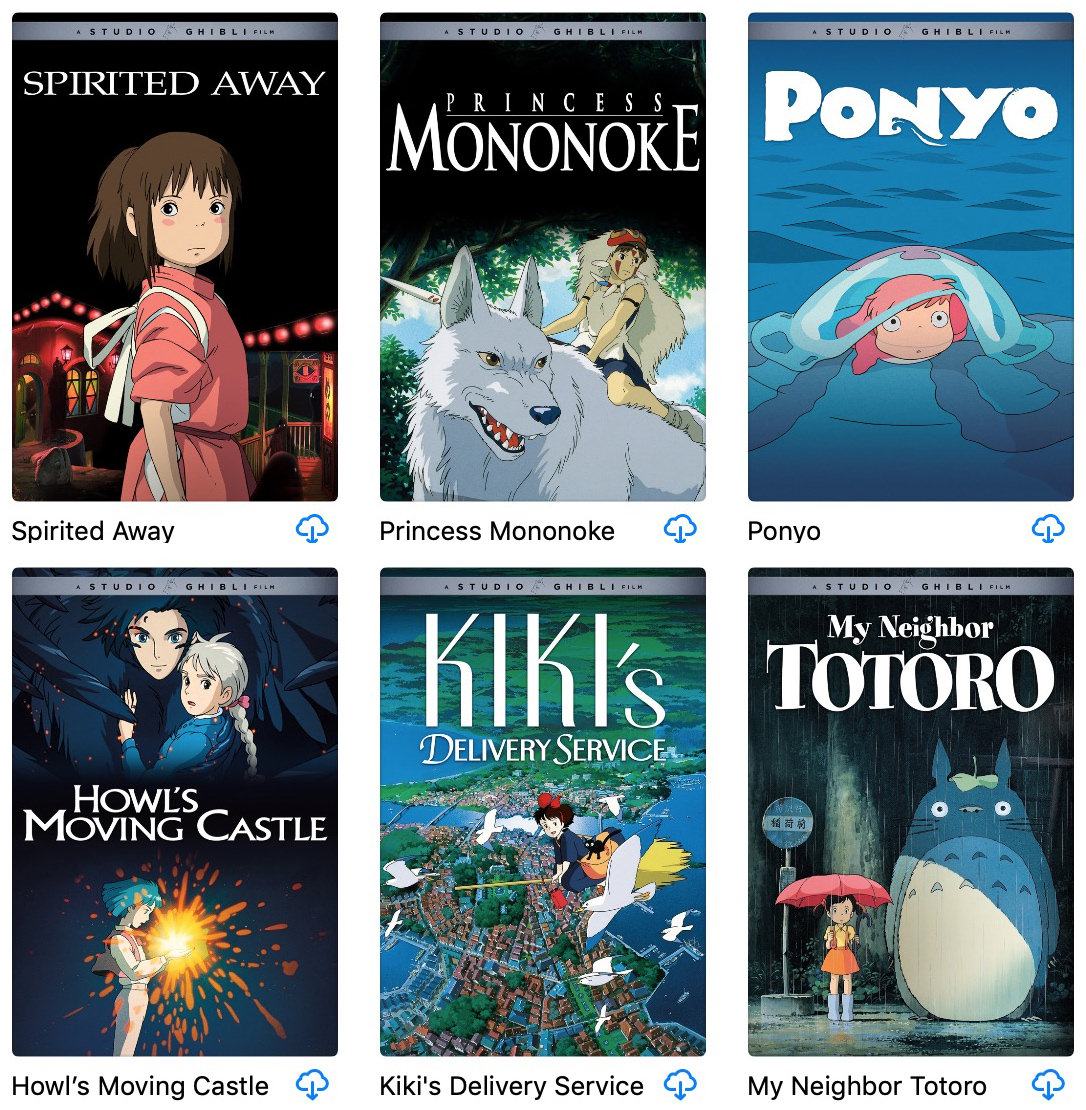 All the other movies have to be purchased individually. This is a bit odd considering that three of his more critically renowned works (Only Yesterday, The Tale of The Princess Kaguya, and Grave of the Fireflies) don't get a bundle treatment.
I must say... it was worth the wait. Because every dubbed film purchase also gets you a subtitled version with the original Japanese actors! Don't get me wrong... the English-speaking casting is always good (Phil Hartman as Jiji in Kiki's Delivery Service is sheer genius), but I really enjoy hearing them as they were originally intended. The films are animated to the voice track, and sometimes the English dub doesn't quite get to where the original performances were at.
I have no idea why Miyazaki-san finally relented to digital distribution. I believe that he's gone on record more than once about wanting his work seen in theaters first... and perhaps television if a theatrical viewing is not possible. I think he bristled at the idea of the sublime subtlety of his animation getting lost on a tiny phone screen. And, to be honest, you can hardly blame him.
Studio Ghibli struck a deal with HBO Max to distribute all their films for streaming (starting next May, I believe). Given their long association with Disney, this was a bit shocking... but I guess Disney+ didn't want to pony up enough money to make it happen. The iTunes announcement came afterwards and was a bit of a surprise. I thought perhaps the films would never be released digitally... certainly not while Miyazaki-san is alive.
But here we are.
Even more exciting is Hayao Miyazaki's final film... an adaptation of 君たちはどう生きるか (How Do You Live?), which is a hugely famous 1937 novel in Japan. It is hoped that this movie will be released next year, but I haven't seen an official release date yet.