I have a dozen Marvel Studios posters hanging in my home. I love their movies and like using the posters as decoration everywhere. It was always my intent to have the first movie posters for the "Big Three" (Iron Man, Captain America, Thor) hanging together at the top of my stairwell. Thor was easy... I just used a stool on the landing. I built scaffolding to hang Captain America (and nearly killed myself in the attempt). Iron Man was just too high up for me to attempt it, so I hung him in my dining room and forgot about it. But now I need the dining room space for the second half of my Wall of Bloggers, so I had to find a way to hang Iron Man wayyyy up where he belongs...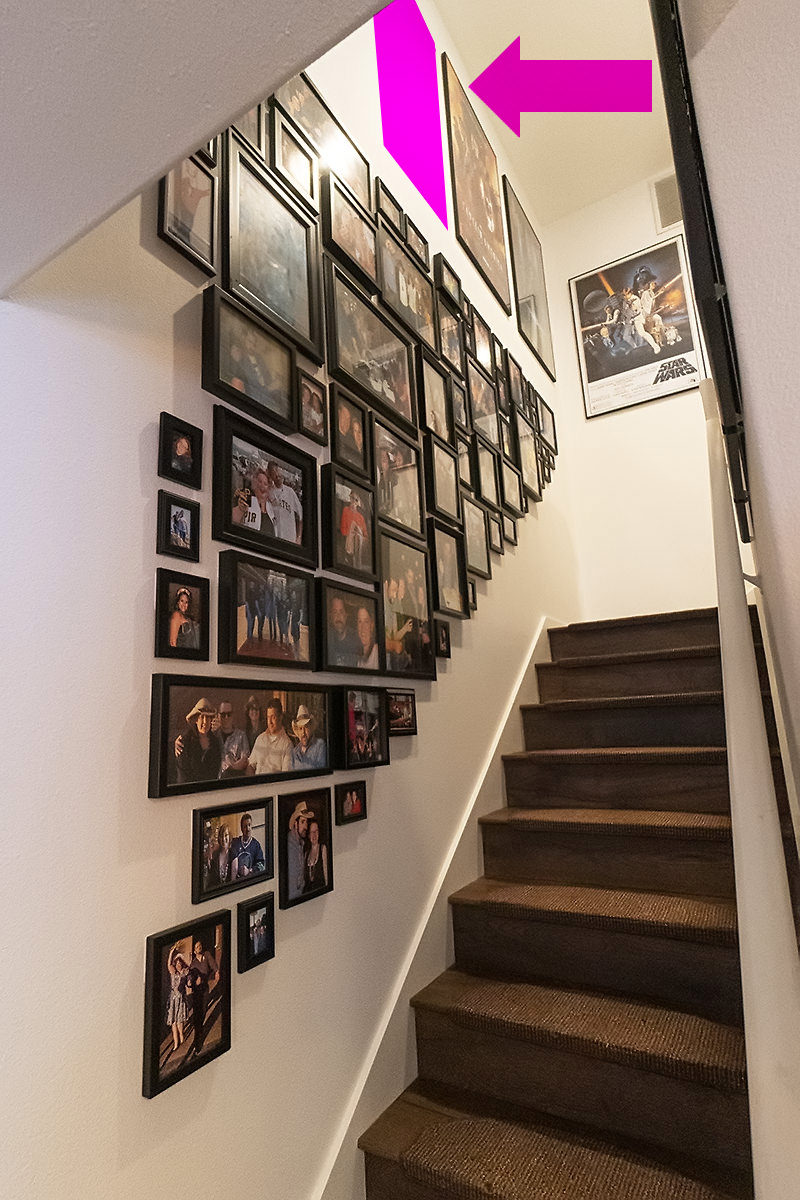 I had no idea how I was going to do it without paying a painter to bring their scaffolding and build a ramp. I don't have that kind of money, so this wasn't really an option.
And then...
I was watching an episode of Banshee, which takes place in Amish country. Which got me to thinking about Amish barn raisings and how they manage to do it not with a forklift or a crane... but with long poles to push the frame up into place. Couldn't I do the same thing for my poster by using a Swiffer mop handle and some 3M Command Strips? The head on the Swiffer is kinda spongey, so it should have good grip on it.
And so...
First I cut some wood blocks which I mounted on the frame backing board. Then I attached the Command Strips to that. Then I nailed a piece of wood across the bottom of the posters to form a ledge. Then I stood on the landing, reached across with the poster, slid it into place, then grabbed the Swiffer handle to ease it up against the wall...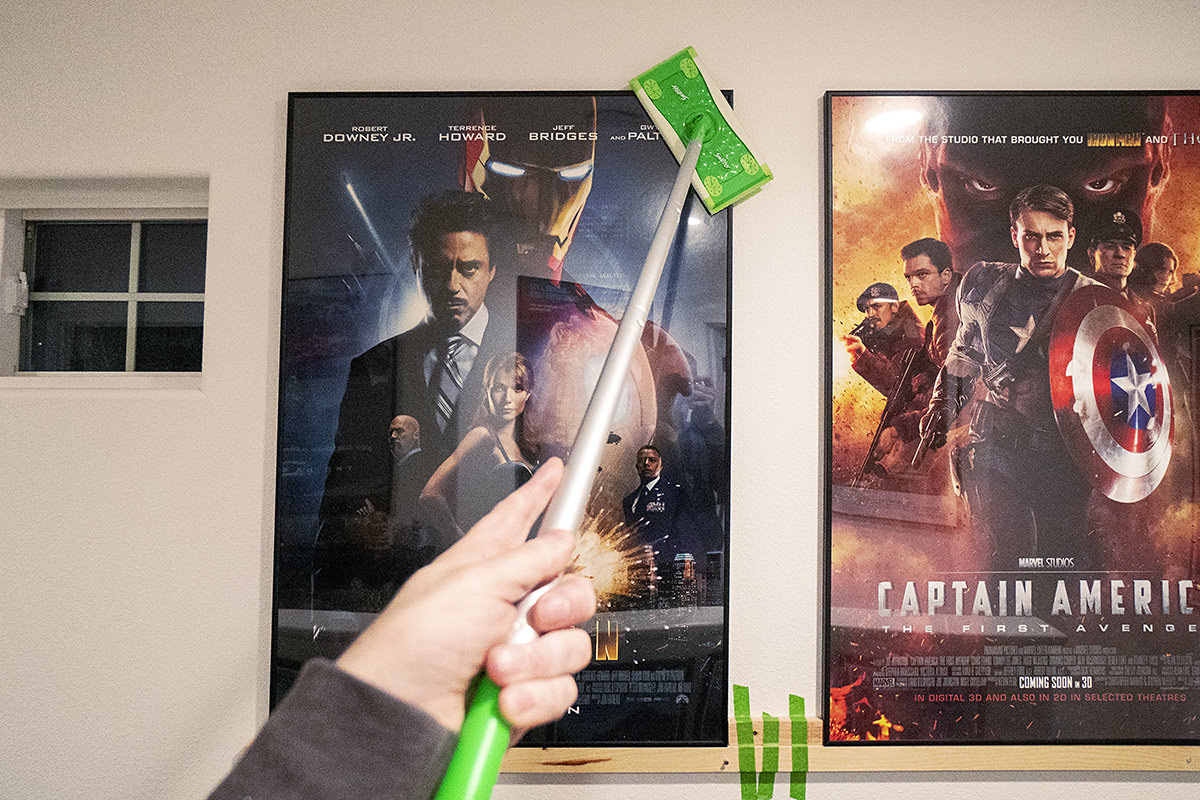 Worked like a charm!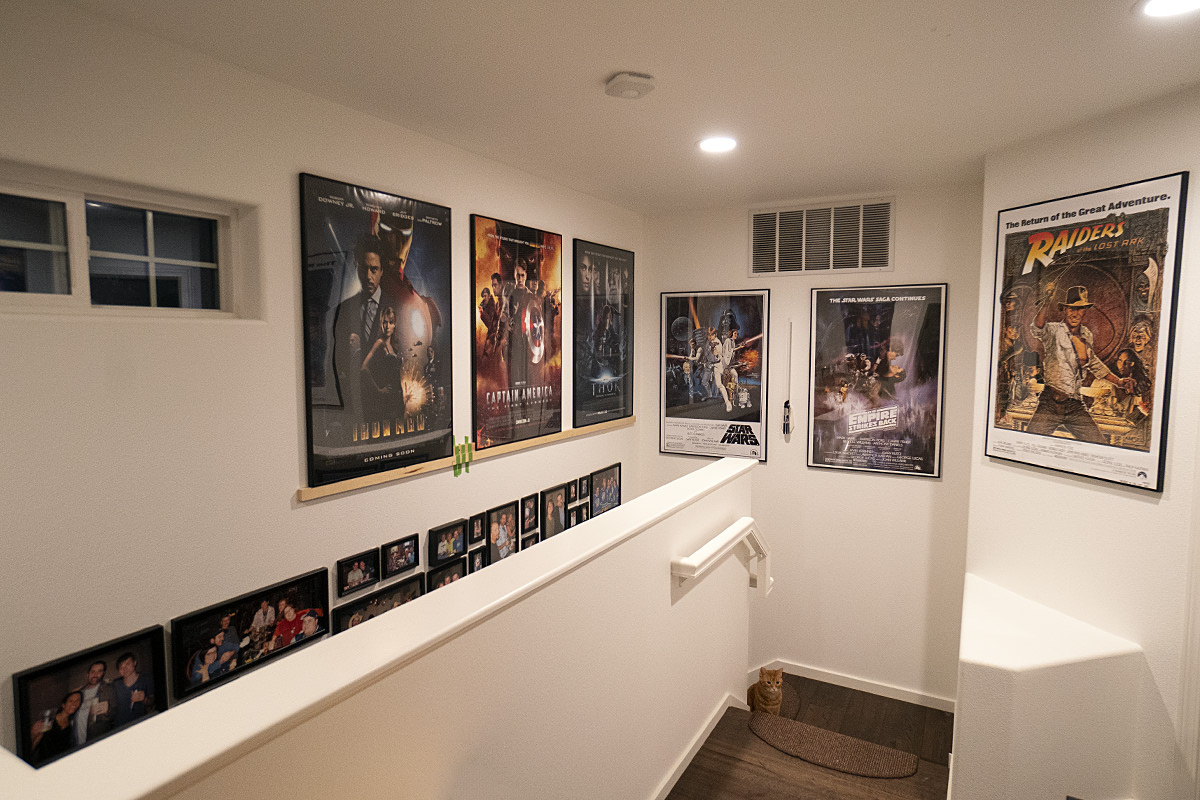 Technically, Thor came before Captain America, but it looked better to have Cap's orange background breaking up the two blue/black backgrounds.
I'll probably leave the ledge up for a week or so just to make sure that the Command Strips have bonded to the wall properly. Each set can hold 4 pounds and I used 4 sets (16 pounds total), which means my 7-pound frame should be okay, I hope.
If not, hopefully myself or my cats won't be underneath it when it falls.