And now is that special entry where I wrap up MY FAVORITE TV SHOWS OF 2017!
Which was not as easy as it was in previous years because "television" is so scattered that I feel I'm missing most of it. New series and old favorites appear without my ever knowing they existed. Some shows I am aware of, but never had time to see. This list is made from those I actually saw...
THE TWELVE BEST...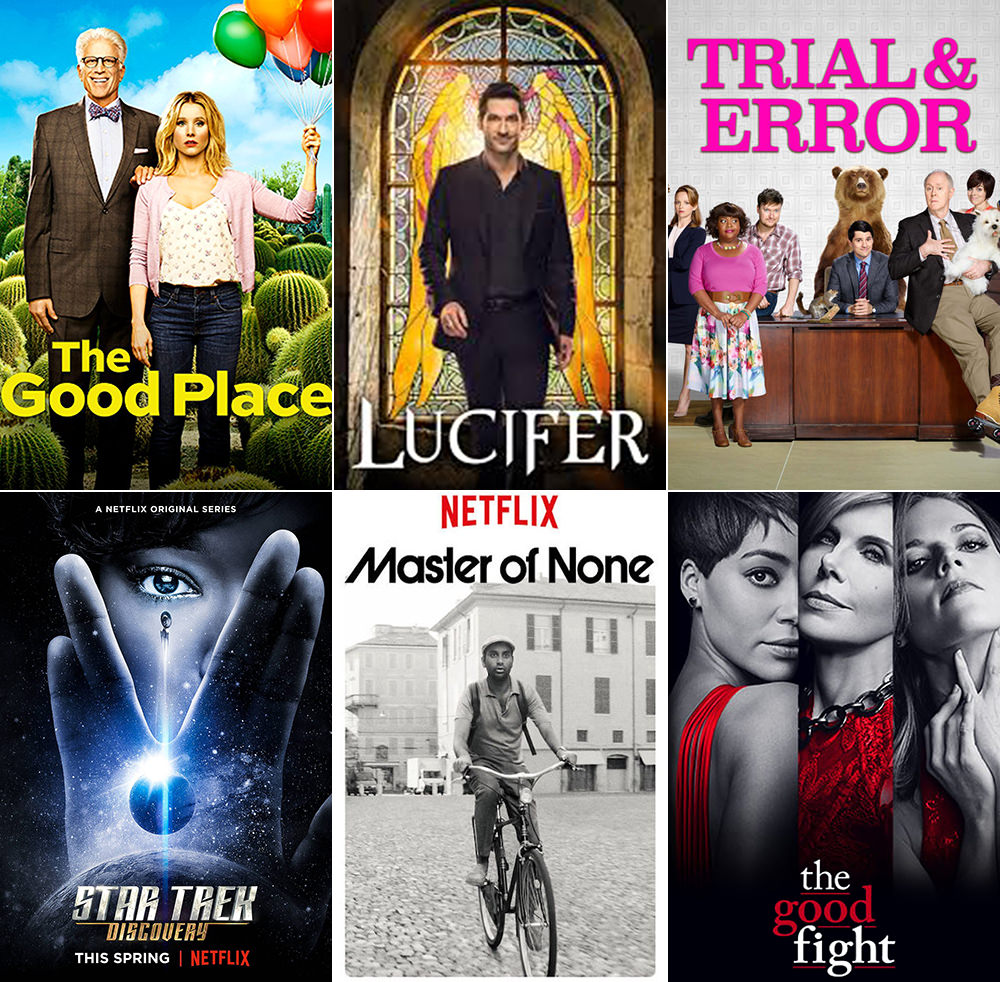 #1 The Good Place
"Eleanor, your cocaine and escape train are ready." Yes, I loved the show's first season... but I didn't know how much I loved it until Season 2 blessed our television screens this year. It seemed as though the writers had backed themselves into a corner after 2016's mind-blowing finale, but it turns out they were just getting started. The characters reach all new levels of genius and the stories have just gotten more and more wackily brilliant. By the time we get to episode 6, The Trolley Problem, I was convinced this had to be the best show on television this year. By the time Janet creates her rebound boyfriend, Derek, in episode 7, I was certain of it.
#2 Lucifer
This show grabbed me in the first season, but never really took hold until this year's third season where everything just kind of clicked into place. If forced to come up with a way to describe a show about The Devil abandoning Hell and moving to Los Angeles, I'd probably have to choose "deliciously fun," which is a pretty accurate description of every episode. Largely in part to series star Tom Ellis, who chews through every scene as if it's his last... and series regular Lesley-Ann Brandt as Mazikeen, a demon torturer who followed Lucifer to earth and is really making the most of its opportunities. If you haven't seen the show (or dropped it early on) I'd encourage you to take a look if you're into deliciously fun entertainment.
#3 Trial & Error
"Mur-der Board! Mur-der Board!" Lord, where do I even start. This utterly hilarious and totally bizarre show is a combination of The Office and a spoof of every legal drama ever. The result is laugh-out-loud television that never lets up through all thirteen episodes... each of which was so dense with laughs that you have to wonder what's left for a second season. John Lithgow as accused murderer Larry Henderson steals the show as you would expect. What you don't expect is the secondary cast of zany characters which make the show so blissfully entertaining (including Sherri Shepherd as a disorder-laden assistant and Steve Boyer as a simple-minded investigator). The minute I watched the end of the last episode, I started over from the beginning to catch all I had missed.
#4 Star Trek: Discovery
If I'm being brutally honest, I've not liked any of the Star Trek series since the original. Sure I watch all of them. Sure they all have their moments. But they just seem to get mired in the boring-ass tedium of button-pushing and lame stories with one-dimensional characters that float through the silly futuristic scenery. Discovery took this trend as a serious challenge and decided to break all the rules to create a Trek that is truly new and different. Some of it fails completely (yet another Klingon redesign that comes out of nowhere and doesn't fit into any timeline of any previous Trek, even though this series takes place before The Next Generation), some of it seems like a desperate attempt at never-before-seen-stuff that's created solely for the sake of having never-before-seen-stuff (spore drive?), but much of it... heck, most of it, is just sheer spectacle entertainment. First of all, it's beautiful. Great design and special effects. Second of all, it's compelling. Smart, intelligent characters in good stories. And lastly, it's perfectly cast. Sonequa Martin-Green and Jason Isaacs are top-echelon actors turning in mind-bending performances that elevate every episode. If you like sci-fi but have been poo-pooing the next-gen Star Trek shows as "sci-fi light" then Discovery is worth a look.
#5 Master of None
I liked Aziz Ansari's Netflix comedy/drama in its first season. I loved it in its second season. Every episode feels like Ansari was hell-bent on not falling into the trap that plagues so many shows... a weak sophomore season. So what does he do to keep things fresh? Moves the story to Italy where his character, Dev, is working as an apprentice pasta maker. Seriously. We don't stay there for long, of course, as the show moved back to New York in short order, but it's enough of a pallet-cleanse to get you heavily invested. But what really makes Aziz Ansari the star of this show is his willingness... hell, his insistence... of giving other characters center stage from time to time. Even if they aren't regular characters but some random people that invade the show out of nowhere. This results in two of season's strongest episodes... New York, I Love You which features the lives of New Yorkers intersecting in surprising ways... and Thanksgiving, which focuses on Dev's best friend Denise and her family around Thanksgivings through the years (this is the episode responsible for Lena Waithe's historic Emmy win and giving us the glory that is Angela Bassett in a flawless performance). Aziz Ansari has said that he'd eventually like to make more Master of None... oh how I hope he does.
#6 The Good Fight
I never saw The Good Wife. Regardless of how many accolades it received, I just didn't care to invest in yet another legal drama. Turns out that may have been a mistake. Picking up from where the original series left off, The Good Fight takes Christine Baranski's Diane Lockhart in new directions as she is forced out of her law firm and forced to delay retirement after a scandal which ruins her career and her fortune. She is recruited into a new African American firm where she continues to fight for causes that are important to her while rebuilding her life. I only watched this show because I wanted to get the most out of the money I was paying to see Star Trek: Discovery on "CBS All Access." Turns out I would have paid for the service just to watch this show all along. It's the legal drama to end all legal dramas, and everything about it is great.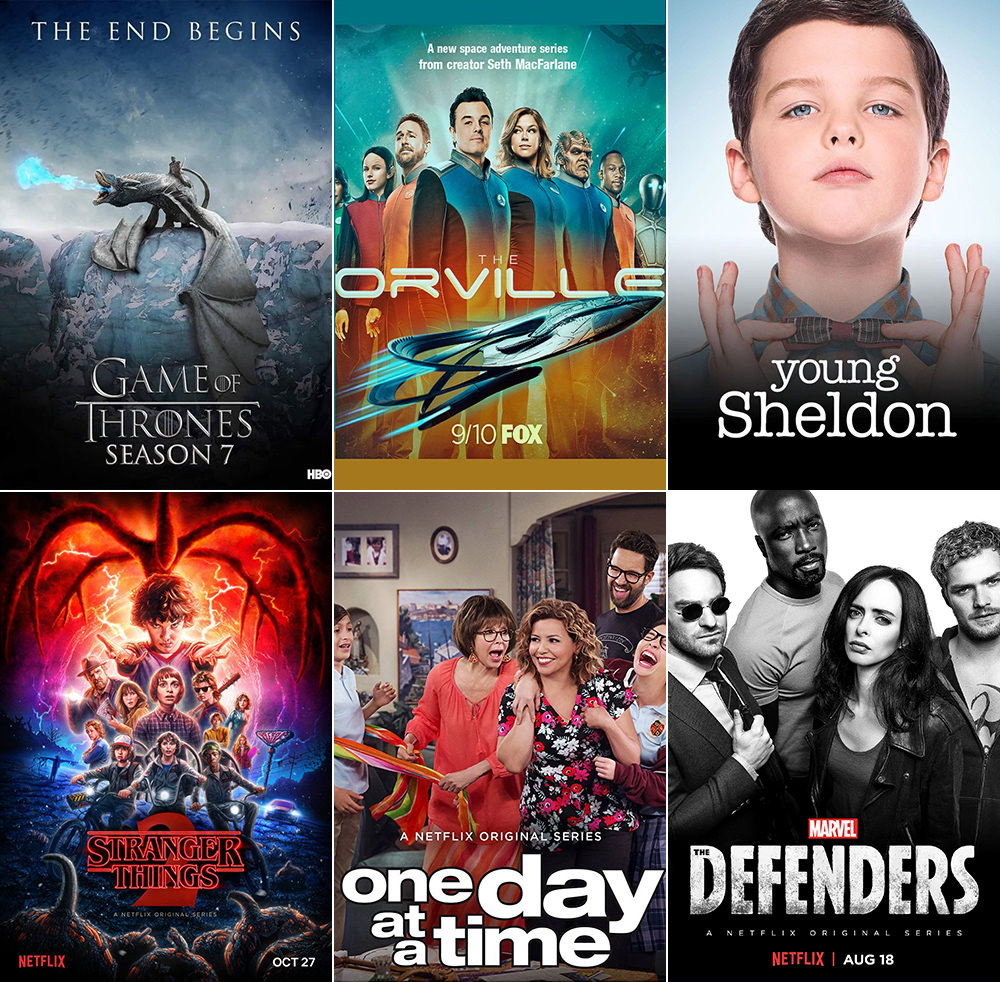 #7 Game of Thrones
I never put GoT on my "best" lists because it just seems so cliche. I list it in the "honorable mentions" and let it go. But this season it was really hard to do that, despite the fact that it was a mere seven episodes. Each of those seven episodes was packed to the brim with all the things that makes it such a great show (sometimes over-packed and plague with logistical problems because of it), and I just couldn't fail to give it due props in 2017. The season opened strong (Arya Stark brilliantly eliminating the entire House of Frey) and ended strong (holy shit... how do you stop an undead dragon?) and everything in-between was gravy.
#8 The Orville
Yes, it's a surprisingly brazen rip-off of Star Trek. Yes, it's a weird hybrid of sci-fi drama and comedy that's bizarrely serious one minute with a comedy injection appearing out of nowhere the next. Yes, the critics seem to hate it for the reasons I just mentioned. But... I like it anyway. And I liked it more and more as the season progressed. They seemed intent on giving every character their due, and the result was a moving target that never failed to keep me entertained (even as I found myself trying to pick out which episode of The Next Generation was ripped off for any given episode). Ultimately I think the characters, special effects, and even the stories work well. Not great, but well. I was certainly entertained by it all. Maybe they will build something more cohesive and original in the second season that will make my time investment worthwhile. I certainly hope that's the case.
#9 Young Sheldon
The fact that I like this show is oddly puzzling to me. I thought it was a terrible concept... taking one of the most bizarre characters from The Big Bang Theory and building a show around his childhood... but it actually turned out amazing. Partly due to the fact that the stories reach highs that the parent show never do (could never do)... but mostly due to the casting. Yes, Iain Armitage as young Sheldon Cooper is perfect. But it's Laurie Metcalf's daughter Zoe Perry playing the character of Sheldon's mom that her mom originated that's just out-of-body-experience-level genius. She's flawless. Zoe takes everything her mother built into the character and then skews it younger in surprising ways that make the character her own. Then... then... they got Annie Potts to play Sheldon's meemaw. This is casting brilliance that defies all rational thought! If they can keep doing what they're doing and build such fascinating stories around Sheldon like they have been, this is one show that would be fantastic to take through Sheldon's high school years. He's just bound to get more interesting as he gets closer to the character he'll eventually become.
#10 Stranger Things
I was late to the party with the first season of Stranger Things. I was not going to make that mistake twice. The Duffer Brothers have created a love-letter to 80's pop culture with a show that could sit right next to films from that period, and I wanted more. The second season did not disappoint. Yeah, it didn't evoke the surprise and wonder that the first season did... how could it?... but it gave us everything we could want for a follow-up. But it takes a while to get there. It starts slow. Really slow. As in so slow that the first three episodes could have easily been combined into fifteen minutes kinda slow. But then it gives us more of the same in slightly new ways and you can't help but be swept away by the spectacle of it all. Some characters could have used a bit more work (I'm looking at you, Eleven) but I was ultimately satisfied with what we got.
#11 One Day at a Time
Color me surprised. Color me shocked. I would have never... not in my wildest imagination... thought that a rehash of a 70's sitcom I hated would end up being one of the best things to cross my television this year. And yet, here we are. Netflix has developed a fantastic Norman Lear 70's comedy for 2017 by adding a Cuban-American twist and piles of timely social relevance. Plus Rita Moreno. It's so good that I didn't find myself screaming at the stupid laugh track, because that was just part of the show's throwback charm. I'm not sure how a second season would go... it seems like an opportunity to screw up something really good... but I'm really looking forward to finding out how it goes when Netflix drops thirteen more episodes next month (as revealed by a faithful spoof of the original show's opening credits earlier this month)...
#12 The Defenders
This should have been... could have been... at the top of the pile. It's what we've all been waiting for and everything the Netflix Marvel shows have been leading up to. And then? They dropped the ball. Despite somehow snagging Sigourney Weaver in a prime villain role. Part of the problem comes from building too much of the show around Danny Rand / Iron Fist, a character I love from the comics which has been a serious misstep when hitting the small screen at Netflix... but most of it has to do with the fact that they never really took advantage of everything Marvel has in their vast toybox of people, places, and things to craft something truly worthy of everything that lead us to this point. It was just so "meh." Lord only knows we don't need yet another alien invasion plot, but even that would have been preferable to a pedestrian story like this with only a few slugfests tossed in to liven things up. Fortunately (most of) the characters make it worth watching and it had some fun moments. But please, for the love of Pete, let them come up with something better for The Defenders 2.

THE BEST SHOW YOU'RE NOT WATCHING...
Schitt's Creek. I didn't get POP TV, so I missed the first season. Then it came to Netflix and I binge-watched the first two seasons. Then I found out DirecTV carries POP, so I was able to watch the third season. At which point I loved the show so much that I went back and watched the first two seasons all over again. When the insanely-wealthy Rose family loses their fortune, they end up moving to Schitt's Creek, which is the only asset they have left (the town was bought as a joke gift). Hilarity ensues. The third season was the best season yet, with so many things brilliantly clicking into place. Can't wait for the fourth season to start next month!

HONORABLE MENTIONS...
Great News
Big Little Lies
Dear White People
Mindhunter
Will & Grace
Better Call Saul
The Flash
Supergirl
The Punisher
Insecure
The Leftovers
12 Monkeys
Big Mouth
Rick and Morty
The Americans
American Gods
Jack Whitehall: Travels with My Father
Silicon Valley

THE WORST...
Death Note. Well, they got Willem DaFoe to voice Ryuk, I guess that's something. While I guess this is technically more of a movie than a television series, I'm putting it here because it never felt much like a movie. And that was the problem. It should have been a TV show where they could create the dark story that made the original manga so compelling. Which is to say it shouldn't have had a bland, whitewashed cast and set the story in Seattle. But even setting that aside, this was such a lazy effort that never seems to strive for "average" let alone greatness.
Twin Peaks: The Return. I wasted half my life waiting for this? David Lynch and Mark Frost have gone full-on arthouse, completely abandoning the perfect melding of the bizarre with the familiar that made the original series one of the most original things to appear anywhere in any media. Instead they went with episode after episode of bizarre meandering crap that was senseless and boring. We don't get the return of Agent Cooper, we get Kyle McLaughlin stumbling around as "Dougie" doing absolutely nothing for hours? No thanks. The biggest television disappointment in the history of television.
The Inhumans. It's hard to think of how Marvel could have done a worse job of bringing this show to television. It was so bad. First of all, they took the Odo route with Medusa. Just like Odo was the shape-changing alien who rarely changed shape on Star Trek: The Next Generation, Medusa was the sentient hair-wielding mutagenic marvel that had no hair. Yeah, it was a budget decision, but it was a horrendously bad one. Even considering Medusa's hair-effects (for the brief moment she had hair) were pretty lame. Everything else was just painfully mediocre. The set design was mediocre. The special effects were mediocre. The characters were written mediocre. The story was mediocre. There was zero effort to put the time, money, and talent into making this worth watching so why did they even bother?
Iron Fist. After a surprisingly brilliant run of Netflix Marvel shows that began with Daredevil, Jessica Jones, and Luke Cage, Netflix took a serious shit all over The Immortal Iron Fist by casting the wrong actor and crafting a story around him that was just plain bad. It's not that Finn Jones is a terrible actor... he's not. But he was wrong for this role and made the inexplicable choice to make Danny Rand sound like Keanu Reeves... which would not be a bad thing, except it's Keanu Reeves from Bill & Ted. They had an opportunity here to do something truly new with the character that would honor the source material. They did none of that. In fact they did the opposite of that. They took tired old tropes, saddled them to a tire old story, and made Danny Rand a boring shadow of what he could have been.