My glassware is a hodgepodge of various sizes and styles that I've accumulated over the years. I have at least six different varieties in my cupboard, remnants of sets that are mostly broken now... plus a few random pieces that just kinda wandered in somehow...
Blue Striped Glasses. I bought these in college because they were on sale at K-Mart for cheap. They taught me never to buy painted glassware, because the paint eventually gets beat to shit and discolors. I hate these glasses, so naturally, they are the set that's survived the longest.
Coke Glasses. These are the famously-shaped fountain glasses from Coca-Cola. I saw them at Macy's while in Seattle and just had to have them even though they were really expensive. I broke three of them in the first year. The remaining three are pretty beat up, but work fine. Especially for a can of Coke, which fits perfectly.
Tall Glasses. After a tragic accident that saw two blue-striped glasses bite the dust, I decided I wanted glasses that would hold a lot of liquid, as I was tired of having to refill my chocolate milk glass. I found some at Shopko that fit the bill perfectly. Unfortunately, they're brittle as hell and break if you sneeze in their general direction. I have two left out of six.
Arby's Holiday Glass. I've accumulated a lot of fast-food glasses over the years. McDonalds and Burger King mostly. They used to have promotions where if you bought a meal you could get a keepsake glass for 99¢ (or whatever). No matter how cheesy, I always bought them. My favorite was a set of Peanuts comics glasses from McDonald's. I loved them so much I collected the entire set of four! There have been others... Star Wars... Muppets... Disney... Garfield... and the like. I also had some crazy McDonald's character glasses (Ronald, Grimace, Hamburglar, etc.) that lasted for years. Unfortunately, they were all destroyed when I moved apartments ages ago. All except Mayor McCheese. He survived only to crack in the dishwasher a few months after unpacking. The only fast-food piece I have left is a glass with small red birds painted on it that I got from Arby's. At least I think it was Arby's... maybe not. I have no clue as to its longevity.
Plain Glasses. It was a rare instance of my having company over and being embarrassed that I didn't have a complete set of glassware. So I found a set of plain-but-nice glasses at JC Penny's "Home Department." They worked great, but were fairly thin and crack easily.
There have been others, but that's the bulk of what's left...
Fast-forward to today.
I am finally tired of having a random assortment of glassware, so I decided to throw everything out and start over. But this time, instead of buying that thin crap that doesn't last... I decided to buy the thick, restaurant-quality glassware that will outlive me. Luminarc is famous for their tough "Working Glass" pieces, and I had my heart set on acquiring some...
I couldn't find any locally, so I decided to order from Nordstrom's, which was having a Luminarc sale.
Today they finally arrived.
One chipped. One cracked. And one crushed to a billion tiny pieces (plus three big chunks)...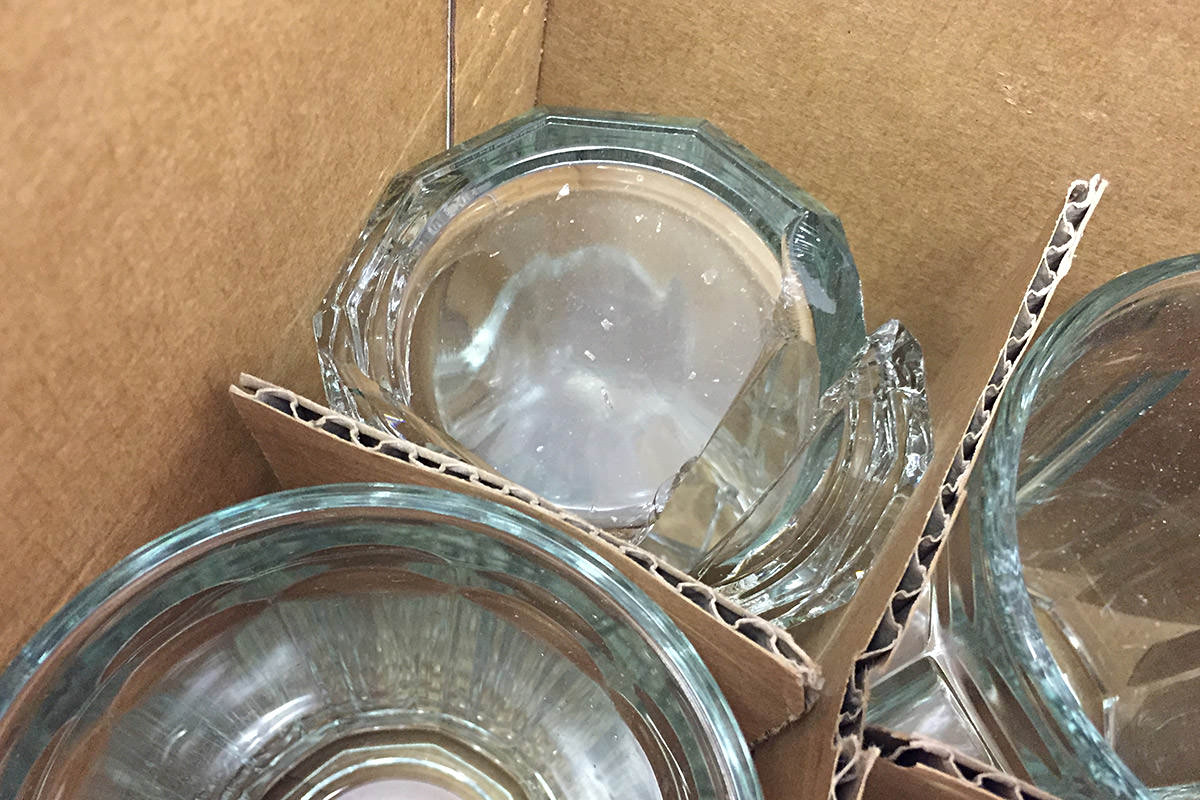 I guess owning a nice set of glassware just isn't in the cards for me.
It's a pity I can't stand drinking from plastic. That would probably save me a lot of angst here.