And it's time once again for my annual wrap-up of movies that came out this year.
Or, more accurately, a "wrap-up of movies I saw that came out this year." Every time I write one of these things, there's always a bunch of movies I never saw that would have ended up on the list (last year it would have been Twelve Years a Slave, The Square, and Fruitvale Station, for example). But I can only do what I can do, so here we go...

THE TWELVE BEST...
These are my favorite movies from this year that I actually saw.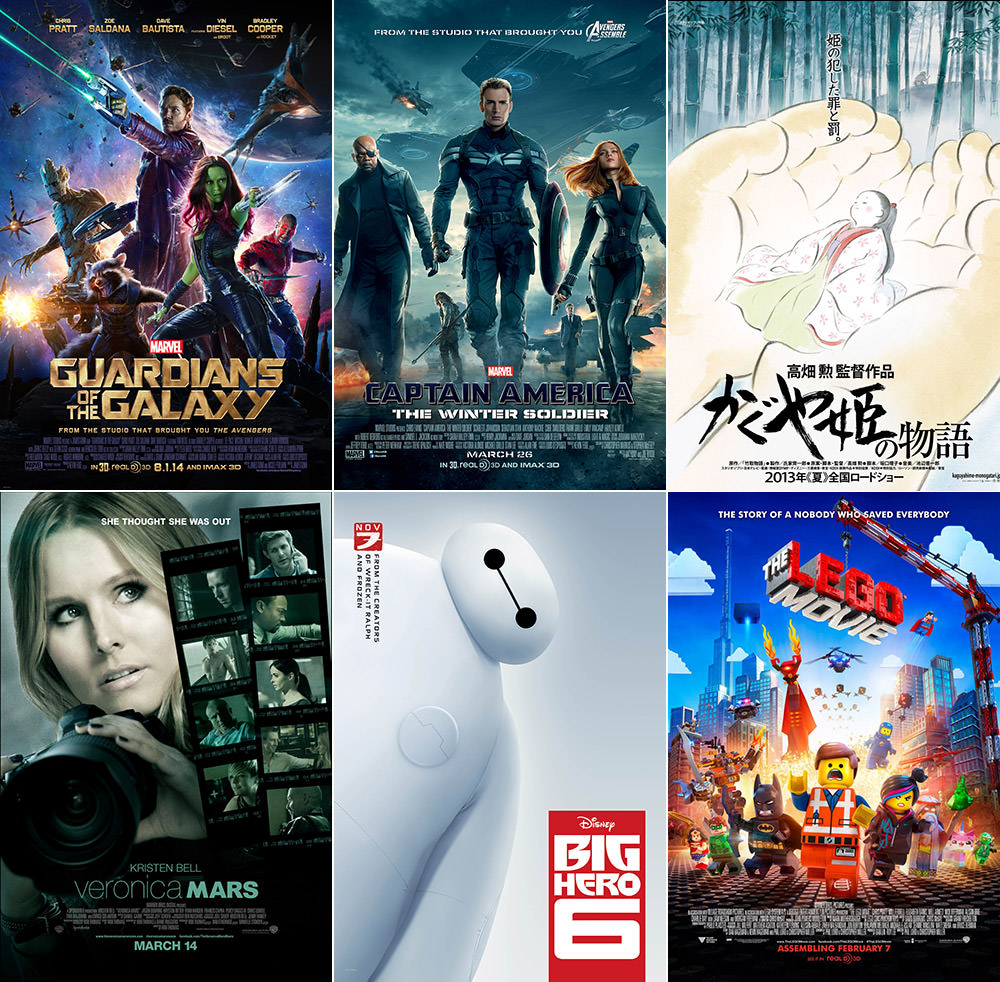 #1 Guardians of the Galaxy
Hands-down my favorite film of 2014 in every possible way. After his mom dies, Peter Jason Quill is abducted by aliens for a life of adventure beyond his wildest dreams. Skating through life as an intergalactic thief, Peter makes the ultimate score... only to find out that the fate of the galaxy is literally in his hands. Banding together with an odd assortment of criminals, "Star-Lord" faces a powerful evil none of them might survive. Hilarity and jaw-dropping special effects ensue. INTERESTING ASIDE: A Marvel movie has topped my list every year since I've been doing this... Iron Man 2 in 2010, Captain America and Thor in 2011, The Avengers in 2012, Iron Man 3 in 2013, and now Guardians of the Galaxy in 2014. My guess is that Iron Man would have topped my list in 2008 (if I had one), and it seems inevitable that Avengers 2: Age of Ultron or Ant Man will top it next year. That's quite a feat!.
#2 Captain America: The Winter Soldier
So good. Where do I start? The very concept of "Captain America" is dated and cheesy, but Anthony and Joe Russo turn this weakness into a strength by cutting to the core of what "America" even means in this day and age. And completely knock it out of the park. Captain America stumbles upon a plot that puts our very freedom at risk and teams up with Black Widow to find answers to a political mystery that reaches back to World War II. Along the way we are introduced to Falcon, a staple from Captain America's comic book history, and a welcome addition to the team. As if that wasn't enough, we also get... Robert Redford? Yet another flawless comic book translation by Marvel Studios.
#3 Kaguya-hime no Monogatari
An absolutely mesmerizing film that is an animation fan's hand-drawn dream come true. For a good taste of the stunning, mind-blowing artistry this movie has to offer... YouTube to the rescue.
#4 Veronica Mars
I'm just going to come out and say it. The central "whodunit mystery" around which the story revolves is pretty lame. A few red herrings, but none of the twists and turns or shocking revelations that made the television show so compelling. This is hardly surprising. The movie has the rather daunting disadvantage of having to educate viewers new to the franchise plus showcasing enough insider goodies to satisfy die-hard fans as well as having to catch up with an entire cast of characters people haven't seen for seven years. Even so, the film was a dream come true for this fan, who ranks Veronica Mars as the "second-best television show of all time." Not only did it finally give closure to the non-ending of the series, it also brilliantly opened up the possibilities of more films. Which I would absolutely welcome, because anything new for Veronica Mars by Rob Thomas and Kristen Bell is bound to be good stuff.
#5 Big Hero 6
The third Marvel Studios film on my list also happens to be a Disney masterpiece. After a young genius watches his older brother head to his death trying to help people, he seeks revenge on the person responsible by assembling a team of heroes for the impending battle. That alone is a concept worth experiencing, but Disney didn't stop there... they created BayMax, my favorite cartoon character since Sully on Monsters Inc., and I loved his every second on-screen. If we're going to see more Marvel/Disney collaborations like this, count me in.
#6 The LEGO Movie
This seriously could have been my favorite movie of 2014... if it weren't for the horrendous detour it took at the end which I absolutely hated. HATED! But everything up to that point was gold. The film is funny in all the right spots and a total blast to watch. Not only that, but the animation is sublime and the voice talent flawless (particularly Chris Pratt as Emmett and Will Arnett as LEGO Batman). If you haven't seen it, you really owe it to yourself to submerse yourself into the world of LEGO like you've never seen it before. EVERYTHING IS AWESOME!
#7 Under the Skin
Scarlett Johansson was everywhere this year, including this sci-fi thriller that's almost too good to be true. Stylish, disturbing, and haunting, the film defies description and is probably best experienced without knowing anything ahead of time. That being said, this is definitely a movie that's not for everyone. It requires a real mental leap to appreciate, and if you're not able to make the jump you're probably going to dislike it. Maybe even hate it. As for myself? I can't decide. All I know is that Under the Skin hasn't left me since I saw it, and you can't say that about many films now-a-days.
#8 Edge of Tomorrow
I had -zero- hope for this film, but gave it a shot because it's an adaptation of Hiroshi Sakurazaka's epic All You Need Is Kill (also adapted to manga by Ryōsuke Takeuchi and Takeshi Obata). So imagine my surprise when it ended up being a fantastic movie with amazing visuals and a darn good story. In the near future a disgraced military officer has a mishap that results in him re-living the same day over and over again every time he dies. This allows him to attempt to find a way to repell an alien invasion on the brink of humanity's defeat. Great performances by Tom Cruise and Emily Blunt sealed the deal.
#9 Boyhood
A film that was shot over an 11-year period that shows the life on a young boy as he (and his family) grows to adulthood. It's a very brave idea that paid off big-time. The only down-side being that the story was fluid and tended to wander around. This resulted in some dead spots that ground things to a halt from time to time. Still, it's hard not to appreciate what a feat this was to film and how amazing it turned out. Props to Richard Linklater for having the vision to see it through.
#10 X-Men Days of Future Past
I enjoyed this film a lot despite it being a steaming pile of shit, and I don't know why. Probably because I love comic book movies... even when they take a massive dump over both the comic book source material and the continuity of the film franchise. It's like "We need to send Wolverine's mind back in time into the body of his younger self but we're too lazy and stupid to figure out a logical way, so... KITTY PRIDE HAS A NEW POWER SHE'S NEVER HAD BEFORE FOR NO REASON EXCEPT IT SERVICES THE PLOT!" And, once they committed to that utter stupidity, everything else was fair game... no matter how absurd. And yet... there was plenty of entertainment to be found, despite Bryan Singer's best efforts, so it makes my list.
#11 Frozen
While not in the same league as Kaguya-hime no Monogatari, Disney managed to craft a beautifully-animated feature with great characters, a terrific story, and addictive music. But I don't need to tell you that. This movie was a massive box office success, and the inevitable sequel is undoubtedly already under way. One of my favorite parts of the film is Kristoff, who managed to hold his own against two Disney princesses in a way that was more about him being himself rather than becoming somebody new so he was "worthy of a princess." Bravo Disney.
#12 Coherence
This movie came completely out of nowhere to blow my mind into itty-bitty pieces. A group of friends are having a dinner party when a comet flies overhead and knocks out the power. Adventures in quantum physics ensues. As if that weren't bizarre enough for you, the film was shot without a script. Director James Ward Byrkit simply handed out character notes to each actor every day of the five-day shoot (which was in his own home) and let things unfold from there. Once you've seen the film, you'll marvel that this gambit actually worked. To understand the goings on a little better, here's a SPOILER-FILLED interview with the director (which you don't want to watch until you've seen the film, obviously).

HONORABLE MENTIONS...

Gone Girl
I read the book and enjoyed it, but was going to pass on the film adaptation... until I found out David Fincher was behind it. Surprisingly tight and well-crafted film that did the novel justice.
Tim's Vermeer
Now this is a documentary. Hobbyist Tim Jenison attempts to discover how 17th-century Dutch Master Johannes Vermeer managed to get near photographic realism in his paintings.
Interstellar
I did not see this in IMAX and which I had, because the visuals are excellent. Wish I could say the same thing about the story, which I found hokey and mediocre. Still entertainment as you'll rarely see it in the cinema, so worth your valuable time to see.
The Grand Budapest Hotel
A terrific film with a flawless cast that's yet another feather in Wes Anderson's cap. The problem is that the quirky films that Anderson makes are starting to lose their luster for me. They've gone from being charming and unexpected to merely more of the same.
Finding Vivian Maier
A Chicago nanny spent her days capturing life around her with a collection of over 100,000 photographs that went undiscovered and unseen until they were purchased at auction after her death. The discovery of Maier's impressive catalog of work propelled her to the spotlight and had critics hailing her as a master of street photography. Not always a flattering take on her life, the film is a fascinating look at photography and art.
Life Itself
The life and times of Roger Ebert, both professional and personal. It's a surprisingly compelling work.
Nightcrawler
While I was not as enamoured with this movie as the critics seem to be, it was still a pretty darn good film about the life of an independent crime photographer.
Snowpiercer
This was a pretty tight action film that was beautifully realized from the French comic book... but the ending was utterly insane. My take? SPOILER ALERT! Any survivors surely perished within days of the final frame.
The Skeleton Twins
This was a really well-written, well-acted film about a suicide attempt bringing together two siblings who are living far from perfect lives. It dragged a bit in places, but was ultimately worth the ride.
Jodorowsky's Dune
A documentary that looks back on the making of the greatest movie never made! And, by the end of the film, you really wish it had been...

DIDN'T SEE, MIGHT HAVE MADE MY LIST...

The Strange Little Cat
The trailer is utterly bizarre and more than a little annoying, but the critics won't shut up about it, and it's supposed to be based on Kafka's The Metamorphosis. How can I refuse that?
Top Five
Chris. Rock.
Two Days, One Night
A character piece that looks unlike anything I've see... in a very good way. A woman has to convince her fellow employees to give up a bonus so she can keep her job.
Winter Sleep
A Turkish film examining the class divide against a backdrop of winter at a mountain hotel. Looks dramatic... but without the drama. If you know what I mean.
Listen Up Philip
Jason Schwartzman and Jonathan Pryce. I'm intrigued already.
National Gallery
As an art lover, a documentary about the goings on of the National Gallery in London is too tempting to ignore. Can't wait to see it.
Whiplash
An obsessive instructor teaches his student how to become a world-class drummer using intimidation and fear. Doesn't sound like my cup of tea, but the critical acclaim is hard to ignore.
Ida
I have no idea if this is something I will enjoy, but the preview certainly seems like it could be. A Catholic nun learns she's Jewish just as she prepares to take her vows. A journey of discovery ensues.
Birdman
I just can't tell if this is going to be brilliant-brilliant or stupid-brilliant, but I'm happy to spend the time finding out.
Pride
British historical-based comedies are my weak point, and this film telling the story of gays and lesbians lending their support to striking coal miners in 1984 Wales sounds like an entertaining concept.

THE WORST...

A Million Ways to Die in the West
How in the hell Seth MacFarlane went from the total genius that was Ted to this painfully un-funny turd is a total mystery. I can't believe I wasted my valuable time on this dud.
Lucy
From the previews, I was ready to love this film. Scarlett Johansson gets mind-bogglingly awesome super-powers and proceeds to kick ass? Fantastic! But that's not what we got. Instead of escalating the cool super-human action to a grand finale, the film takes a massive detour into some kind of metaphysical artistic statement that is really unsatisfying and senseless. Lucy was ultimately disappointed to me because the ending sabotaged the whole movie.
Monuments Men
Given the high-caliber cast (George Clooney, Bill Murray, John Goodman, Matt Damon, Hugh Bonneville, and Cate Blanchett), I expected this was going to be a killer film. But it turns out that the cast was about the only thing I enjoyed. There just wasn't much of a story... the characters broke up into pairs and wandered around Europe trying to save art during the final days of World War II. The End. I was told this was a "caper" film... kind of like Ocena's 11 or something. But other than trying to blow a mine open before the Russians arrive, there wasn't much of a "caper" to speak of. Even worse, it was just so horribly boring.