Veronica Mars is my second favorite television show of all time. Coincidentally enough, Veronica Mars creator Rob Thomas (not the singer) is also responsible for my first favorite television show of all time, Cupid (the Jeremy Piven original, not the shitty remake). Given my adoration of all things Rob Thomas, I had zero hesitation in joining 91,584 other fans in supporting his highly successful Kickstarter campaign to bring Veronica Mars to the big screen.
As part of my "reward" for being a backer, I get a digital copy of the film so I can watch it on the day of release. Which is today. Much to my horror, the code to access the film wasn't through iTunes, but instead via UltraViolet, which is one of the single biggest technological pieces of shit of all time. But I'll get into that in an extended entry. Meanwhile, back to the movie...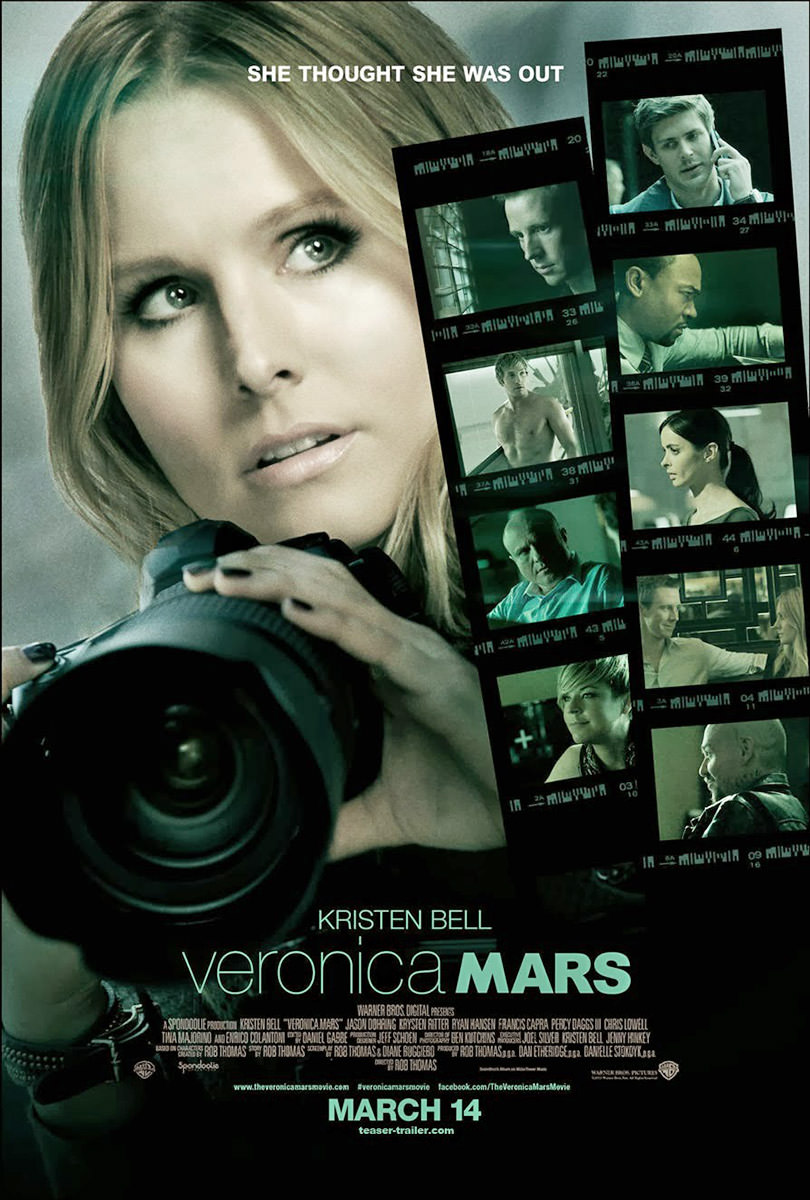 I'm just going to come out and say it. The central "whodunit mystery" around which the story revolves is pretty lame. A few red herrings, but none of the twists and turns or shocking revelations that made the television show so compelling. This is hardly surprising. The movie has the rather daunting disadvantage of having to educate viewers new to the franchise plus showcasing enough insider goodies to satisfy die-hard fans as well as having to catch up with an entire cast of characters people haven't seen for seven years.
To be honest, I'm surprised they managed to fit a mystery in there at all.
But squeeze it in they did, and the result is a love-letter to everybody who put up their hard-earned money to get the film made. Which is to say it's a total success story, and I don't think anybody who's a fan of the show is going to be disappointed.
The plot is fairly straight-forward. Veronica's bad-boy ex-boyfriend, Logan Echolls, has been framed for murder, which results in Veronica dropping her new life in New York City so she can return home to help him out after nine long years away. Once back in Neptune, which is even more deadly, ruthless, and corrupt than ever, we catch up with all her old friends and enemies. Well, not all of them... but most of them. The laundry list of cameo appearances is shockingly long.
Where the movie shines is in the way the Rob Thomas manages to get everybody on that list involved in the story. Yes, a few of the cameos are just quick distractions (hey, Corny!), but the bulk of them are carefully interwoven into events so they are appearing for a reason. Not many writers could pull that off without everything degenerating into a pile of crap, but Thomas seems to excel at it. And that's the fun. That's what makes the movie so darn good. Yes, your appreciation of the murder mystery is deeper if you know that Carrie Bishop put herself in the firing line to seek revenge for her best friend Susan Knight getting seduced and knocked up by their history professor. Yes, Piz's familiarity with Wallace and Mac makes more sense if you knew that Piz was Wallace's roommate in college. Yes, Veronica's relationship with her father is more meaningful if you know that she destroyed his chance at a career, but he still loves her unconditionally anyway. Yes, there are scads of moments in the film that only pay-off fully if you're intimately familiar with the Veronica Mars universe. But, much to my surprise, it's still perfectly watchable even if you've never seen a minute of the television show.
But totally watch all three seasons of the television show if you plan on seeing the movie. It's so much sweeter if you do, and the original show is required viewing anyway.
So two thumbs way up and no spoilers from me!
And my heartfelt thanks and gratitude to Rob Thomas, Kristen Bell, and everybody else who worked so hard to get the movie made. It was worth the wait. And if there's a Kickstarter campaign for a sequel... TAKE ALL MY MONEY, PLEASE! Heaven only knows the ending to the movie leaves that door wide open (perfect for the forthcoming line of books).
BONUS FEATURE! I was very happy to hear that one of my favorite bands, Mackintosh Braun, has a great new song on the Veronica Mars soundtrack. Here's their lyrics video for Don't Give In for your listening pleasure...
And now, for anybody who wants to read a rant about my efforts to plow though the pile of shit that is the "UltraViolet" digital video service, that's in an extended entry...
As I mentioned, the backer code for access to the Veronica Mars movie is, unfortunately, not coming from iTunes. Instead you are given a code for UltraViolet that you redeem through Flixster.
UltraViolet was conceived by movie studios so they could control their own digital film libraries and not have to pay Apple for the privilege. The problem being that, unlike iTunes, UltraViolet didn't revolve around the paying customer's convenience or ease-of-use. Not surprisingly, it revolved around movie studios maintaining an iron grip on their product. The resulted in absurd restrictions and a bunch of hoops you had to jump through... but no guarantee you would actually get anything to work and be able to watch your movies.
But that was back when they first started. Surely they've worked out all the bugs by now, right?
= ahem =
So I go to Flixster and set up an account. Very graciously, they give me a free movie (The Perfect Storm) to get me started. I also download the Flixster desktop app which, shocker, insists that I have no movies in my library even though The Perfect Storm is clearly showing as being in my library at the Flixster website. Typical...
After all that, I follow the link in the email to enter my UltraViolet code into Flixster. The movie is immediately shows up in my account. Great! It works!
Until I go to view Veronica Mars. Unlike Netflix, Hulu, Amazon, YouTube, and iTunes which actually manage to stream content that's watchable, UltraViolet via Flixster is still the same old stuttering failure where it's always been when it comes to delivery. Video was choppy and had random drop-outs. At least two dozen times during the movie, everything halted so the video could be buffered. Sometimes the buffering stalled the player and I had to force it to reset by scrubbing on the timeline (which, of course, doesn't show a visual cue to tell you where you're at in the movie because it's shit). Too much of the time while attempting to watch the film, I sat staring at a frozen screen...
And lest you think my internet connection was somehow the problem... I made sure it wasn't by streaming video flawless on AppleTV and Netflix.
Sigh.
FUCK YOU, ULTRAVIOLET, YOU FESTERING PILE OF SHIT! I SEE NOTHING HAS FUCKING CHANGED, AND YOU'RE STILL A WORTHLESS TURD IN THE DIGITAL PUNCHBOWL!
Guess I'll be paying $20 to Apple so I can ACTUALLY WATCH THE FUCKING MOVIE WITHOUT INTERRUPTION. Sure I could get the Flixster app for my iPad and attempt to download it, but I've wasted more than enough fucking time on UltraViolet. Or have I?
I get an email from UltraViolet telling me that I've got a new account, and I need to change my password to access my movies. So off I go. I fill in the information they require, choose a new password, and BLAM!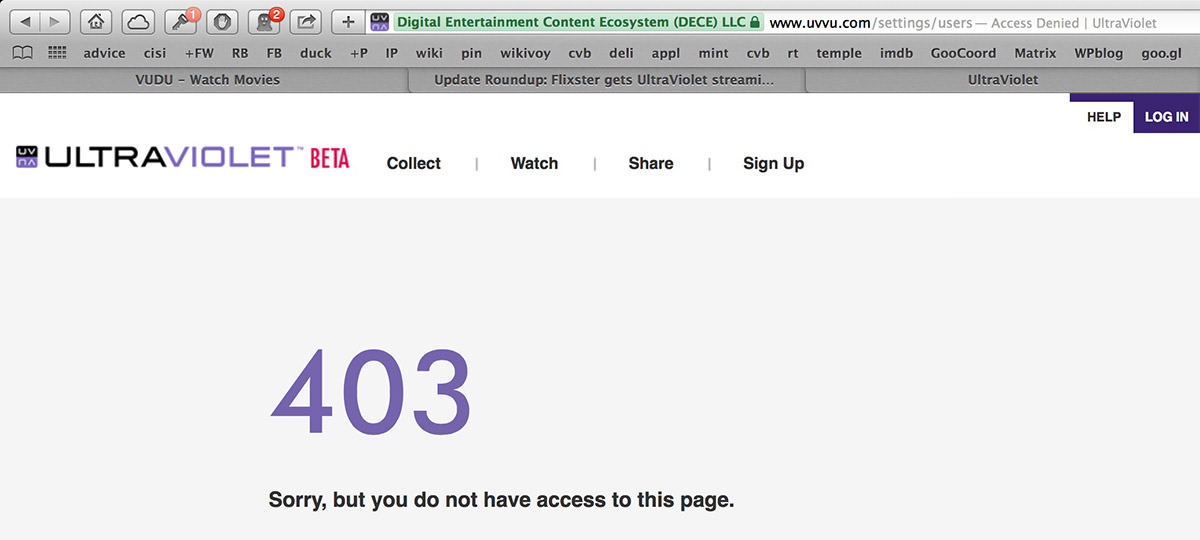 I try again... three times. But I get an error every time. Not knowing what to do, I click the "Help" link in the upper-right corner. It's not a link and nothing happens. Hmmm... I notice that I seem to be logged out now for some reason. So I click the "Login" link in the upper-right corer. It's not a link and nothing happens. Guess I won't have access to my movies after all. Not that it matters.
Oh, UltraViolet, you heinous pile of garbage, you never fail to disappoint.
By which I mean you ALWAYS FUCKING DISAPPOINT. Seriously, holy fucking shit. It's going on FOUR YEARS NOW. How long does it take you to fix your busted shit? Will it be working in TEN years? I doubt it. I'm guessing that by the time you finally give a crap, know what the fuck you're doing, and have a system that can actually stream videos, humanity will have moved on from digital to some other media delivery technology entirely. But no worries, I'm sure you'll fuck up "theta wave brain implants" (or whatever) too.
Why in the hell do studios still work with anything UltraViolet-related when all it does is cause customer outrage? Oh that's right... because it's owned by the studios and they don't give a flying fuck about anything except taking people's money. How silly of me.
And people wonder why movie piracy is such an epidemic.
Probably because movie studios make it easier to steal than to be an honest paying customer.
You don't need to hire Veronica Mars to see that much.