This could have so easily been a five-star film.
Seriously. The casting was impeccable. Chris Pratt embodied the lead flawlessly. Will Arnett redefined LEGO Batman. The voice talent behind every character was perfectly executed. Even Jonah Hill, who I cannot stand as an actor, was unerringly lovable as a Green Lantern who nobody can stand ("I super-hate you!"). And don't even get me started on Will Ferrell, who played the "villain" as only Will Ferrell can.
As the story unfolded, I was near-giddy in my seat. It's so beautiful and... fun! Genuine laugh-out-loud fun! You don't have to be familiar with LEGO to enjoy the movie... but true fans expecting cameos and a little LEGO history will not be disappointed. This is a movie that will beg to be seen over and over again just to get a handle on all the little details packed into every scene...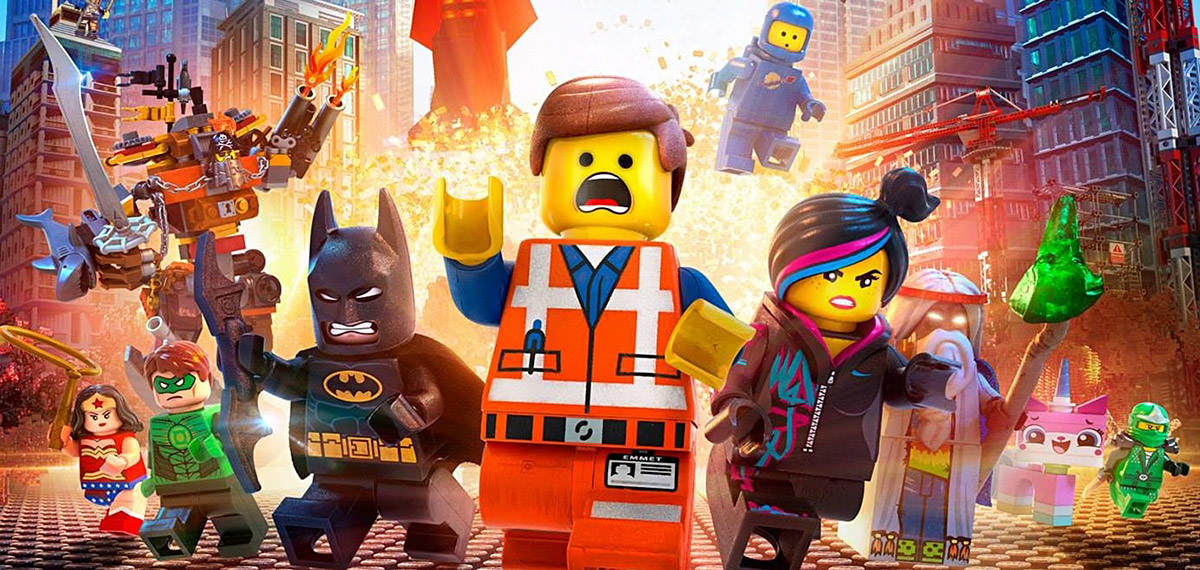 And the animation.
Holy crap is it amazing. Every frame had a lot of thought put into it.
From a cursory glance, the animators behind The LEGO Movie made it all look so effortlessly "LEGO." But when you look a little closer, each scene was meticulously executed in a way that had to be anything but easy. Action has a stop-motion feel to make it look hand-animated where it helps the story... but they weren't chained to that, and smooth motion was used when jerky movement would have been distracting. I love the fluid dynamics. Water and smoke are all rendered with LEGO, yet flow with a bizarre kind of realism that makes "the world" seem fully-realized. Fire is likewise grounded in LEGO reality, but has a kind of eerie presence that transcends those little orange "flame pieces" that any LEGO builder will recognize instantly. And I love, love, love how everything has a solidity to it. Laser blasts are rendered like rods that are physical pieces instead of blobs of light. It's all so... awesome!
If The LEGO Movie doesn't get nominated for a ship-load of animation awards, it will surprise the hell out of me.
When it comes to the story, things start off brilliantly.
Emmet is a LEGO minifig who is average in every way. He follows instructions to the letter like every good LEGO minifig should. He just wants to fit in and have people like him. And that's all he aspires for. It's all he knows and needs. But then he meets Wyldstyle... a minifig who doesn't follow instructions. From her Emmet finds out that he is "The Special," a fulfillment of a prophecy (by Morgan Freeman, in yet another example of flawless casting) who is destined to stop the evil Lord Business and save the world.
Hilarity... genuine hilarity... ensues. And it's all adorably funny and a joy to watch.
Until...

WARNING! Spoilers (kinda) are below!
...the movie then takes this utterly bizarre meta "fourth-wall" turn in the last quarter. And, to be perfectly honest, it kind of ruins the film for me.
Had they just stuck to the animated LEGO story everybody has been dying to see, this would have been a flawless motion picture. Everybody wins.
But they didn't. For reasons completely unknown, the creators decided to spin off on this crazy tangent that undermines all the characters, grinds the movie to a halt, and is completely unnecessary! All of a sudden Emmet, Batman, Benny, and Wyldstyle are not living out their own lives and shaping the story of the world they live in... they're just pieces of cute plastic crap being manipulated by people "in the Real World." Which I guess could be argued to make sense to the story. But not really. There's no internal logic to it. If Will Ferrell is the real-life "bad guy" and his son is the real-life "hero" then why wasn't Emmet voiced by the real-life kid just like Lord Business was voiced by the real-life Will Ferrell? I guess it's the kid's imagination at work voicing the characters, so that could make sense. I guess. But if the entire movie is just a story made-up in the imagination of the kid (and, eventually, Will Ferrell), how can we care about the individual mini-fig personalities when they don't actually exist? Emmet's "journey" as a character who learns that breaking free from the mold allows them to live happier, more fulfilling and creative lives is all rendered moot... because it's not his experience at all... it's a lesson Will Ferrel learns from his kid.
And for what? I just don't get it. And I really don't get the half-hearted "effort" of dropping real-world items into the LEGO world like they're some kind of "clue" as to what's going on. Suddenly the things that internally make sense become senseless when you stop and think about it. Why does Will Ferrell decide to start gluing everything down... it's as if he's suddenly being inspired by the evil alter-ego his kid invented? Say what-?!? Why couldn't there just be real-world items introduced as weird artifacts to LEGO World... just as they would be in real life? THAT was all the "meta" the story really needed.
It's almost as if the people behind the film said "Whoa! Whoa whoa whoa! This is turning out to be entirely too cute and fun. Let's just toss a monkey-wrench into the whole damn thing so that our audience will be ripped out of the story we've worked so hard to build. Because we certainly don't want to deliver on the promise of a fun and engaging movie starring LEGO characters everybody will love... we need to go deeper. That way we can confuse everyone and bore the fuck out of any kids in the audience! But, hey, at least we can pretend to be something smarter than a stupid toy movie... right?
The answer, in case you're wondering, is a resounding "no."
This kind of twist has been done many times before. And done far better. And in a way that makes sense. And doesn't completely undermine all the characters that people want to fall in love with.
Well, whatever.
I hope somebody edits out all the "fourth wall" crap and LEGO fans get to experience the pure LEGO extravaganza they deserve.

So... taking away one star for a senseless finale in a five-star movie? Four stars. You will love the film... a lot... but, if you're like me, not all of it. Oh... and one last thing... don't bother with the idiotic 3-D version of The LEGO Movie. The bright and colorful world of LEGO is dimmed to the point of being depressing. And the 3-D effects actually ruin otherwise brilliantly realized action scenes.