And now is that special entry where I wrap up MY FAVORITE TV SHOWS OF 2013!
At first I was just going to copy my entry for 2012, because it seems that I'm watching mostly the same stuff as I was last year. But then I actually read my entry from last December and was shocked at how much had changed. So here we go again...

THE TWELVE BEST...
#1 The Blacklist
Say wha-?!? I had this show stacked up on my DVR because I knew anything with James Spader would be gold, but didn't start watching until five episodes had aired. I devoured all five and was left hungry for more. This is a mystery inside a riddle inside an enigma that just keeps getting more and more fascinating with each new installment. Mostly due to Spader, who is at the absolute top of his game as former master criminal turned FBI informant.
#2 Elementary
The chemistry between Johnny Lee Miller and Lucy Liu is better than ever, and so are the mysteries. This show is "comfort food" pure and simple, and yet it's never content to stand still. This season we've gotten Sherlock's scheming brother (played by Rhys Ifans!), a bad situation for Detective Bell, and the impending return of Moriarty. Good stuff.
#3 Breaking Bad
I honestly didn't see a way that this series could wrap up in a satisfying manner, as Walt seemed beyond redemption... certainly beyond forgiveness. And yet... that last amazing episode was so deftly handled and compelling that it made me want to start watching all over again from the very beginning. Congrats to Vince Gilligan and everybody involved in going out on top.
#4 Justified
Still a contender for the best show on television. The show is so fully realized... so nuanced... so layered... and so well-written that just about any cast could step in and make a good show out of it. But they didn't get just any cast, they got Timothy Olyphant and a stellar team to bring the show to life. Hardly anybody I know watches this show, and I just don't get it.
#5 Arrow
This show was really good last season... and, impossibly, it got even better this year. I wasn't into the whole "Moira on trial" subplot that dragged on... but the resolution was good, and the deepening ties into the DC Universe just keep getting better. Black Canary? Deathstroke? A.R.G.U.S.? Ra's al Ghul? Yes please. But the best thing about the show is that it takes no prisoner. Roy Harper getting out of line? Shoot him in the leg! Classic.
#6 Legit
Jim Jeffries, an Australian stand-up comic who's rude, crude, and a genuinely horrible person plays Jim Jeffries, an Australian stand-up comic who's rude, crude, and a genuinely horrible person. But not intentionally... that's just the way he's wired. After moving in with his friend Steve and Steve's disabled brother Billy in the US, Jim works on becoming a nicer person. Hilarity ensues. Seriously laugh-out-loud hilarity. Surprisingly there's genuine heart in the show too... usually centered around trying to create a normal life for Billy (played flawlessly by DJ Qualls). If you can handle the crudeness and vulgarity, it's definitely worth a look.
#7 Sons of Anarchy
Holy cats. Kurt Sutter has demonstrated again and again that he doesn't give a shit about the status quo, and he's take the SAMCRO story wherever it needs to go... regardless of what the consequences may be. Characters are dying left and right, and you get a sense that some of those who survived would be better off dead. If you're looking for take-no-prisoners television, here's your show.
#8 Scandal
Shonda Rhimes creates some messed up television. Many times it doesn't work for me (Private Practice, Off the Map, later seasons of Grey's Anatomy). But sometimes it does. And the dirty politics of Scandal definitely works. Every episode has at least one crap-your-pants moment, and the cliffhangers are lethal.
#9 House of Cards
While it's technically not "television" since it's on Netflix, I just don't care. This is the brutal big brother to Scandal that takes dirty politics to new heights. And while it's a great show in its own right, having Kevin Spacey as the headliner is reason alone to watch.
#10 Dr. Who. I thought I'd lose interest when Amy and Rory left, but Clara Oswald is a companion for The Doctor who is working perfectly. I never needed to have her "grown on me"... I liked her from day one. And now that Matt Smith is turning in the keys to The Tardis, I'm happy Clara will be sticking with the NEW Doctor. Many thanks to Matt Smith for his dedication to the role. I may not have cared for you at first, you you definitely changed my mind!
#11 Hawaii Five-0
After losing me, then getting me back, I was fully expecting for Five-0 to lose me again. It hasn't. The chemistry between McGarrett and Dano keeps me tuning in. And if it weren't for the whole "Kono on the run" subplot that JUST WON'T FUCKING DIE, I probably would have ranked the show higher on my list.
#12 The Walking Dead
I admit it... this show is definitely starting to wear on me. Unlike the comic, it feels like it's "stuck." And I seriously have to wonder if the creative team is ever going to find their way out. More and more I question whether I want them to, because the easiest solution would be to dump it.

THREE MORE WORTH WATCHING...
Castle
This modern-day Murder She Wrote still has me hooked. I thought Castle and Beckett hooking up will kill the show for me, but it really hasn't.
Game of Thrones
Still hoping that George R. R. Martin figures out a conclusion to the books before the show catches up, because this is some terrific television.
Orange is the New Black
I never in a million years thought I'd have any interest in a show based on women in prison. But a friend pretty much demanded I take a look, and now I can't stop.

ANIMATION WORTH YOUR TIME...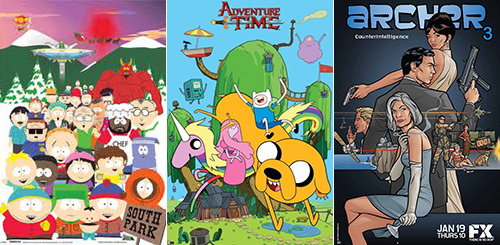 South Park
Still brilliant. Still relevant. Still must-see-television for me.
Adventure Time
The most bizarre show to ever air on television is still going strong.
Archer
Couldn't possibly love this show more than I do. They just kill it each and every episode.