A friend of mine recently had a joke played on her that didn't end up being very funny. She was led to believe that someone in her family had been hospitalized because of some crazy accident that was way over-the-top and impossible... but she wasn't in a frame of mind to parse that. All she heard was that somebody she loved was seriously injured, and nothing else registered. Even after the person messing around with her realized she was taking it seriously and explained to her that it was a just a joke, she couldn't process what he was saying. The hospital was still stuck in her head, and hysterical sobbing ensued.
Eventually she was able to be calmed down and made to realize that nobody was hurt. Then she felt bad for having made a scene. The guy joking around felt bad for having upset her. Everybody else felt bad for both parties. What had been meant to be funny had gone terribly wrong and now everyone was just feeling bad, which is the opposite of what was supposed to happen.
The take-away here is that some people aren't being funny when they think they are... and some people are not predisposed to humor outside of a recognizable context. Had this joke been in a romantic comedy movie and been played on somebody else, perhaps my friend would have found it hysterical. It's hard to say.
All I know is that joking about serious subjects... like a family member getting seriously injured... is probably not the best idea with somebody you don't know very well. Lesson learned and all that.
Which is why I was surprised when my friend told me that the same guy tried the same joke on somebody else the next day. This time his victim understood it was an attempt at humor, but it wasn't funny enough to make much of an impression. Nobody laughed.
This got me to thinking... is this guy going to just keep trying his "joke" over and over again until somebody laughs? Or is he going to finally realize he's not being as funny as he thinks he is and give up? Maybe the joke is riotously funny after all, and he's just bad at telling it? Or maybe he's funny as hell, but the joke is just bad? Since humor is all subjective, I suppose that's a tough one to figure out.
In any event, I feel bad for my friend who is still a bit shaken and embarrassed over the whole situation.
The only good thing to come out of this story is that it reminded me of when I was walking down the streets of Saigon and saw a Joker from a deck of cards laying on the ground...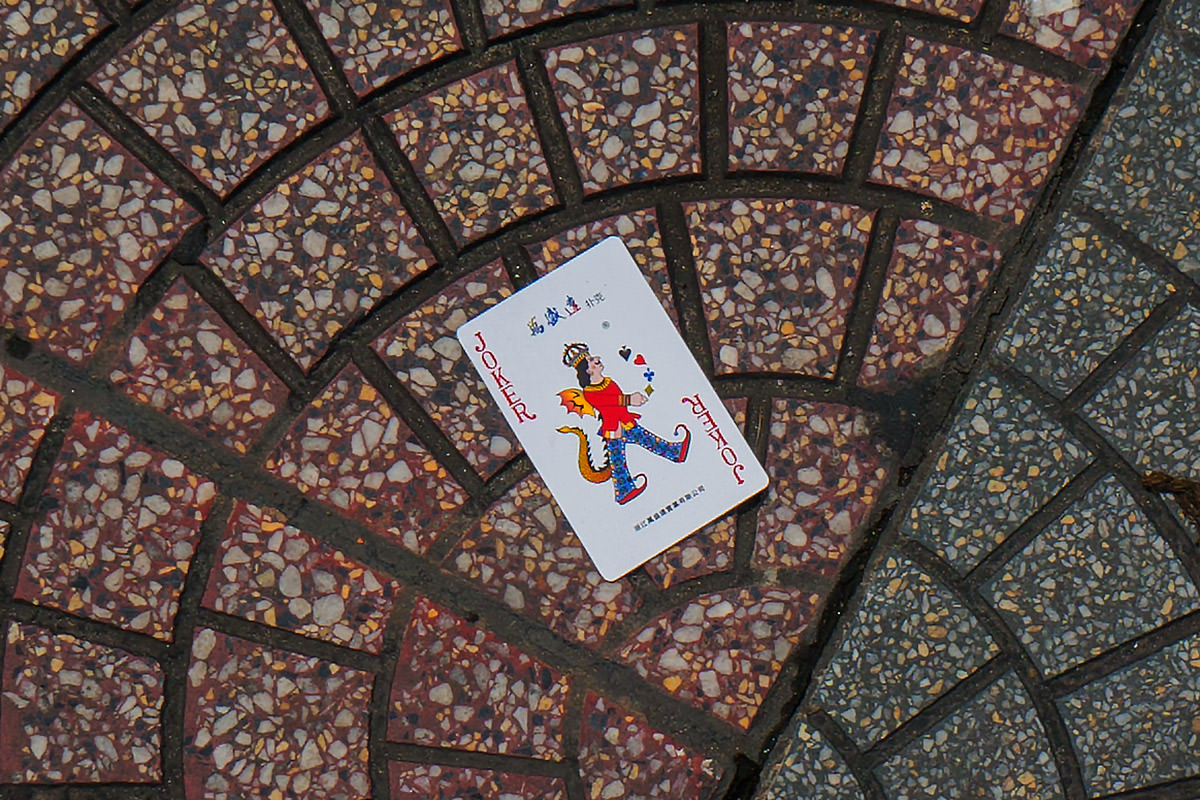 I couldn't decide whether it was funny or sad.
I suppose it depends on whether the person with the rest of the deck is trying to play Euchre (which requires it) or Solitaire (which does not).
Or maybe it just means that Batman should be on the lookout. Who can say?