"His back's better. It shows in his swing." — Boston Red Sox manager John Farrell
"Well that's the understatement of the year." — Blogography scribe David Simmer II
It's no secret that I am a huge, huge fan of the Boston Red Sox in general... and their catcher Jarrod Saltalamacchia in particular. But Boston had been playing the poor guy to death, which caused strain on his back. Rather than work him into an injury, they wisely decided to bench him for a while so he could heal up.
Which leads us to last Friday...
Yes. A game-winning grand-slam against the Yankees.
And then yesterday?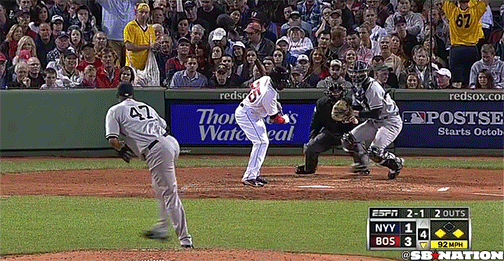 Beautiful animated GIF courtesy of the ever-entertaining Over the Monster.
Steals home against the Yankees in a three-game sweep.
As if that weren't good enough, here's Saltalamacchia's take on it...
"I mean, Jackie Robinson, Ellsbury, I'm in a pretty elite category."
Yes. Yes you are...
It's a great time to be a Red Sox fan.
And who knows what tomorrow brings?
Well, except the Orioles, of course.